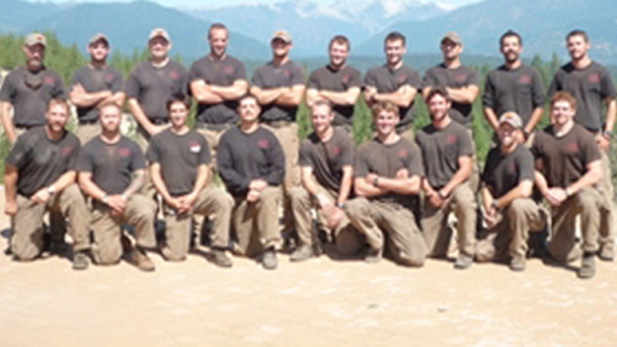 The Granite Mountain Hotshot crew. Nineteen crew members were killed June 30, 2013, fighting the Yarnell Hill Fire. (PHOTO: City of Prescott)
An erratic wildfire curled around the location of a team of hotshot firefighters, cutting off their access to a nearby safety zone and creating a death trap,
A spokesman for the crews battling the Yarnell Hill Fire and another official with the Prescott Fire Department confirmed that scenario Friday based on a map of the tragedy compiled by The Associated Press.
The safety zone that the Hotshots were supposed to flee to if the fire got out of control was a ranch property just over a quarter-mile away.
The team was northwest of the ranch using chain saws, axes and other gear to build a line between the fire and the small town of Yarnell.
The fire was northeast of the 19 hotshots but suddenly changed directions and cut off access to the safety zone. All 19 died in the fire.
The team's 20th member was serving as a lookout and survived. His location during the fire is unclear.
A full investigation into the tragedy was being conducted under director of a Florida state forestry official.
Funerals and a memorial service for the dead firefighters are scheduled for Tuesday in Prescott. Vice President Joe Biden, members of Congress and other dignitaries are scheduled to attend.
The 19 were all with the Prescott Fire Department. They were: Andrew Ashcraft, 29; Robert Caldwell, 23; Travis Carter, 31; Dustin Deford, 24; Christopher MacKenzie, 30; Eric Marsh, 43; Grant McKee, 21; Sean Misner, 26; Scott Norris, 28.
Also, Wade Parker, 22; John Percin, 24; Anthony Rose, 23; Jesse Steed, 36; Joe Thurston, 32; Travis Turbyfill, 27; William Warneke, 25; Clayton Whitted, 28; Kevin Woyjeck, 21; and Garret Zuppiger, 27.