Arizona's deserts and most populated areas remained under an excessive heat warning from the National Weather Service on Sunday.
Predicted high temperatures for desert cities for Sunday included 116 for Phoenix, 110 for Tucson and 112 for Yuma. Temperatures were predicted to be down two to four degrees on Monday, but forecasters said the excessive heat will continue well into the week.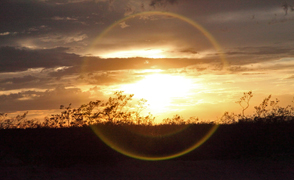 (PHOTO: AZPM)
"An unusually strong high-pressure system will continue to dominate the Western states through the week, with temperatures generally remaining well above average," the early Sunday forecast said. "Increasing humidity and clouds are also expected, which will bring the potential for showers and thunderstorms."
Saturday's high temperatures included 119 degrees at Phoenix Sky Harbor International Airport, 112 at Tucson International Airport and 112 at Yuma International Airport.
The weather service advised a limit on outdoor activities during the hottest hours, from late morning to late afternoon.
Parts of southeastern Arizona began showing signs of monsoon activity Saturday, with cloud buildup and a few drops of rain in parts of Tucson just before sunset.
"Warmer than average temperatures will persist," the forecast said. "However, daytime temperatures will trend down from the excessive heat from the weekend. Moisture will slowly begin to increase in many areas across the region."
Wildfire danger remained high throughout the state, with limits on outdoor fire use in many areas.