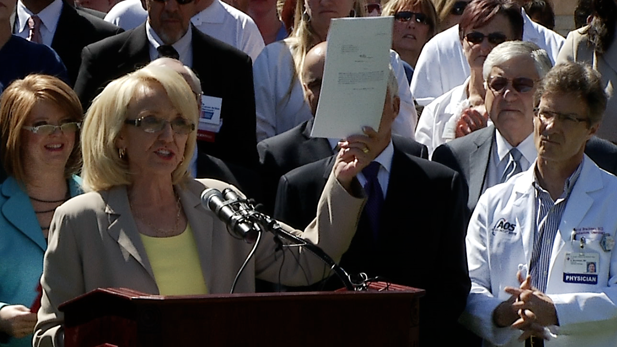 Gov. Jan Brewer shows off her 7-page Medicaid expansion bill at March 12, 2013 state Capitol rally.

AZPM
The Arizona Legislature approved Medicaid expansion and the $8.8 billion state budget Thursday in a rare coalition vote that split Republican lawmakers and gave Gov. Jan Brewer a big victory.
The House voted 33-27 on all 10 state budget bills, including the health bill that contained Medicaid, at 3:30 a.m. Thursday to conclude a 12-hour session. The Senate voted 18-11 Thursday afternoon on the same package of bills. (See related story here on the state budget.)
In both chambers, all Democrats favored Medicaid expansion and the budget, and they were joined by a small group of Republicans to create majorities.
Brewer, who pushed for the Medicaid expansion from the Legislature's opening day Jan. 14, was jubilant. In a statement released shortly after the Senate's vote, she thanked legislators who she said "acted with courage and conviction by completing the people's business."
"With landmark votes today in the House and Senate, legislators have tackled the issue that is job one every session – adoption of a responsible state budget – and enacted Arizona's most sweeping health care legislation in decades," Brewer's statement said.
In both chambers combined, Medicaid expansion opponents introduced nearly five dozen amendments to try stopping it. All were voted down. Opponents also prolonged what supporters had called inevitable passage by giving lengthy and impassioned floor speeches against the expansion.
Joining all 24 House Democrats to vote for the budget and Medicaid were nine Republicans: Frank Pratt of Casa Grande, T.J. Shope of Coolidge, Kate Brophy McGee of Phoenix, Heather Carter of Cave Creek, Doug Coleman of Apache Junction, Jeff Dial of Chandler, Doris Goodale of Kingman, Ethan Orr of Tucson and Bob Robson of Chandler.
The Senate vote aligned all 13 Democrats with five Republicans: John McComish of Ahwatukee, Rich Crandall of Mesa, Adam Driggs of Phoenix, Steve Pierce of Prescott and Bob Worsley of Mesa.
Even before passage, moves were under way outside the legislative process to stop implementation. One is a proposed ballot initiative that would call for repeal. It would appear on the 2014 ballot. Under the constitution, if enough signatures are gathered to qualify it for the ballot, Medicaid expansion would go on hold pending the election's outcome.
Court challenges also are expected. Several Republican legislators in making their arguments against it mentioned the probability of lawsuits to try stopping it on the constitutional grounds that it includes a tax increase and thus needs two-thirds approval in each legislative chamber.
Under Brewer's plan, Arizona will opt in to the Affordable Care Act's Medicaid expansion, with 100 percent federal coverage at first, gradually reduced to 90 percent over several years.
That, Brewer said, would bring an estimated $2 billion a year in federal money to the state and allow it to extend health care to 300,000 poor Arizonans.
To cover the state's match of up to 10 percent as the program rolls out, Brewer came up with an assessment against hospitals that means no money will be paid from the state's general fund. The level of assessment and exactly how it will be handled are yet to be worked out, but the hospital industry agreed to it.
The plan includes a "circuit breaker," as Brewer called it, to allow the state to opt out if federal funding falls below 80 percent.
Senate President Andy Biggs' proposal for a three-year expiration of the plan did not make the final legislation. Neither did House Speaker Andy Tobin's proposal for ways to measure if hospitals were passing along the assessment expense and if they were recouping what they have called millions of dollars in uncovered care costs.
Biggs and Tobin, who lost control of their usually solid GOP caucuses in the fight over Medicaid, both voted against it.
Brewer repeatedly called expanding Medicaid "the right thing to do" and said she would not sign a budget without it. At one point, she told legislators to stop sending bills to her on other matters until they dealt with Medicaid and the budget. On May 24, she vetoed five Senate bills sent to her. After that, no others were sent.
Opponents called Medicaid expansion part of "Obamacare," which they said Arizonans have rejected. They said it would add to the federal debt, and they feared the federal government will withdraw its funding, leaving the state to pay or drop people once again from health-care rolls.