The official start to Arizona's annual rainy season is this Saturday. But actual precipitation in the Tucson area may still be several weeks away.
Or not.
J. J. Brost with the National Weather Service office in Tucson said some climatological signs point to the rain getting an early start, similar to last year.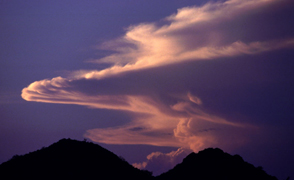 "We had storms roll in, I think, in mid to late June and then it kind of died down for a bit," Brost said. "And then it really picked up in July."
Computer models that track the various mechanisms that create the North American Monsoon suggest the same thing could happen this year.
"Maybe we'll get a storm or two in, say, the June 20 through the 30 period," Brost said. "But then really the activity would ramp up again around the July 4 weekend when it normally does."
Does an early start portend a heavy monsoon? Not necessarily, Brost said, adding that it is too early to predict what it will be like in July and August.
"Because there's no really strong signals suggesting we're going to be either, on average, really wet or really dry," he said.