(VIDEO: AZPM )
Matters of Principal is an Arizona Public Media special radio series exploring the highs and lows of school leadership through a year in the life of a new principal and a retiring principal.
The series is airing on NPR 89.1 Tuesday, Wednesday and Thursday,on Morning Edition and Friday on Arizona Spotlight at 8 a.m. and 6 p.m., and Saturday at 5 p.m.
Featured in the series are Jim Heinzelmann from the Sahuarita Unified School District and Lisa McCorkle from the Tucson Unified School District. Heinzelman's school is Sopori Elementary School in Amado, and McCorkle's school is Dietz Elementary School in Tucson. Both principals are leading schools in a time of change for education in the state of Arizona and across the country.
Tuesday: Part One: Fresh Start
Jim Heinzelmann's first day as the principal at Sopori Elementary School was eventful and "a little stressful." His day began at 3 a.m., and he drove more than 50 miles to get to school.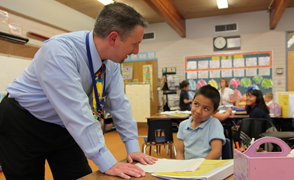 (PHOTO: Fernanda Echavarri)
On his first day, he chased stray dogs off the playground, greeted students in the parking lot and visited classrooms. He talked about how he got into education and what he expected from his first year in leadership.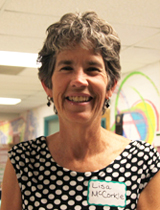 (PHOTO: Fernanda Echavarri)
This was Lisa McCorkle's last year as principal at Dietz Elementary School.
Despite her more than 12 years experience leading the school, she said she still got anxious before the first day of school.
The night before school started, McCorkle walked through the school, something she has done every year for more than a decade, "because I just want everything to be wonderful," she said.
As public education has evolved, her role as principal has changed, she said. It has become more demanding, with more pressure on standardized testing, and that has led her to spend more time in the classroom.
Wednesday: Part Two: Politics and Challenges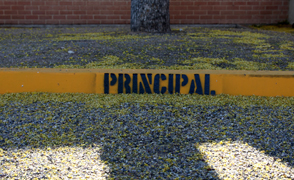 (PHOTO: Fernanda Echavarri)
By late October both principals were worried about election results.
Teachers at both schools were particularly concerned with the future of the one-cent sales tax that had been funding public education in Arizona. A proposal to extend the tax was defeated in the November general election.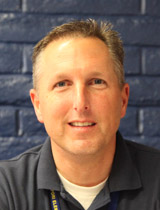 (PHOTO: Fernanda Echavarri)
The Tucson Unified School District was considering budget cuts to erase a projected $17 million deficit. One options for TUSD was to shut down about a dozen schools.
Lisa McCorkle's Dietz Elementary, was on the list of possible closures in previous years and was at risk of making the list again, she said.
The uncertainty at this point prompted McCorkle to postpone the school's 50th year anniversary celebration.
In the small town of Amado, Jim Heinzelmann, the new principal at Sopori Elementary School, was struggling to find his place both in school and in the community.

He is not a resident of Amado and had not taught at Sopori before becoming the principal, so "adjusting was not easy." But he was making progress and started to build relationships with his staff.
At this point he had been principal for about 10 weeks and said there are many complex issues in education that teachers and administrators are not taught how to handle in college.
Thursday: Part Three: Adjusting to Change
The role of a school principal extends beyond school grounds.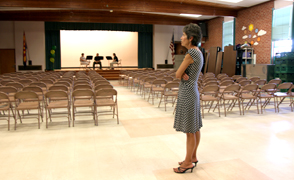 (PHOTO: Fernanda Echavarri)
Both principals featured in this series said they dealt with issues students face inside and outside of the classroom including hunger, unsafe home environments, and behavioral problems.
By springtime Lisa McCorkle was struggling to find new approaches with a student whose behavioral problems were so extreme, an outside specialist was called to Dietz Elementary School to help.
"Even after all these years, the behavioral issues and disciplinary issues are hard for me," McCorkle said.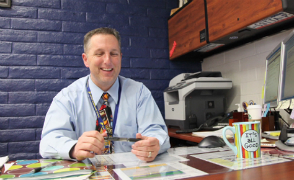 (PHOTO: Fernanda Echavarri)
Jim Heinzelmann was finding out how tough it was to call Child Protective Services on his first year as principal of Sopori Elementary School.
"In a way you're changing that child's life by making that call and it's difficult, but we do it because we truly care about that child," he said.

Throughout March and April, both principals also said they were under pressure to prepare for the state standardized test known as AIMS.
Friday: Part Four: School's Out
Lisa McCorkle danced her way out of school on the last day of class after 35 years in education.
Just before the last bell rang, McCorkle got on the intercom and made her final school wide announcement before retirement.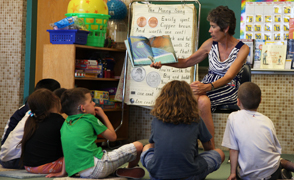 (PHOTO: Fernanda Echavarri)
She had told staff there would be no tears on the final day, only celebratory words, but once she started telling students she had picked out a song called "It's a Beautiful Day" for them, her voice got shaky and her eyes filled with tears.
"I hope you have a beautiful day and have a beautiful life and I love you all," she said in the announcement.
Jim Heinzelmann finished his first year as principal of Sopori Elementary School with "good memories, a to-do list, and a lot more confidence," than on his first day.
Heinzelmann started out the school year chasing stray dogs off the playground and ended it with removing a baby chicken from a school bus. On the last day of school, a bus driver contacted Heinzelmann saying a first-grader had a chick in his backpack and it could not be on the bus. Heinzelmann went out to meet the bus driver and took the chick out of the bus, capping off his first year as a school principal.
About Lisa McCorkle
McCorkle has been the principal at Dietz for more than 12 years. She was a teacher in TUSD for 21 years at Lineweaver Elementary School. She will retire at the end of the school year.
About Jim Heinzelmann
Heinzelmann became principal at Sopori in August. He was a teacher and an assistant principal in the Sahuarita district for almost a decade. He previously had left the business world to go back to school and become an educator.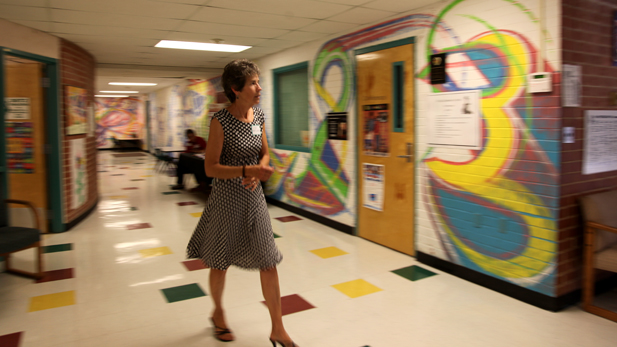 Lisa McCorkle, principal at Sopori Elementary School. (PHOTO: Fernanda Echavarri)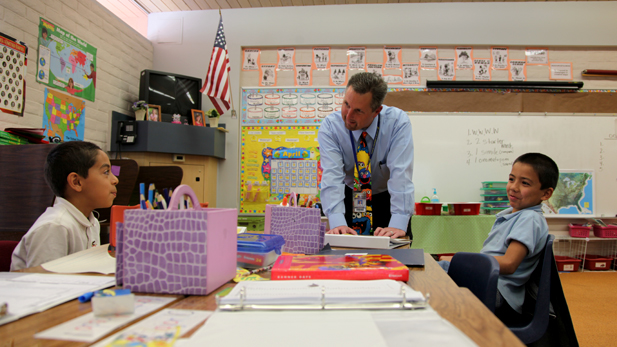 Jim Heinzelmann, principal at Sopori Elementary School (PHOTO: Fernanda Echavarri)