A week-old wildfire burning near Patagonia consumed 10,775 acres by Thursday afternoon, while fire crews reported making "significant progress," with 55 percent containment reported.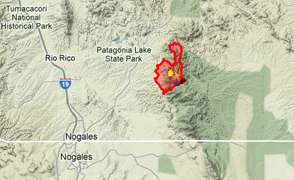 (PHOTO: www.inciweb.org)
The Soldier Basin Fire, six miles south of Patagonia and five miles east of the Nogales airport, was being fought by 200 hundred crew members, the Incident Information System website reported.
"Fire crews worked late into the night to conduct burnouts in anticipation of higher temperatures and forecast winds expected this weekend," the Thursday morning report said. "Significant progress was made with this effort."
Fire personnel used "burnouts," or deliberately set fires to consume dry vegetation in the path of the wildfire, along the northern and northeastern edges of the fire, the report said. The southern perimeter of the fire was reported to be secured.
Area residents were cautioned that while no structures were threatened, the fire's movement remained unpredictable.
The fire started last Friday night and was human caused, officials said. It is the first significant blaze in Southern Arizona this season.