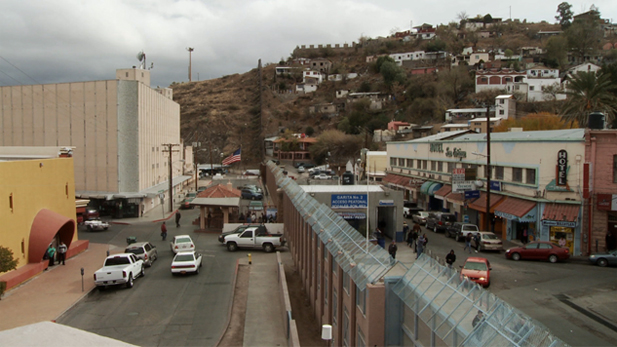 The border between Douglas, Ariz., and Agua Prieta, Mexico.

AZPM
Immigration reform legislation unveiled in Washington this week is being called a starting point in the debate "to secure America's borders, advance our economic growth and provide fuller access to the American dream," say the senators proposing it.
In introducing the Border Security, Economic Opportunity, and Immigration Modernization Act of 2013, the U.S. Senate's "Gang of Eight" said, "Our immigration system is broken and it is time for a national conversation about how to fix it."
"Our bipartisan proposal is a starting point, and will be strengthened by good-faith input and ideas from across the ideological spectrum," the statement said. "We look forward to multiple Senate hearings on this bill, an open committee process with amendments, and a full and fair debate in the Senate."
The 844-page bill was released Tuesday by the "Gang of Eight," a bipartisan group that includes Arizona Republicans John McCain and Jeff Flake. They and six others have been working on the proposal since shortly after last fall's presidential election.
Among provisions of the legislation:
People who came to the United States illegally before Dec. 31, 2011 will be eligible to apply for temporary legal status, renewable every six years. They will become eligible for permanent residency after 10 years and citizenship several years after that.

Funding for border security will be increased, with another $3 billion proposed, including hiring of more Border Patrol officers, fencing and technology. A border security plan will be required of the Department of Homeland Security within six months of the bill's enactment, along with periodic updates.

A measure of border security effectiveness, to judge if it is at the 90 percent effectiveness mark, will be required and linked to legalization of those in the country illegally.

Reconfiguration of visas for highly skilled workers and a guest-worker program for those with low skill levels, such as agricultural workers, will be put into effect.

If border security goals are not met in a timely way, a border security commission would be set up to make recommendations. The commission would include the four border states' governors and congressional appointees.
The first hearing on the proposal is expected Friday in the Senate Judiciary Committee.