The year 2012 tied 1989 for the hottest in overall average temperature in Tucson, the National Weather Service reports, at 71.4°. It was also the the 10th hottest summer on record.
J.J. Brost, science and operations officer with the weather service's Tucson office, also says the monsoon was "average" and the winter was a snowbird's dream.
Brost summarized the year in Tucson weather, based on official readings at Tucson International Airport. He says the five months from May 1 to Sept. 30 were the 10th hottest ever. The peak was two straight days at 109°, Aug. 12 and 13. A total of 73 days were 100° or above.
The warm streak extended almost to the holiday season. In fact, Brost says, November was the seventh warmest on record for that month. And even with a mid-December cold snap, Brost says, "...we're likely to see about the third warmest November-December period on record."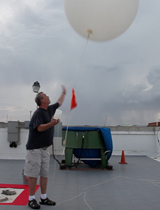 Forecaster Hans Hanson releases a weather balloon from the weather service office roof in Tucson. Balloons are released twice daily, weather permitting, and record a variety of atmospheric conditions, which are used to make forecasts. (PHOTO: Mark Duggan)
As for the monsoon, it will go down as average, at least at the airport's rain gauge, where 6.02" of rain fell. The average is 6.07". Some areas recorded a lot more, and some less.
Overall, Brost says, it was fairly indicative of the season.
"It wasn't one particular event that dumped a bunch of rain," he says. "We had a whole bunch of events throughout the year, and maybe one or two stronger events. In general it was a nice, persistent monsoon, and we ended with around an average amount of rain."
Brost also checked the latest data from the Climate Prediction Center, which recently issued forecasts for January and the first quarter of 2013.
"Not much in the way of good news there," he says. "More warmer-than-normal potential and drier-than-normal potential. Hopefully it's wrong. Hopefully we will get a few storms and give us some beneficial rainfall and snowfall, but at this point, it's looking to be dry and warm."
Brost does have some minor good news about the ongoing drought. He says Arizona is ranked between moderate and extreme drought categories, and no part of the state is considered extreme.
But, he says, drought conditions are predicted to remain persistent through the first quarter.