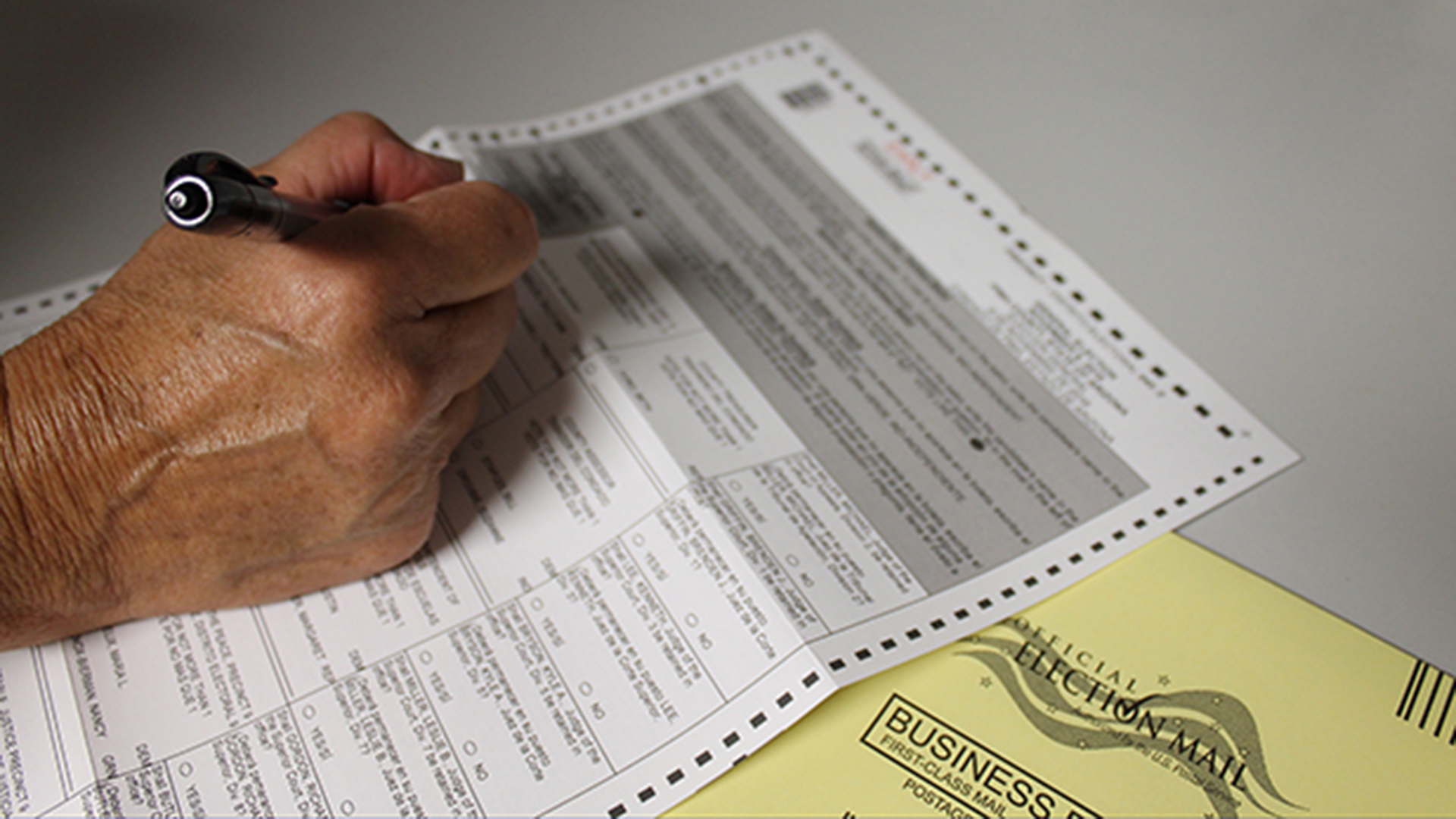 A mail-in ballot. Arizona
AZPM Staff
This story originally appeared as part of the August 5, 2022 episode of The Buzz
With another election cycle underway, the Cochise County Democratic and Republican Party Headquarters are actively drawing attention to the issues facing residents in the border communities in the county.
In early July, the Cochise County Democratic Party was present at an abortion protest a week after the U.S. Supreme Court voted to overturn the 1972 case, Roe v. Wade — helping attendees register to vote and sign petitions prior to the march.
In mid-July, the Cochise County Republican Committee hosted state superintendent of public instruction candidate Shiry Sapir at their headquarters for a meet & greet, according to an event they shared on Facebook.
Arizona Public Media reached out multiple times to committee members from the Cochise County Republican Committee, but they declined to be interviewed.
According to the most recent voter registration numbers, Republicans have the majority. Cochise County currently has 20,770 registered Democrats and 31,736 Republicans.
When asked about some of the main issues facing the county, chairperson of the Cochise County Democratic Party Elisabeth Tyndall mentioned education is at the top of county democrats' lists.
"I think that making sure that our schools are funded, making sure that our schools have the resources that they need to be able to educate our students is one of the major concerns across the board in our county," said Tyndall.
When it comes to school security amid the uptick of mass shootings across the nation, Tyndall said that her committee recommends placing more restrictions on purchasing firearms.
"Having red flag laws, having checks, you know, background checks so that when you purchase a weapon, it takes more than just an hour to buy a gun that can take many, many lives in a small amount of time," Tyndall said. "But we also need to make it more difficult for people to get weapons that can rip little children's bodies apart. I think we forget that part, we forget how brutal and terrible it is, and we get caught up in different narratives and we forget that there are parents that have lost their children and all they did was send them to school."
Additionally, Tyndall is also putting out a call for more access to mental health services in the county.
"I do think that we do have to address mental health in our community," said Tyndall. "But I think that we need to do it in a genuine way and not 'I'm just paying lip service to it.' Here in Cochise County specifically, there is very little access to mental health care. If you were to decide that you wanted to go see a psychologist or a therapist of any kind, the chances that you'd be able to get an appointment in the next six months are very, very low."
Another issue in the spotlight is access to water. Two ballot initiatives will appear on the November ballot to give voters the choice of whether or not to make both the Douglas and Willcox water basins Active Management Areas, therefore, subject to regulations regulating the use and withdrawal of groundwater.
"We don't have enough water in our county," said Tyndall. "We have people that their wells are running dry, and I think just from keeping people in our county and keeping people employed, both education and water are really two topics that we have to address and that I think are at the top of our list."
It's a topic that's resurfaced multiple times in public comments during the Cochise County Board of Supervisors meetings.
"What is happening to the water tables here is causing concern, since a number of domestic wells have run dry this year," said Neil Petersen, a McNeil resident who spoke during the public comments section of the July 26 meeting. "These trends show that there's a serious problem with the combined effects of agricultural over-pumping in the ongoing drought."
Noting that Cochise County encompasses multiple communities in close proximity to the border, Tyndall said that she recommended a humanitarian approach.
"I think as a country, we do have a responsibility to offer asylum and protection to people who need it," she said. "Some of the rhetoric is really out of control. We are talking about peoples' lives. And people don't pick up and leave their home and travel hundreds and thousands of miles for no reason."
According to a report from the U.S. Customs and Border Protection, the number of encounters between agents and undocumented immigrants along the Southwest Border — spanning from Texas to California — has increased by 51.8% this year in comparison to last fiscal year.
From October 2021 to June 2022, a little more than 1.6 million undocumented individuals were reported by the U.S. Border Patrol for Title 8 Apprehensions, Office of Field Operations (OFO) Title 8 Inadmissible, and Title 42 Expulsions in the U.S.-Mexican border compared to just over a million from the previous fiscal year.
Tyndall said that she believes the issue lies with the system.
"One of the talking points is 'well, people should come to this country legally, they should go through the process legally,'" she said. "And of course, right? Of course. But, the process to come here legally is such a tangled web of bureaucracy and time …
"That doesn't work because if your family's life is at stake, you're doing the process of the years and years of waiting for the process, it isn't going to serve your emergency," Tyndall continued.
As election season gets underway, Tyndall encourages all to be informed and to vote.
"At the end of the day, those numbers matter," said Tyndall.