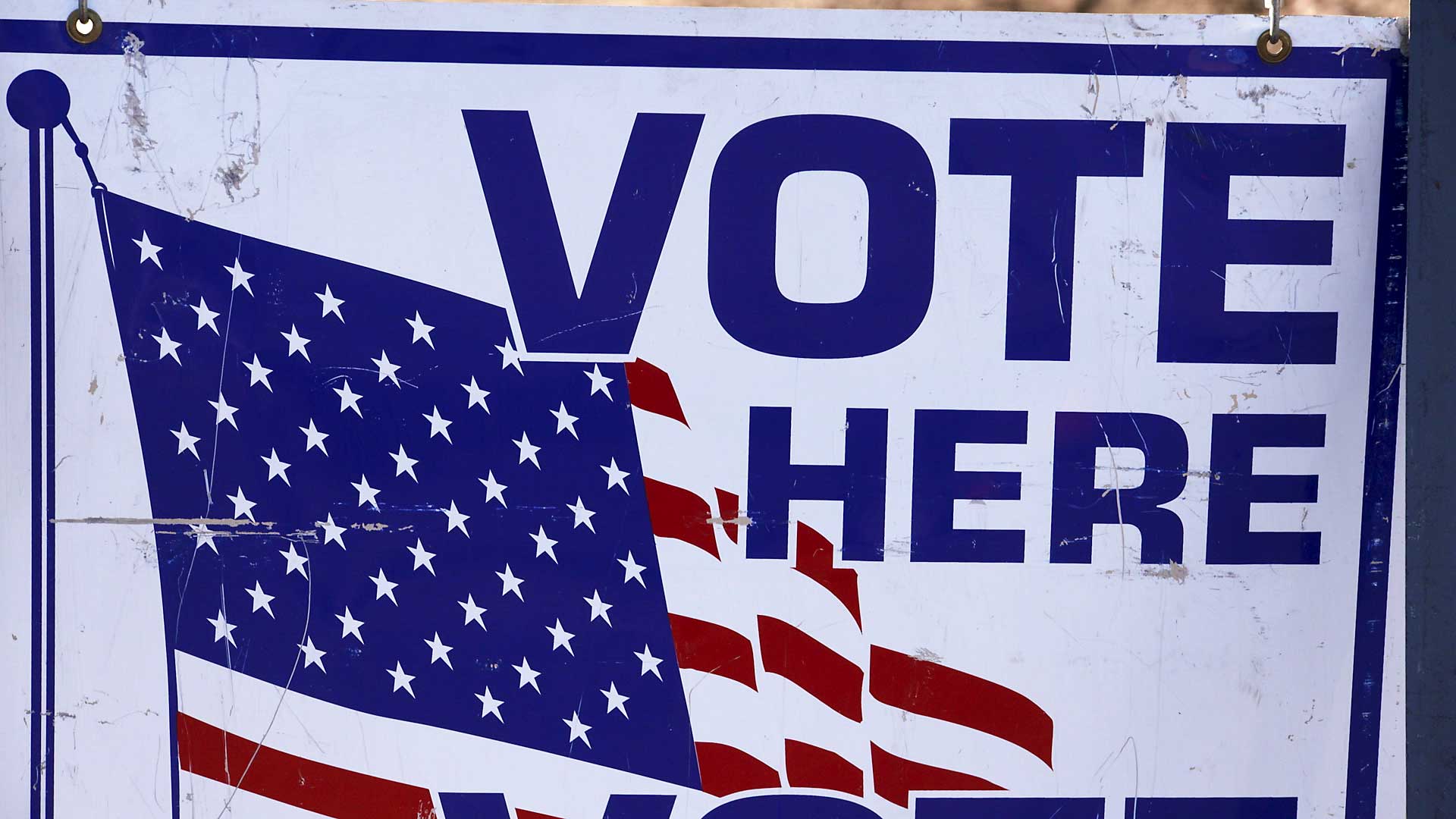 A vote here sign outside of a polling place in Tucson. November 2020.
John DeSoto/AZPM Staff
The general election ballot for legislative district 19 will look just like it did for this week's primary. Each district elects two people…and the Republicans put two people up… Gail Griffin and Lupe Diaz. They will both face off against Democrat Sanda Clark who was the only Democrat in her party's primary for the seat. Diaz and Griffin are the incumbents in the race.
The race for Division I Judge of the Superior Court of Cochise County has less than 30 votes between Republican candidate Raymond Haight — who's earned 7,690 votes so far — and Democratic candidate Joel Larson — who's earned 7,666 votes thus far. Republican Ruth Faulkner trails both and has earned 6,224 votes so far.
For Justice of the Peace for precinct 3 — which covers Benson — Republican candidate, Bruce Staggs leads over fellow republican candidate Del Thola by just over 100 votes. Staggs has earned 1,285 votes so far and Thola has earned 1,176 votes thus far.
The rest of the county candidates in the primary are nearly all running unopposed.
Republican Senator David Gowan is running unopposed to keep his seat in the senate representing District 19 and has earned 13,523 votes so far.
Current Division III Superior Court Judge John Kelliher Jr. — who's running on the Republican ticket — has earned 13,772 votes so far in the race to keep his seat on the bench. Division II Superior Court Judge David Thorn is also running unopposed on the Republican ticket and has earned more than 13,667 votes so far.
Clerk of the Superior Court Amy Hunley — a Republican — has earned 13,917 votes so far to keep her position as clerk; she has no opponents.
The county Justice of the Peace candidates are all running unopposed.
Republican candidate Trevor Ward — who's running for Justice of the Peace for Willcox — has earned 1,288 votes so far, Kenneth Curfman — also a Republican candidate — has earned 8,292 votes thus far in the race for Justice of the Peace for Sierra Vista.
The three Democratic candidates for Justice of the Peace for precincts 1, 2, and 6 — Janus Poppe, Alma Vildosola, and Ruben Adame — have earned 1,467 votes, 1,248 votes, and 40 votes respectively.
Benson
Benson Mayor Joe Konrad leads the polls with a little more than 700 votes, a 200-vote lead over his opponent Chris Tapia — who has 585 votes so far.
For the three city council seats that are up, Seth Judd, Levi Johnson, and Cindy Tapia are leading in the top three with 631, 603, and 597 votes respectively.

Tombstone
Tombstone Mayor Dustin "Dusty" Escapule leads the race for mayor over Steve McNeely by 126 votes. Colin Regan, Bill Barlow, Charlene McMahon, and James "Lefty" Newbauer lead the races for the city council.
Willcox & Bisbee
All of Willcox and Bisbee's mayor and city council seats are incumbents and running unopposed.
The City of Sierra Vista and the town of Huachuca City will have their candidates face off in the General Election on November 8.
The Cochise County Recorder's Office is reporting there are 2,459 early ballots left to process, 125 provisional ballots, and 108 ballots that are pending to be cured. The signature curing deadline is Aug 9 at 5:00 p.m., five calendar days after the election.