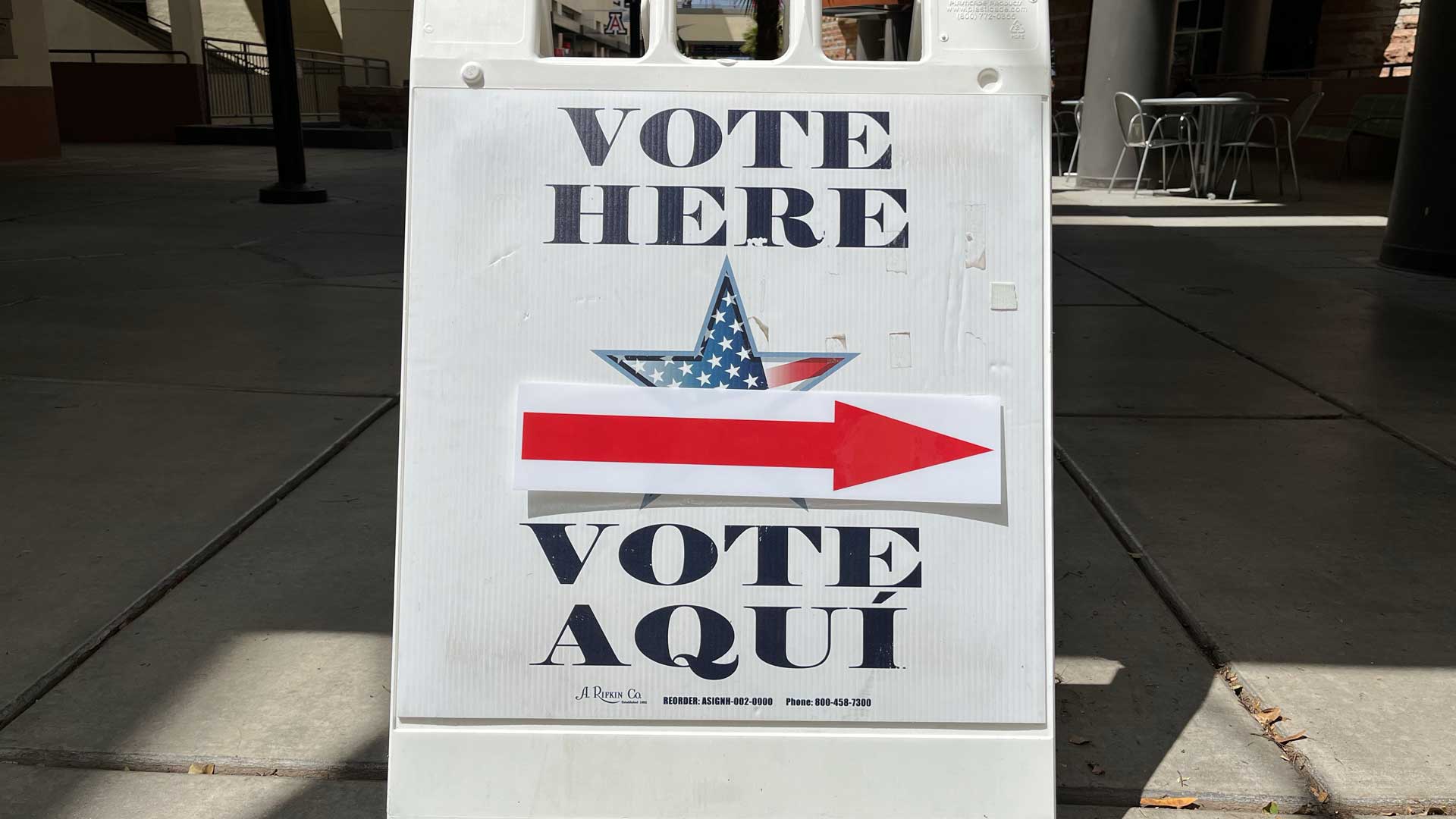 Christopher Conover/AZPM
Voters cast the final ballots Tuesday in Arizona's primary election, nominating candidates to lead the state, oversee its future elections and represent it in Washington, D.C.
Find results here.
Here are five takeaways from AZPM's newsroom:
1) The Republican primary for governor isn't over yet
Kari Lake, the former Phoenix TV personality who won former President Donald Trump's endorsement and embraced the role of MAGA candidate, took the lead in initial results overnight.
By Wednesday morning, she enjoyed a two-point lead over Karrin Taylor Robson, a developer and former board of regents member who put millions of dollars of her own money into the race, attacking Lake over her past support of Democrats.
Those attacks may have stuck.
Early voters leaned toward Robson.
But Republican voters who cast ballots on Election Day leaned towards Lake. As county election officials have tallied votes from Election Day, Robson's lead has shrunk and Lake in the early morning hours took the lead by less than a point.
Lake told supporters Tuesday that Robson has no path to victory.
Vote counting will continue. Either way, the race will be close.
The winner will face Secretary of State Katie Hobbs in the general election. She defeated former Nogales Mayor Marco Lopez in the Democratic primary.
2) It was a big night for Trump-endorsed candidates at the top of the ballot ...
Blake Masters, a venture capitalist who ran to the right and won former President Donald Trump's endorsement, clinched the Republican nomination for U.S. Senate.
Masters has enjoyed not just Trump's backing but also the support of tech mogul Peter Thiel, who has put millions of dollars into backing his campaing.
Masters will face Democratic Sen. Mark Kelly in the general election, which could decide control of the U.S. Senate.
3) ... and lower on the ballot
House Speaker Rusty Bowers, a Republican who pushed back on Trump's efforts to overturn the results of the 2020 election, appeared on track to lose his bid for a seat in the state Senate.
Trump endorsed Bowers' opponent, former legislator David Farnsworth.
The former president also backed challengers to other incumbent Republican legislators and all appeared on track to victory Tuesday night. Janae Shamp was leading Sen. Joanne Osborne in initial results. And Robert Scantlebury was leading Sen. Tyler Pace in initial results.
4) 2020 looms over the general election
Trump's pick for the Republican nomination for secretary of state also appeared on track to win on Tuesday.
State Rep. Mark Finchem, R-Marana, has supported throwing out the results of the 2020 presidential election. If elected, he would be the state's top election official for the 2024 presidential election.
The Democratic primary for secretary of state was too close to call Tuesday night. House Minority Leader Reginald Bolding, D-Laveen, and former Maricopa County Recorder Adrian Fontes are seeking their party's nomination. Fontes led in early results.
5) Southern Arizona will have a competitive race for Congress
The 6th Congressional District looks a lot like the district Democratic Rep. Ann Kirkpatrick represents now. It includes Cochise County, parts of northern Tucson and stretches up to Marana and Casa Grande.
The district has got the attention of Republican leaders in Washington, D.C. They see a chance to flip this district from Democratic to Republican and that could make a difference in their efforts to win control of the House.
Republicans nominated Juan Ciscomani, a former advisor to Governor Ducey who has been a prolific fundraiser and won the endorsement of House Minority Leader Kevin McCarthy.
Democrats nominated environmental law professor Kirsten Engel, a former state senator.