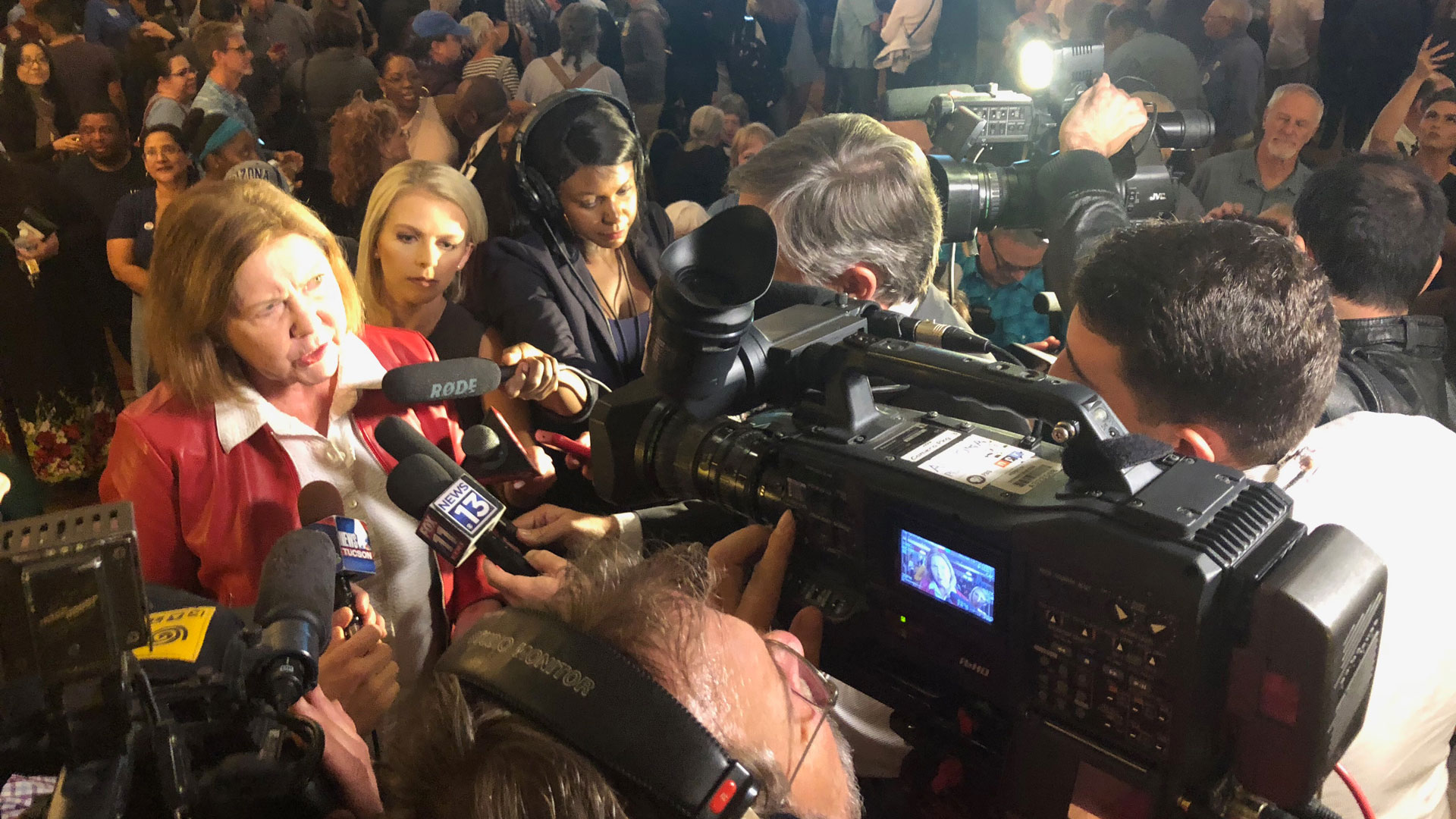 Democrat Ann Kirkpatrick speaks to the press at the Doubletree Reid Park in Tucson on election night, 2018.
Jason Katterhenry/AZPM
U.S. Rep. in Congress - District No. 2
| Candidate | % | Votes | |
| --- | --- | --- | --- |
| Kirkpatrick, Ann DEM | 54.75% | 161,000 | |
| Marquez Peterson, Lea REP | 45.25% | 133,083 | |
Democrat Ann Kirkpatrick is returning to Congress after defeating her Republican challenger Lea Marquez Peterson for Arizona's 2nd Congressional District.
This is the third time Ann Kirkpatrick will have represented Arizona in U.S. Congress. She claimed victory Tuesday night by repeating her opposition to the president.
"We are so proud to be part of Southern Arizona. We are doing our part to push back against the Trump monstrosity," Kirkpatrick said.
Kirkpatrick was elected to the seat left vacant when Martha McSally entered the race to replace outgoing U.S. Sen. Jeff Flake.
Her challenger, Republican Marquez Peterson, said she may pursue political office again.
"I like being involved in advocacy. At this point I've been at the city and the state level and this is the first time I've done something this intense obviously running for office and at the federal level. So I'm still going to be very interested in issues throughout the region."
When Kirkpatrick heads to Washington, Marquez Peterson will likely resume her position as CEO of the Tucson Hispanic Chamber.

Read more coverage of national, Arizona, and local elections at our 2018 elections portal,
Your Vote 2018
.