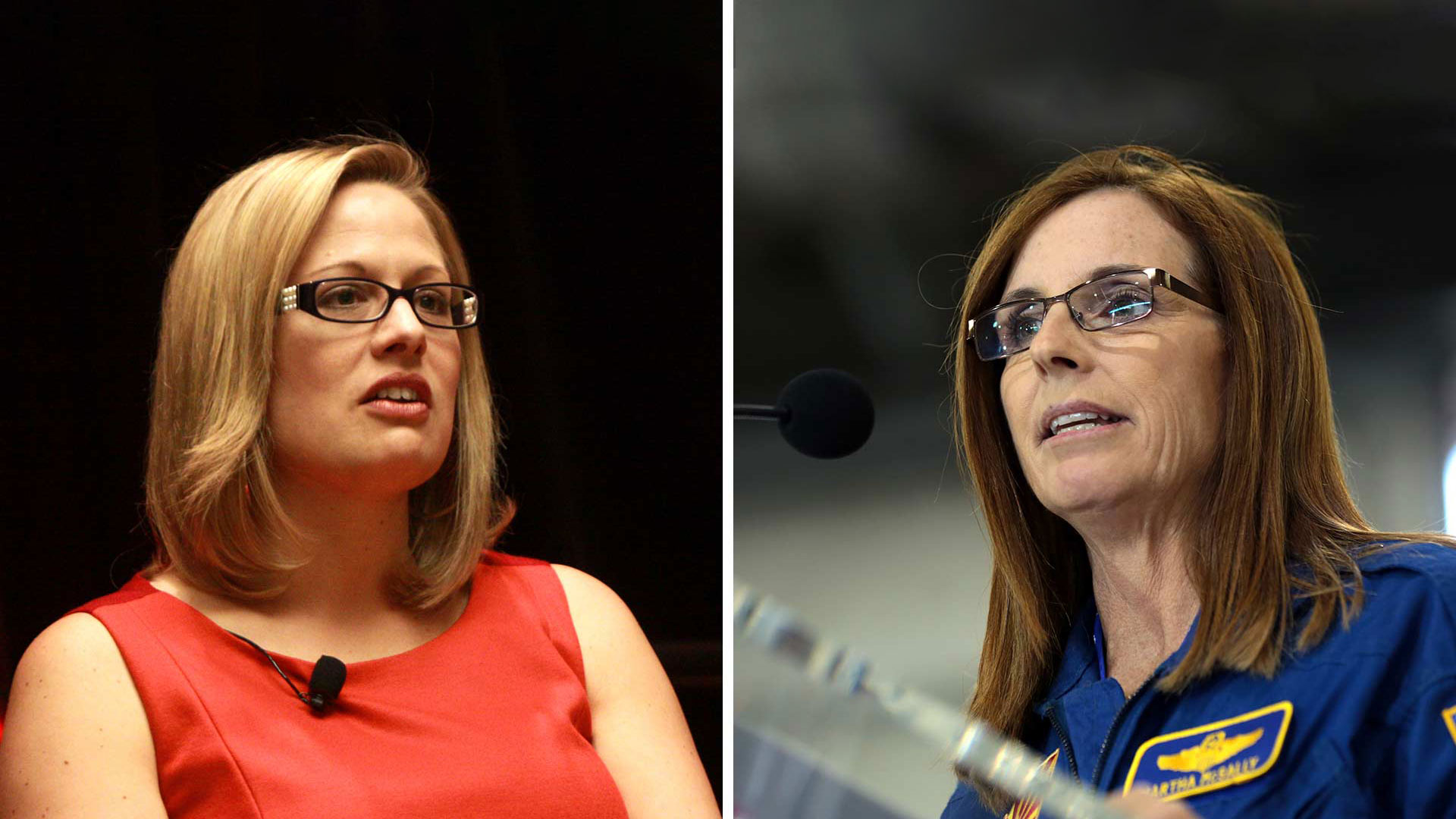 Kyrsten Sinema, left, and Martha McSally.
Gage Skidmore via Flickr
Southern Arizona voted on three congressional seats and the statewide election of the first woman representing this state in the U.S. Senate.
U.S. Senate
| Candidate | % | Votes | |
| --- | --- | --- | --- |
| McSally, MarthaREP | 47.62% | 1,135,200 | |
| Sinema, KyrstenDEM | 49.97% | 1,191,099 | |
As early results started coming in Tuesday night, the race for Jeff Flake's open U.S. Senate seat was too close to call, with the candidates alternately leap-frogging into the lead by margins of only a few thousand votes.
By Wednesday morning, McSally had maintained a slight lead, according to the secretary of state's website, though thousands of ballots remained to be counted, including more than 80,000 in Pima County, the recorder's office said.
The outcome of Arizona's Senate race will guarantee the state will be represented in the Senate by a woman for the first time. Republican Martha McSally represents Arizona's 2nd Congressional district. She was sworn into office in 2015. In the district, she positioned herself as a moderate, but since announcing her bid for Senate she has become an ardant supporter of President Donald Trump. McSally is a retired Colonel in the U.S. Air Force where she flew A-10 attack planes.
Democrat Kyrsten Sinema represents Arizona's 9th Congressional District, and was sworn in to that seat in 2013. Before that, she was a member of the Arizona Legislature representing the metro Phoenix area. In the legislature, she was regarded as a liberal, but since serving in Congress has positioned herself as more moderate politically.
U.S. Rep. in Congress - District No. 1
| Candidate | % | Votes | |
| --- | --- | --- | --- |
| O'Halleran, Tom DEM | 53.84% | 143,240 | |
| Rogers, Wendy REP | 46.16% | 122,784 | |
The incumbent in Arizona's 1st Congressional District held on to his seat against a Republican challenger strongly aligned with President Donald Trump.
The race in the district is the first incumbency test for Democratic Rep. Tom O'Halleran. He has positioned himself as a moderate Democrat, pointing to his meeting with Trump at Luke Air Force Base in Phoenix during the campaign.

Republican Wendy Rogers is the challenger in this race. The former Air Force officer has run for political office before. She is a strong supporter of the President.
The district spans from Oro Valley in Southern Arizona, to the Utah border, and from the Grand Canyon to New Mexico. It is one of the largest in the country by land mass.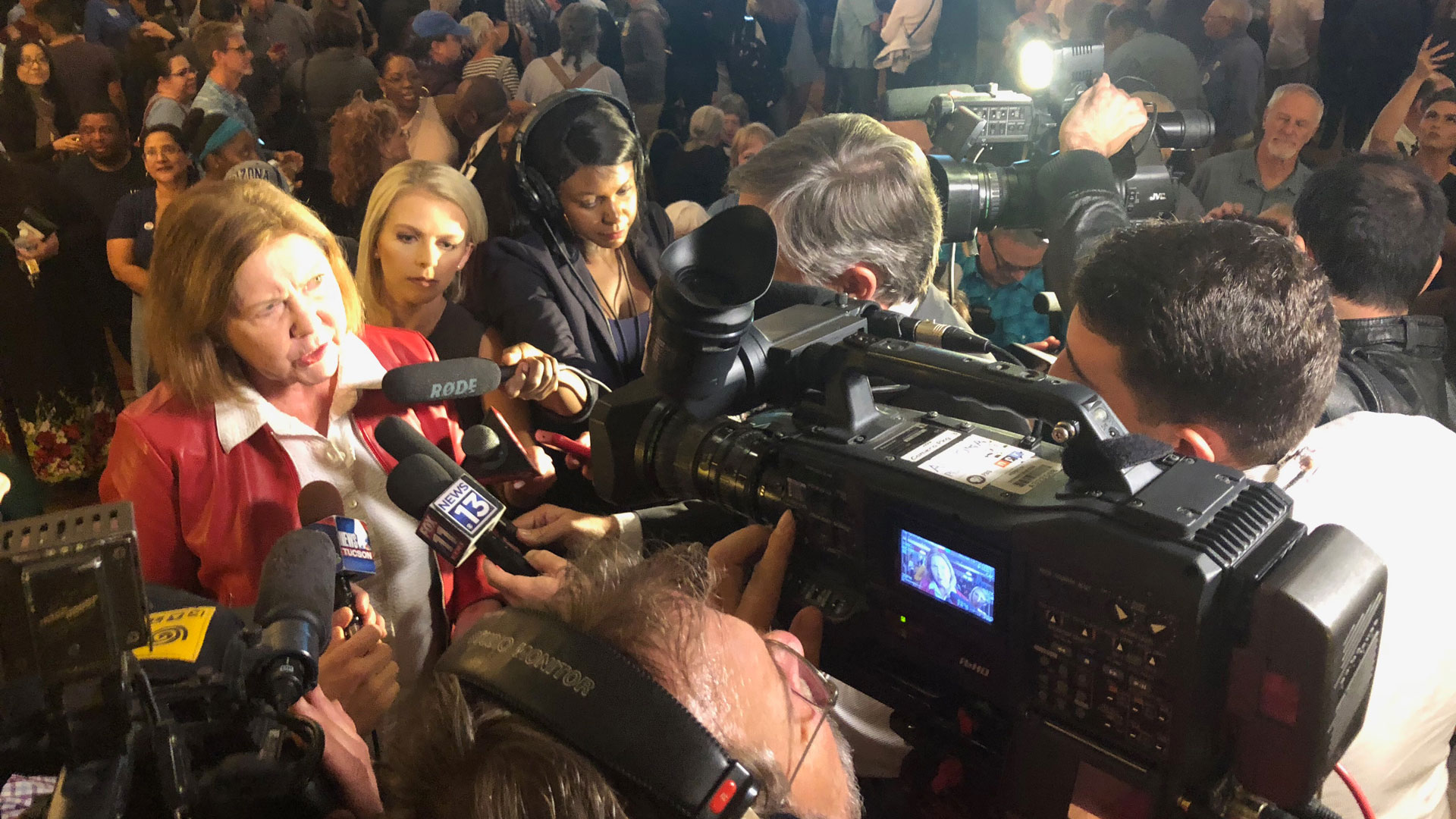 Democrat Ann Kirkpatrick speaks to the press at the Doubletree Reid Park in Tucson on election night, 2018.
Jason Katterhenry/AZPM
U.S. Rep. in Congress - District No. 2
| Candidate | % | Votes | |
| --- | --- | --- | --- |
| Kirkpatrick, Ann DEM | 54.75% | 161,000 | |
| Marquez Peterson, Lea REP | 45.25% | 133,083 | |
A Democrat took the seat vacated by Martha McSally in Arizona's 2nd Congressional District, according to the Associated Press.
Two familiar names ran in the district, which includes eastern Tucson and all of Cochise County. Democratic candidate Ann Kirkpatrick represented Arizona's 1st Congressional District from 2009-2011 and again from 2013-2017. In the 2016 campaign, she ran against U.S. Sen. John McCain. Republican Lea Marquez Peterson is making her first bid for office but has been the president of the Tucson Hispanic Chamber since 2009.
U.S. Rep. in Congress - District No. 3
| Candidate | % | Votes | |
| --- | --- | --- | --- |
| Grijalva, Raul DEM | 63.87% | 114,650 | |
| Pierson, Nicolas REP | 36.13% | 64,868 | |
Victory in Arizona's 3rd Congressional District went to Democratic U.S. Rep. Raul Grijalva, as the early results came in on Election Day.
Grijalva has represented the district for 15 years. He is known as a liberal representative and is co-chair of the Progressive Caucus in the U.S. House.

His challenger, Republican Nick Pierson, is new to politics. He was born in Nogales, Arizona.
The vast district includes western Tucson and stretches to the California state line. It also includes the southwestern corner of the Metro Phoenix area.

Read more coverage of national, Arizona, and local elections at our 2018 elections portal,
Your Vote 2018
.