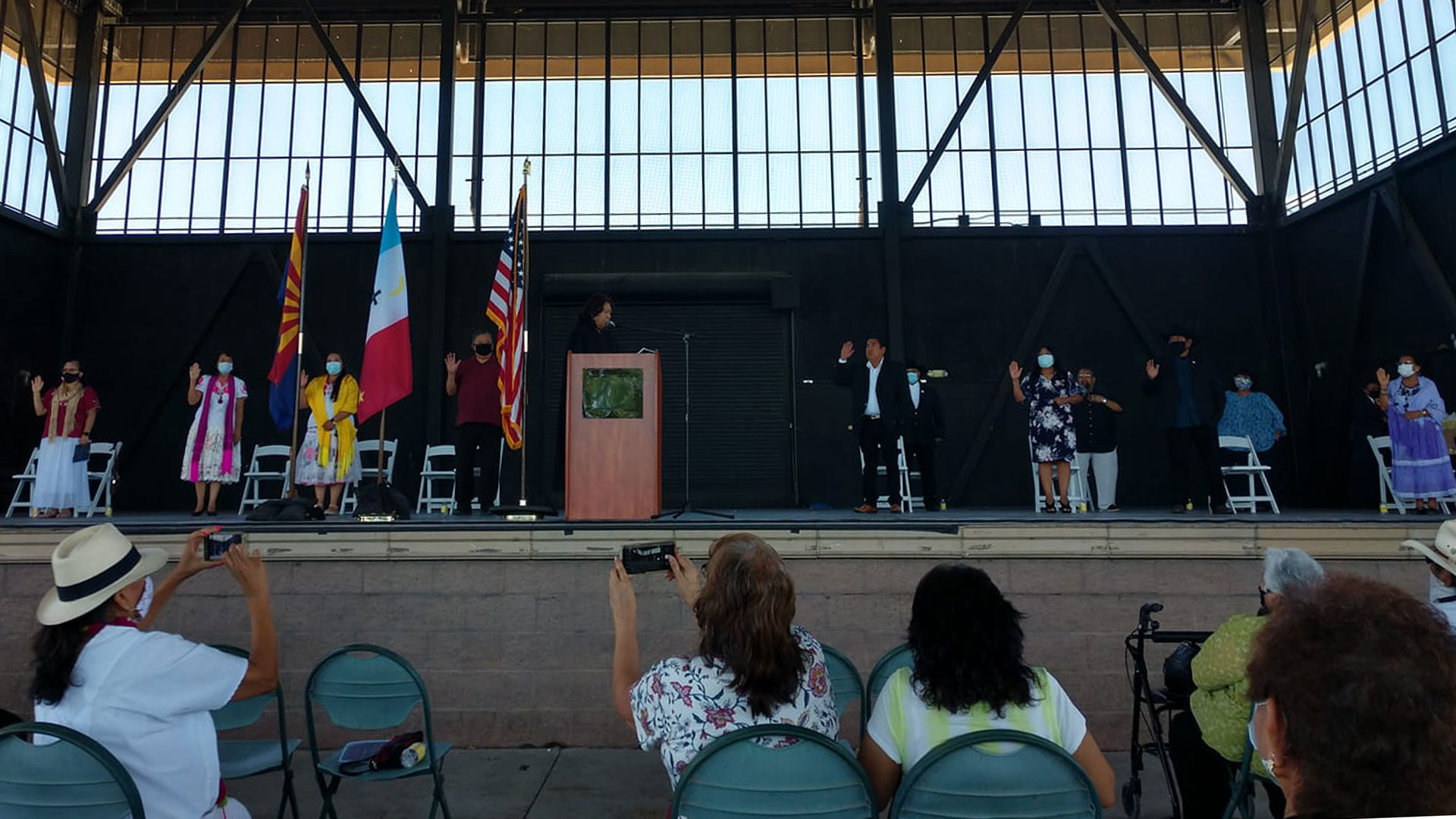 The 2020-2024 Pascua Yaqui Council being sworn in Monday, June 8, 2020. This photo was originally posted on the tribe's Facebook page.
The newly elected tribal council of the Pascua Yaqui Tribe has appointed Peter S. Yucupicio to be chairman for his fourth term in office.
Monday the council announced that Yucupicio would be the chair and Robert Valencia, the last chairman, would be the new vice chair for the next four years.
Yucupicio and Valencia served in reserve role during the 2016-2020 term, but neither were new to the 11-person council even then. Yucupicio first served on the council in 2000 as the tribe's treasurer, and since then he's held the position of chair or vice chair, according to a tribal council appointment document.
Though the men were appointed to these positions by the tribe's new council, Yucupicio also received the most votes during the general election June 1, with 1,298 ,or 5.42%. He was one of 60 candidates 2,608 voters chose from to make up the council.
The tribe reports 15.82% percent of the 16,487 eligible voters participated in this election. The tribe did try to increase voter turnout while observing safe voting practices during the pandemic by sending its voters absentee ballot request forms and promoting early voting. A little under half of those who voted, 1,145 people, participated in one of these two forms of voting.
Some of the members of the council were re-elected from the last term but about a third of the council members was replaced.
Pascua Yaqui Tribe Council:
Peter S. Yucupicio, Chairman
Robert Valencia, Vice Chairman
Catalina Alvarez
Mary Jane Buenamea
Antonia "Toni" Campoy
Herminia "Minnie" Frias
Andrea L. Gonzales
Angelina Valencia Matus
Francisco Guadalupe Munoz
Francisco "Chico" Valencia
Sergio Ochoa Varela