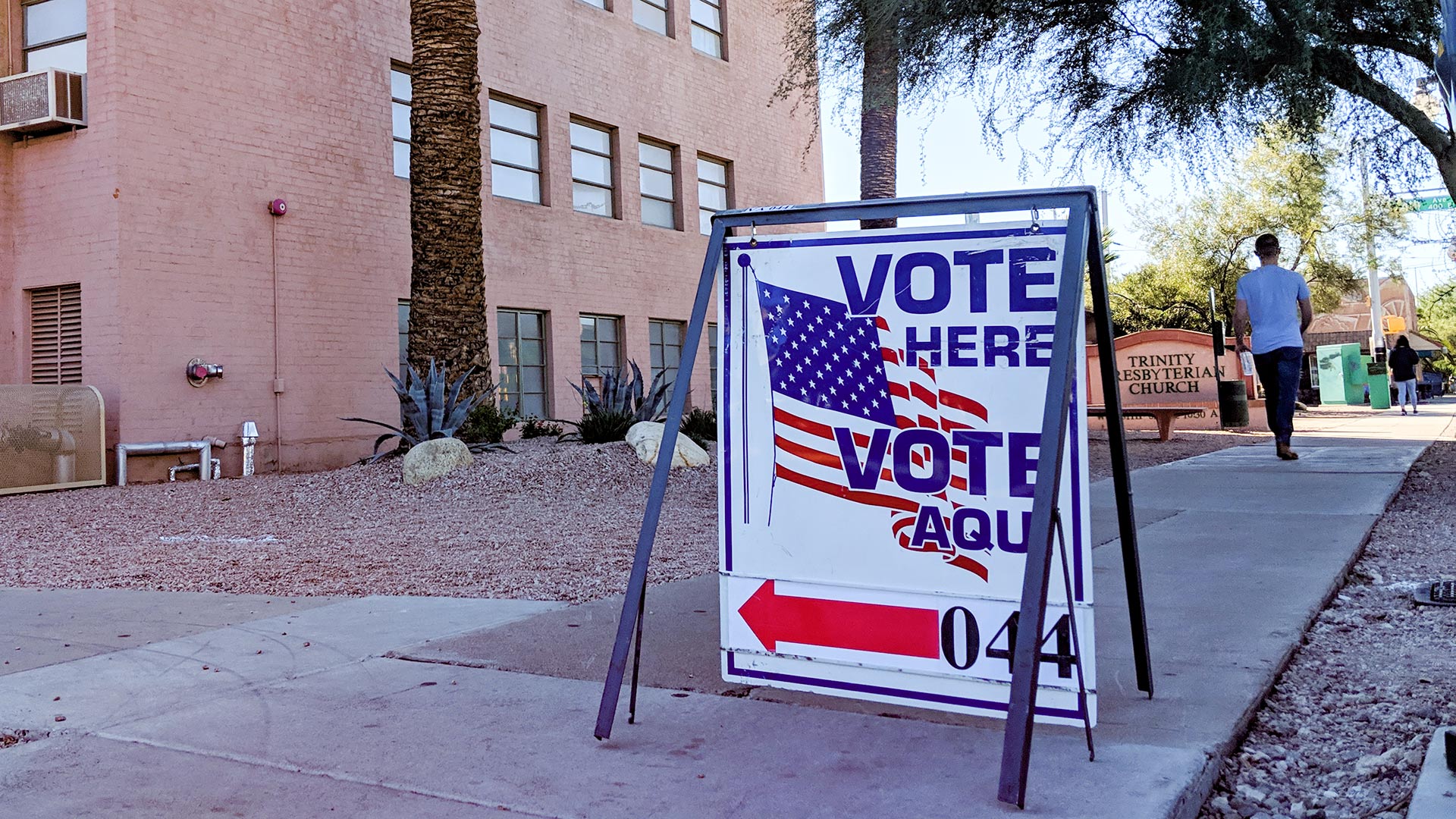 A sign indicating a polling place near Fourth Avenue in Tucson, Election Day, Nov. 7, 2018.
AZPM
Arizona Democratic voters head to the polls on March 17 for the state's presidential preference election. Arizona Secretary of State Katie Hobbs, the state's top elections officer, told The Buzz Arizona's elections are very secure, and that voter fraud is not an issue in the state.

"I think really the bigger threat — and this is not just me saying this, this is coming from folks around the country — are these campaigns of misinformation, because they're much harder to combat," Hobbs told The Buzz.
Hobbs said the places to go for accurate election information are her office's website and county recorders' websites.
The secretary of state said Arizona's low-tech elections provide a sense of security on election day.
"I think the best fail-safe against any sort of tampering with election results is that we have paper ballots," Hobbs said. "And so, whether that's a mailed-in ballot or a ballot that you vote at the polls, we have that paper backup to confirm that elections results reported are the actual election results."
In Arizona, 70% to 80% of voters cast their ballots by mail, but sometimes that creates problems. Pima County Recorder F. Ann Rodriguez said if voters do experience issues with their ballots, her office will call to check.
They might also reach out if the signature on a mail-in ballot does not look similar enough to the signature on file.
All messages from her office, including letters and texts, will make it clear that they are coming from the Pima County government. And Rodriguez said they will never send anyone from the Recorder's Office to collect ballots in person.
Voters who want to check their voter registration status or learn more can find official election information at the County Recorder's Office's website.
---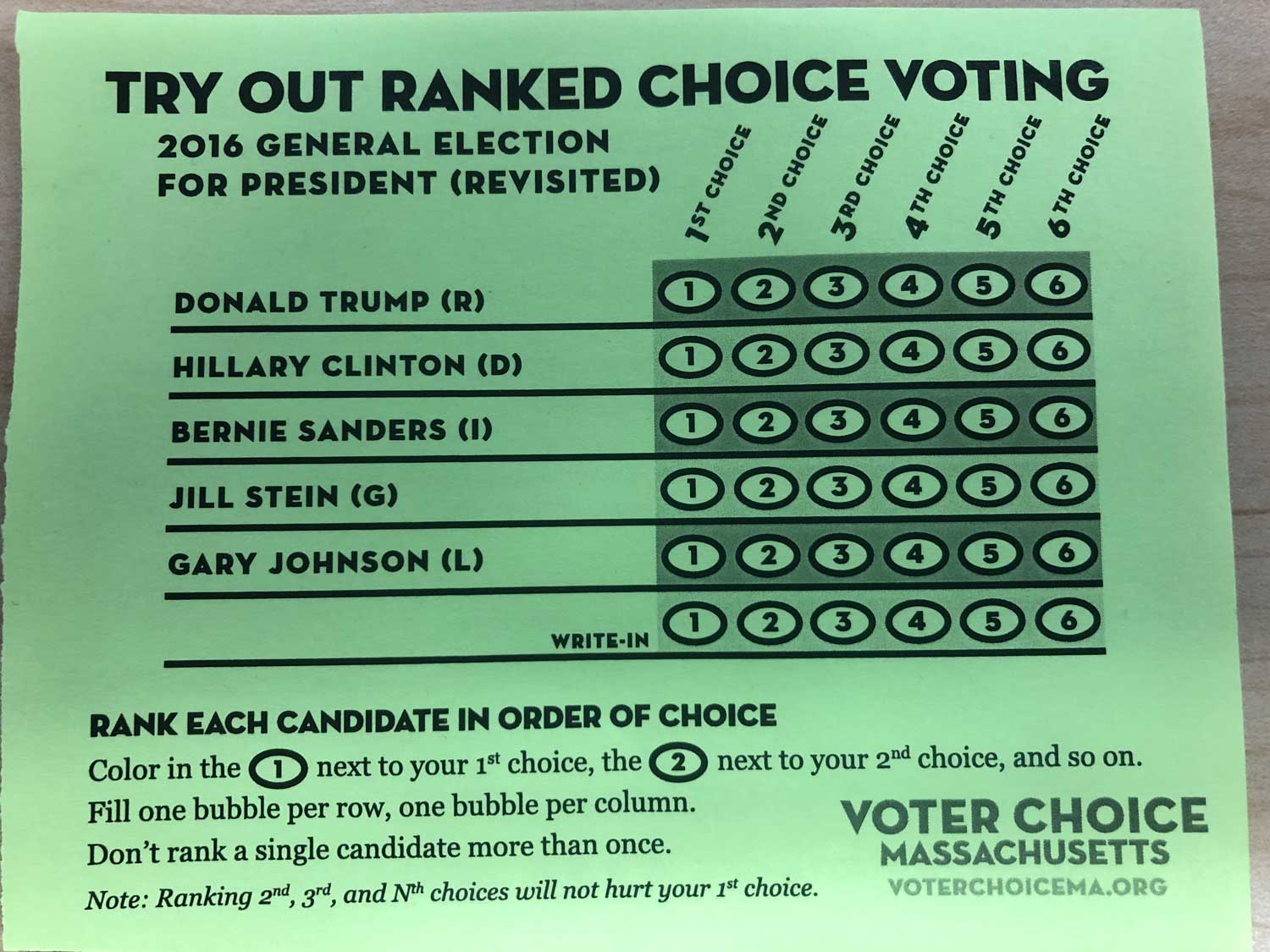 VIEW LARGER An example of a ranked-choice voting ballot. It was made by Voter Choice Massachusets and shows what the 2016 Presidential election ballot could have looked like if ranked-choice voting was in place.
When Arizona voters get their ballots, they choose just one candidate in each race. But a growing national movement is pushing for a different method, called ranked-choice voting, in which voters can rank their preferred candidates.
Adam Friedman is an activist with Voter Choice. He explained how ranked-choice voting works.
"With ranked-choice voting you actually get to rank multiple choices on your ballot. You rank them in the order that you prefer them," Friedman told The Buzz. "You can pick your favorite as your first choice. Then you can pick a second choice, a third choice and so on."
Frances Epsen from the League of Women Voters of Greater Tucson said she thinks ranked-choice voting could be the way to go for Arizona if the state wants to fight voter apathy.
"It should bring out turnout because all of a sudden you don't have to worry about voting against someone, you can vote for someone," Epsen said.
Nine states, including California, New Mexico, Massachusetts and Maine, have already implemented ranked choice voting in some jurisdictions.
The deadline to register to vote in the upcoming presidential preference election is Feb. 18. Only registered Democrats can vote in that election.

The Buzz
airs Fridays at 8:30 a.m. and 6 p.m. and Saturdays at 3:30 p.m. on NPR 89.1. You can subscribe to our podcast on
iTunes
and NPR One. See more from
The Buzz
.