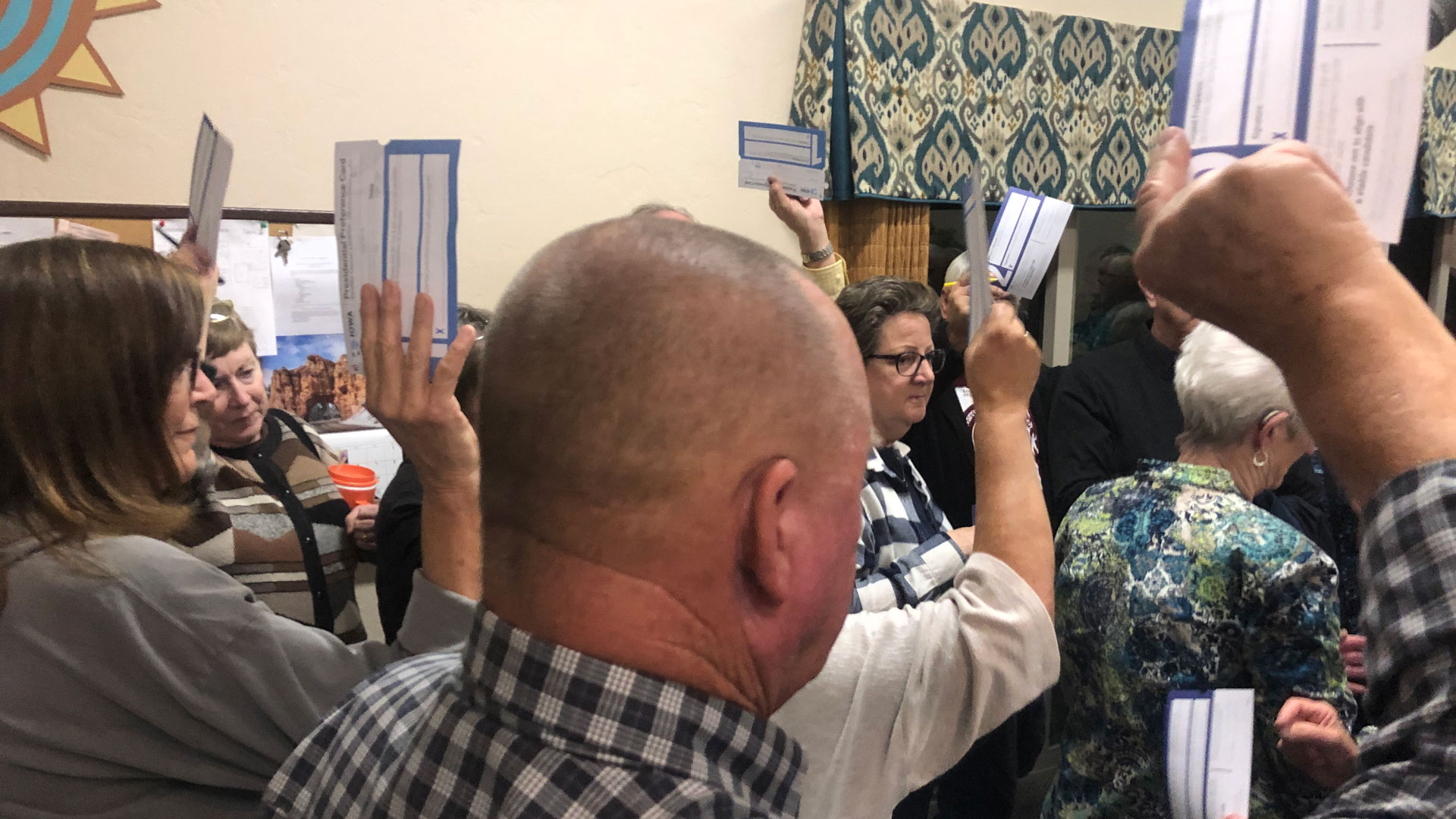 Iowa Democrats wintering in Green Valley participate in a satellite caucus on Feb. 3, 2020
Christopher Conover/AZPM
Fifty Iowa residents who spend their winters in Green Valley, Arizona, gathered at a club house meeting room Monday night to participate in the Iowa caucuses.
The satellite caucus was the first of its kind. All of the participants had to be registered Democrats in Iowa.
"There was an email that went out from the Democratic Party, 'Do you know of another place that could perhaps have a caucus?' And I have always thought, well, why not down south because a lot of us come here for a while and we can't go back and caucus?" said Lynn Swan, one of the organizers of the Green Valley Iowa caucus.
Swan said she and her husband have spent winters for about the last 10 years away from Iowa so they have not been able to participate in caucuses.
Jack Runnells, 88, said he thought about flying back to Iowa this year with his wife to participate in the caucus.
"When she found out about this, and she was so excited, and it is so good that I hope they go ahead and do this, you know, forever," said Runnells.
This was the first year that Iowa Democrats have allowed caucus sites outside the state. Four of the sites were in Arizona and more than 80 others were around the U.S. and around the world. Not all the participants, though, were fans of the satellite sites.
"I'm not sold on it. It's a party-building exercise and I think it helps more to do it within your group and at home, but it's nice to have a chance to express your opinion and meet other Democrats, so I enjoyed that," said Mary McCormick.
While results from Iowa were delayed, in Green Valley the numbers were immediate. Amy Klobuchar won the Green Valley caucus, followed by Joe Biden, and Elizabeth Warren, who tied with Pete Buttigieg. Neither Bernie Sanders nor Michael Bloomberg received any of the final vote in Green Valley.