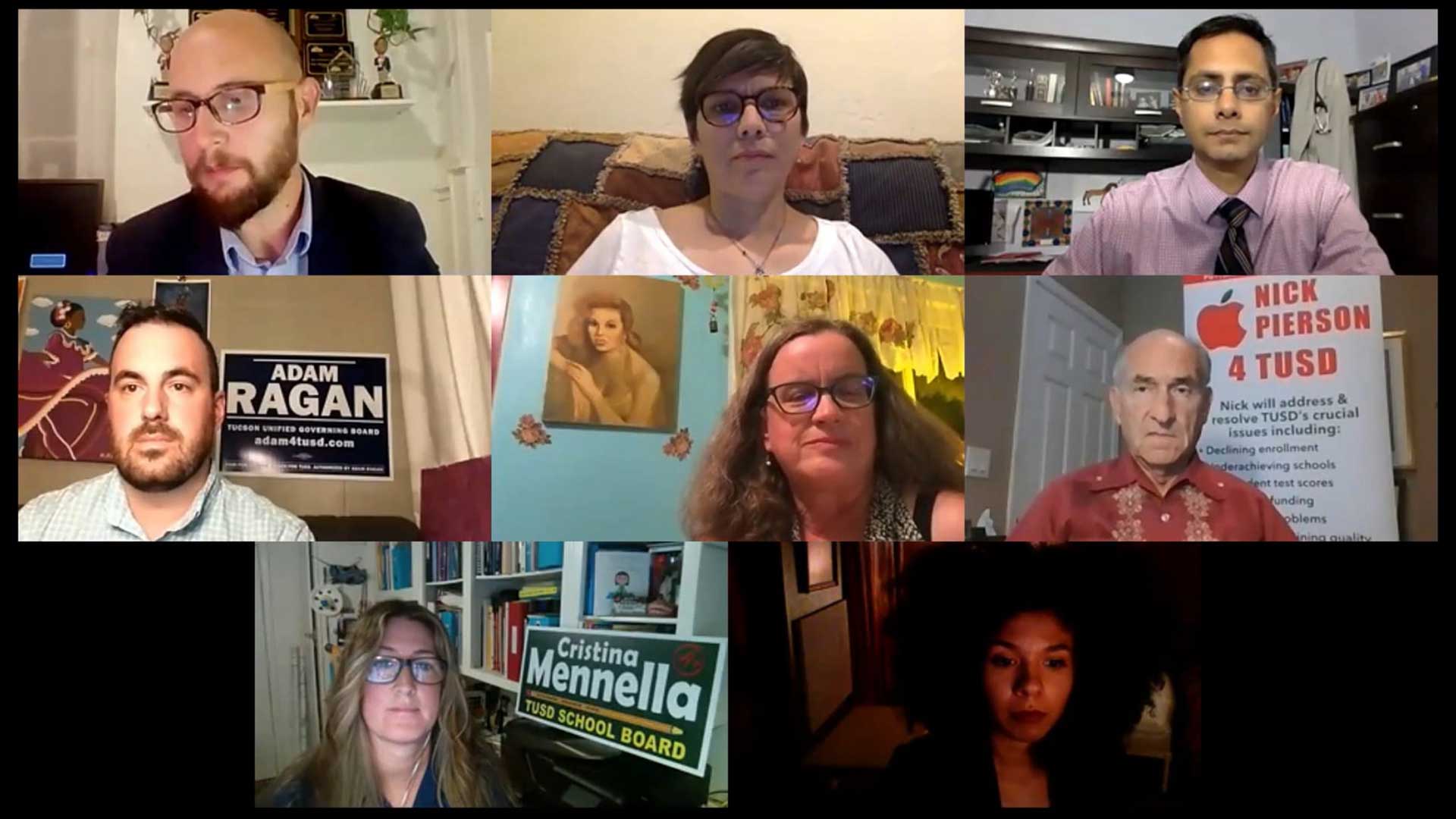 The seven candidates campaigning for a spot on the Tucson Unified School District Governing Board gathered on Zoom to discuss education issues on Oct. 8, 2020. Journalist Hank Stephenson moderated the forum.
Candidates running for the Tucson Unified School District Governing Board gathered via Zoom Thursday to discuss their stances on issues facing the district, including the COVID-19 pandemic, teacher shortages, declining enrollment and the district's ongoing desegregation order.
The board, which makes policy decisions for the district, has three open spots this fall. There are seven candidates, including one write-in candidate. Voters may choose three candidates on their ballots this November.
Journalist Hank Stephenson moderated the forum, starting with questions regarding the COVID-19 pandemic.
Of the seven candidates, four said that if they had to make a choice that night, they would not vote to return students and teachers to school under the hybrid model that the current board approved without an official start date on Tuesday evening. The other three said they would vote in favor.
Among the candidates who said they would vote "no" was Ravi Grivois-Shah, a family physician and TUSD parent. Grivois-Shah said that having seen the impact of the coronavirus through his work, he wants to focus on making sure local data shows that it is safe to return, which is not yet the case. The other candidates who said they would vote "no" were Adam Ragan, Sadie Shaw and Natalie Luna Rose.
The three candidates who would vote to implement the hybrid model and return to school were Cindy Winston, Cristina Mennella and Nick Pierson. Pierson acknowledged that there is some fear about going back, especially among teachers with health conditions, but that there is also a lot of damage being done by keeping students out of school.
Another topic was the decline in student enrollment, which the district has faced for years. Fewer students means less funding for the district.
Adam Ragan, a high school English teacher, said that the district needs to improve on showcasing its strengths, like its dual enrollment program. He also said that open communication with parents who leave is a necessity.
Candidate Cindy Winston, who has worked as a science teacher for over 20 years, brought up the pattern of students leaving during middle school. If education funding initiative Proposition 208 passes, she said she would focus some of that money on better environments for those students.
Speech-language pathologist Mennella, who is a write-in candidate, said that in her work with students with disabilities and their parents, one reason children leave is because of bullying and a lack of special education services.
Stephenson also asked the candidates about the desegregation order that TUSD has been under since the 1970s and whether or not they believe TUSD is ready be out from under that order.
Five of the candidates said they believed TUSD had met the benchmarks necessary to have the order removed. Luna Rose, a TUSD parent, said that she thinks the district still should have some form of oversight, like a committee of students, teachers and parents who monitor to make sure the district maintains those benchmarks.
Two candidates who did not think the district was ready to be rid of the order were Ragan and Shaw. Shaw, who is an artist and TUSD parent, said that TUSD still has not closed the achievement gap between white students and students of color and had relatively low scores on the state's standardized test, AzMERIT.
The nonpartisan monitoring group Coalition for Accountability, Respect and Excellence for TUSD Students sponsored the event. Prior to the forum, the group had candidates answer additional questions, available here.
The full forum is available to watch on the group's YouTube page.

Read more coverage of national, Arizona, and local elections at our 2020 elections portal,
Your Vote 2020
.