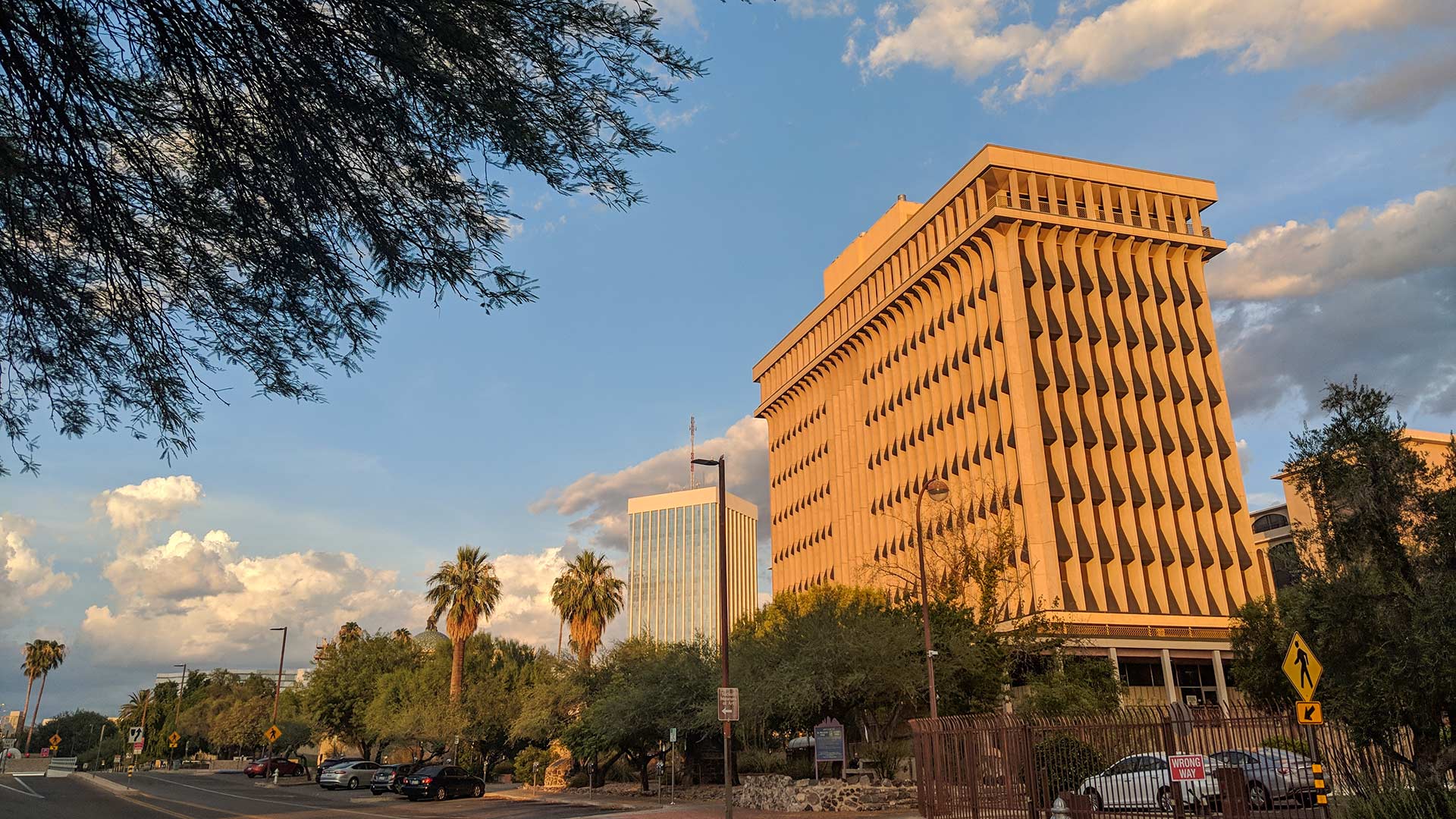 Tucson City Hall
Nick O'Gara/AZPM
The envelope that Tucson voters sign to confirm their identity in the all mail election contains information about the voter's party affiliation. The Pima County Republican Party claims that information is a problem.
"It violates the secrecy of our balloting process. It creates an aura of incompetence and bad practices and in fact allows for possible voter suppression and fraud," said David Eppihimer, Chair, Pima County Republican Party.
Eppihimer said the party is worried that an elections worker processing the ballot could disqualify it simply because they can see the voter's party affiliation.
"Are we really expecting that that knowledge of the voter's registration, right there on the outside of the envelope, isn't going to affect their judgment whether that signature is valid or not?" questioned Eppihimer.
Voters casting ballots in elections run by Pima County — including, this year, school budget overrides or fire districts — will not find their party affiliation printed on the envelopes of county ballots.
To help put off any problems in the city vote, Republican observers will be present as is their right in Arizona election law.
"To watch what they are doing, to watch signature verification, to watch the handling of the ballots, to watch the opening of the envelopes," explained Eppihimer.
The Pima County Republican filed a complaint with the Tucson city clerk's office, which oversees the election. They also took their concerns to the Pima County Election Integrity Commission.
The commission sent a letter to Richard Elias, the chair of the Pima County Board of Supervisors, asking that the county request a city investigation into why the party affiliation information was printed.
Eppihimer said "the genie is out of the bottle" at this point, and the problem can't be solved. But he said the party reserves the right to challenge the city election once it is complete.
Arizona statutes set out the procedure for challenging an election. The challenge cannot take place until after the election is certified, an action that takes place 10 days after the voting.
"You actually have to have a substantive claim to say that because a particular event occurred it would change the outcome of the election," said Brad Nelson, Pima County Elections Director. A court overturning an election result in Arizona is rare but, according to the Arizona Bar Foundation, it has happened.
In 1916, Gov. George W.P. Hunt, a Democrat, lost his bid for re-election to Republican Thomas Campbell. Hunt contested the result but lost the trial. The Arizona Supreme Court heard the case and on Christmas Eve 2017, a year after the election, ruled that Hunt did win based on a review of disputed ballots. Campbell left office. Hunt finished the term and was elected for two more terms.
Read the Pima County Election Integrity Commission letter

View at Google Docs
|

Download File
Read the Pima GOP letter to the Tucson Clerk

View at Google Docs
|

Download File