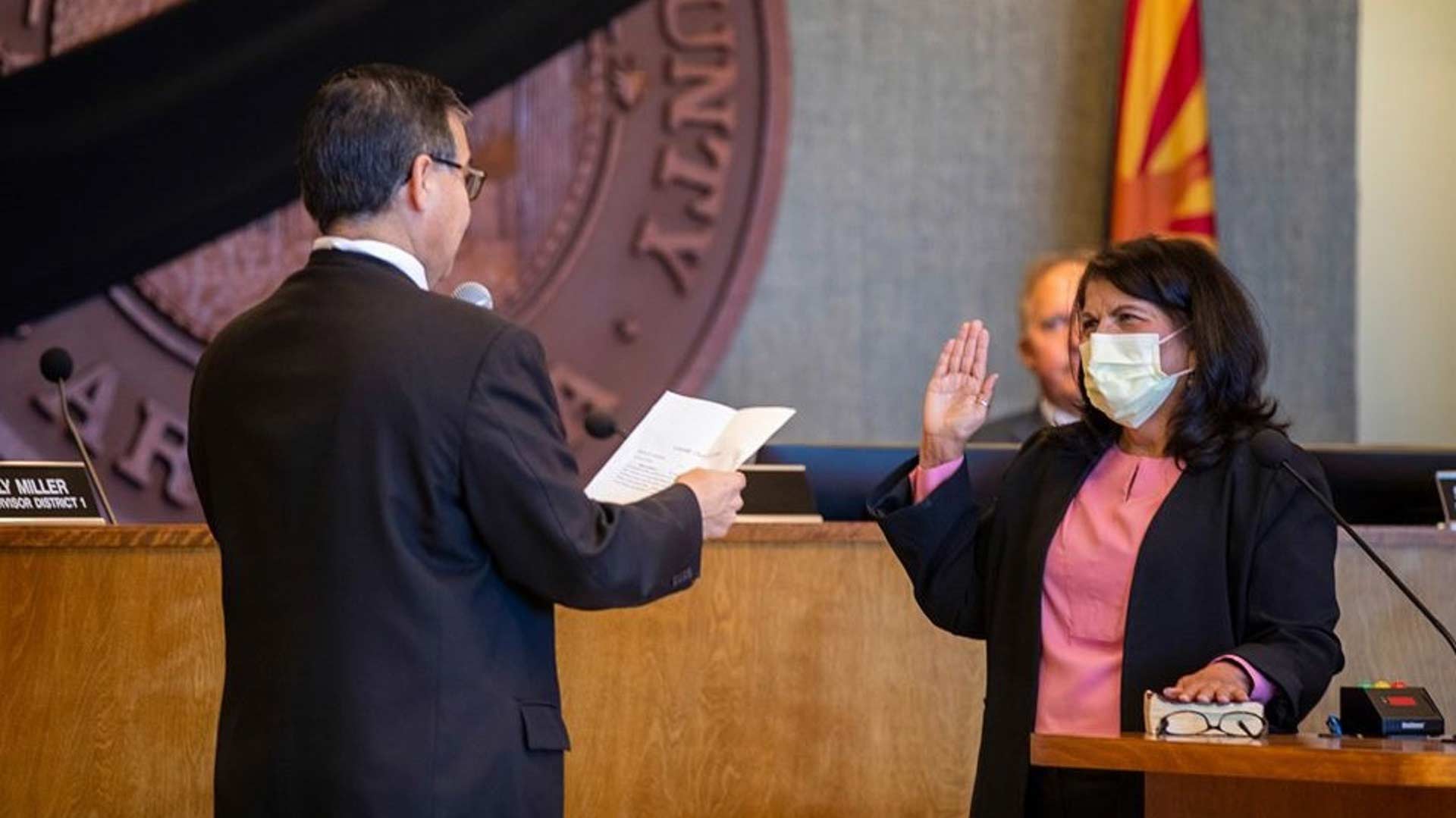 Pima County Supervisor Betty Villegas is sworn into office by Supervisors Chairman Ramon Valadez at the April 9, 2020 board meeting. Villegas was appointed to fill the District 5 seat vacated by the death of Supervisor Richard Elías.
Pima County/Facebook
Three Pima County supervisors are leaving the board at the end of this year, including the longest-serving member and one whose short-time service was unexpected.

Democrat Ramon Valadez was defeated for reelection in the August primary, after serving District 2 for 17 years. Matt Heinz will take the seat next month. Valadez didn't go out quietly, making an impassioned plea at his final meeting Tuesday, urging the board to make the county's nightly quarantine mandatory.
"This is my last board meeting, 17 years on this board. This is not the last action I want to take, but I do it very very seriously and with a lot of care and thought," Valadez told the board.
Also departing was Betty Villegas, a county retiree called into service after her friend, District 5 Supervisor Richard Elias, died in March. Tuesday, Villegas said it has been a learning experience.
"I have a much deeper understanding of making decisions for the people that we represent, and it's not an easy job to do, especially during a pandemic," she said.
Villegas vowed not to run for a full term, so newly elected Supervisor Adelita Grijalva will take the seat after the new year. She said she came into the job suddenly, and leaving office will finally give her time to grieve Elias' passing.
Republican Ally Miller, who represented District 1, is retiring, and Democrat Rex Scott will take her place in January. Due to a technical problem, Miller did not have a chance to make a parting comment Tuesday.