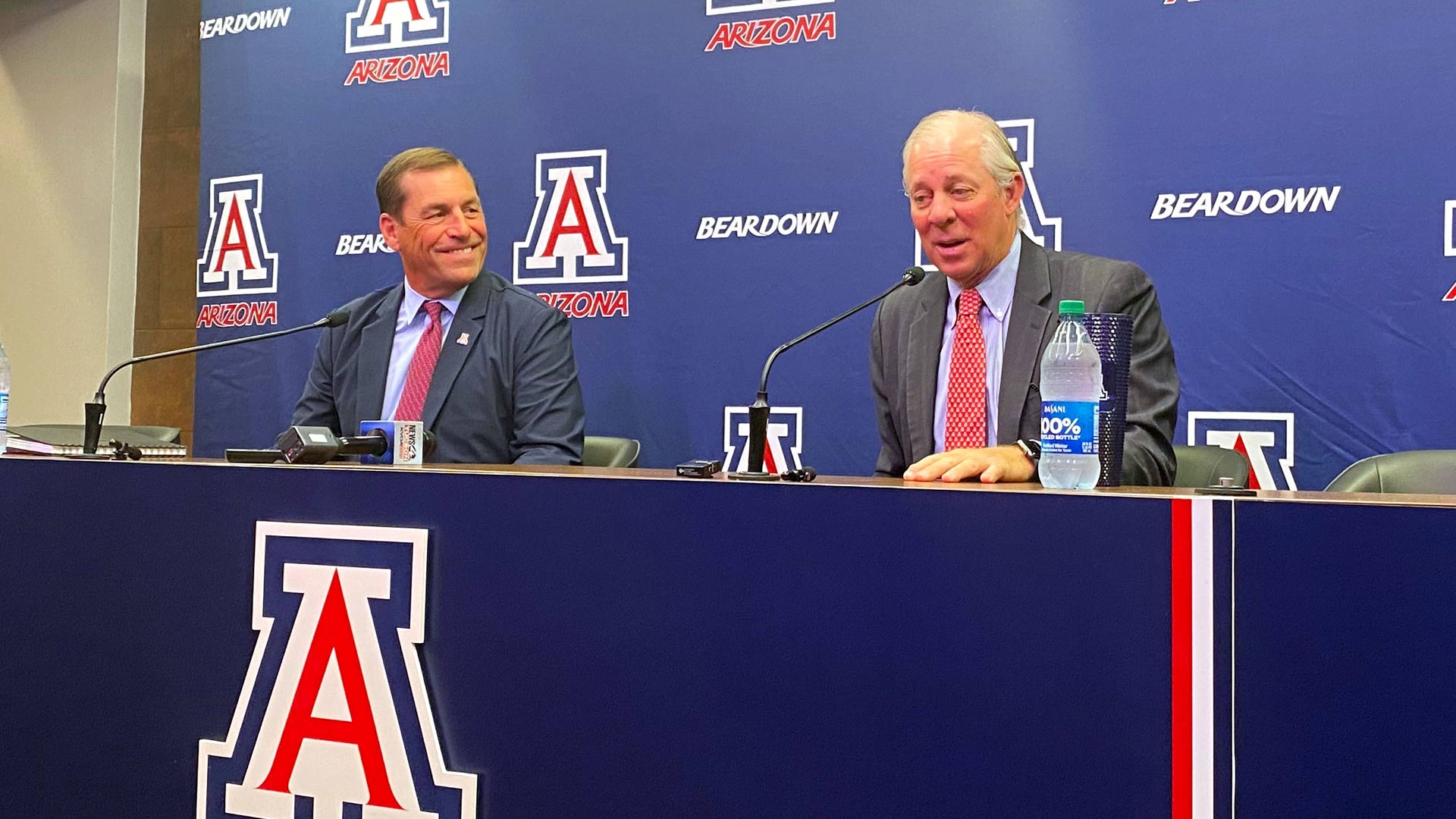 The University of Arizona Athletic Director Dave Heeke and President Robert C. Robbins, talk about UA joining the Big 12 Conference on Monday, Aug. 7 at Arizona Stadium in Tucson, Ariz. The press conference follows the announcement made Friday, that the UA was leaving the Pac-12 Conference, after nearly five decades.
Katya Mendoza, AZPM News
After nearly five decades with the Pac-12 conference, the University of Arizona announced that the school would join the Big 12 Conference in all sports beginning in the 2024-2025 season.
UA President Robert C. Robbins said he was optimistic about the future.
Athletic Director Dave Heeke said a challenging decision was made, and that the program wanted to remain nationally competitive amid a rapidly-changing environment.
"It was about stability both financially and competitively," Heeke said.
Robbins said the conference realignment was in the best interest of the state and its existing rivalries.
"I think we were all expecting Friday morning, we were showing up together to sign in blood, our grant of rights over to the Pac-12 conference," Robbins said.
Robbins said the $23 million revenue structure offered by the PAC-12 based on games being broadcast only online through Apple, were problematic for the contract's sustainability.
When asked about Big 12 Commissioner, Brett Yormark, Robbins said that he liked his aggressiveness and was looking forward to his leadership.
Heeke said travel distances towards new locations will not have significant changes as scheduling develops and could potentially be more cost-effective. When asked about traditions, he said it will be fun to watch rivalries develop as well as continued collaboration and partnerships
"I think there's nuances inside each one of our sports that could drive them to have rivalries within the new and expanded Big 12," Heeke said.
"Kansas will be coming to McKale and we'll be going to Phog Allen," Robbins said. "That one in the immediate term, that's going to be an intense rivalry."
The fate of the four remaining schools within the Pac-12 have yet to be determined, following Friday's announcement.