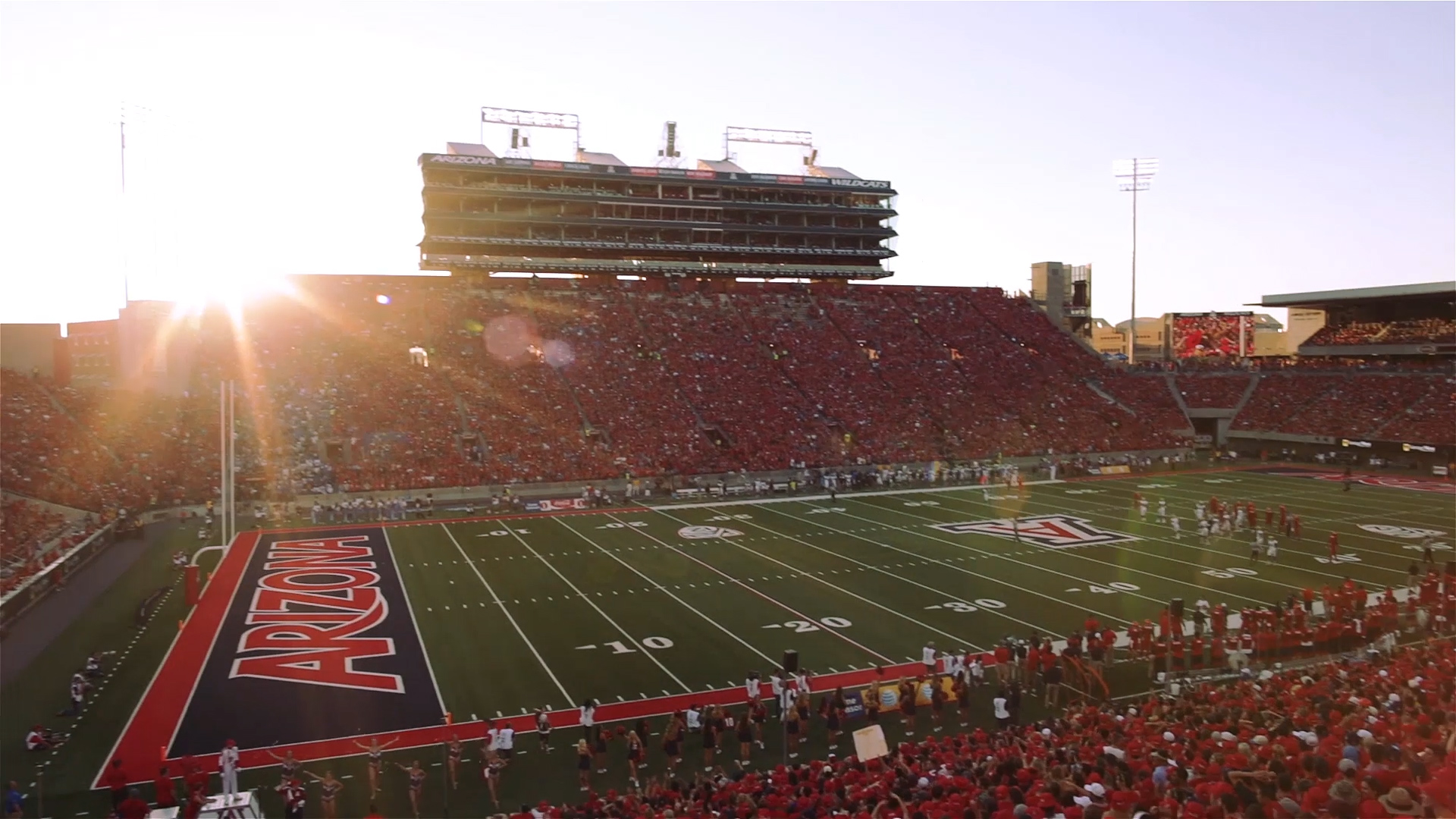 Aerial view of Arizona Football stadium
AZPM Staff
Arizona is in talks to join the Big 12, a person with direct knowledge of the discussions told The Associated Press, and a board of regents meeting Thursday night could determine whether Arizona State is ready to leave the Pac-12, too, and join the Wildcats.
The person spoke to the AP on condition of anonymity because neither the school nor the conference was prepared to finalize an invitation to the Wildcats.
The person added that Arizona State was not as far along in the process, which could slow down Arizona's final decision because the Tucson-based school would prefer to be in sync with its rivals from Tempe.
The boards of regents for Arizona's two biggest universities, along with the University of Washington, scheduled special meetings for Thursday night amid speculation that more Pac-12 schools could leave the flailing conference.
The Arizona Board of Regents, which oversees Arizona and Arizona State, was holding a closed executive session to look at possible legal advice and discussion regarding university athletics. Washington regents called a special meeting to discuss present pending or potential litigation with counsel.
The Big Ten is discussing membership with Oregon and Washington, two people with direct knowledge of those talks told the AP.
The people spoke on condition of anonymity because no formal offer has been extended to the schools. But the framework of a deal was presented that would have the Ducks and Huskies enter the conference with an annual payout in the low-to-mid $30 million.
The schools could also receive an advance on future payments that could increase the total payout to more than $40 million for the first several years they are in the conference, though it would be subtracted from future payouts, two people said.
That payout would be about half what current Big Ten members will receive when all its new television deals fully kick in next year, but still more than what Washington and Oregon are guaranteed to receive from a recently presented potential media rights deal the Pac-12 has on the table from Apple.
Southern California and UCLA are headed to the Big Ten next year, the same time Colorado is leaving the West Coast's largest and most storied conference for the Big 12.
That leaves the Pac-12 with nine schools — for now — and no media rights deal beyond the upcoming school year. None of the other remaining schools have scheduled regent or trustee meetings — yet.
The Big 12 has also targeted Utah to get to 16 members next year after Texas and Oklahoma leave. The uncertainty is being felt across the Pac-12, especially at places that might not have clear options to join another Power Five conference.
"You know, the old question of how long would it take TV money to destroy college football? Maybe we're here," Washington State football coach Jake Dickert told reporters Thursday afternoon. "To think even remotely five years ago the Pac-12 would be in this position it's unthinkable to think that we're here today. And to think local rivalries are at risk and fans driving four hours to watch their team play in a road game and rivalries is at risk to me is unbelievable."
"But at the end of the day, I just think we'll look back at college football in 20 years and be like, 'What are we doing? What are we doing?'" he added. "Let's let our guys stay regional. Let's play. Let's preserve the Pac-12 and what it is."
Pac-12 Commissioner George Kliavkoff presented details of a media rights deal to league stakeholders on Tuesday, but no vote was held. ESPN reported the deal would make Apple TV the conference's primary home and not a more well-known traditional network like ESPN or Fox.
The carrot may not have been big enough. The deal reportedly would guarantee schools about $20 million each per year, but with subscription-based escalators that could grow that total.
One corner of the four corner schools is gone, one has a foot out the door already and the conference that touts sports alumni like Jackie Robinson, John Elway, and Jackie Joyner-Kersee appears to be in peril.