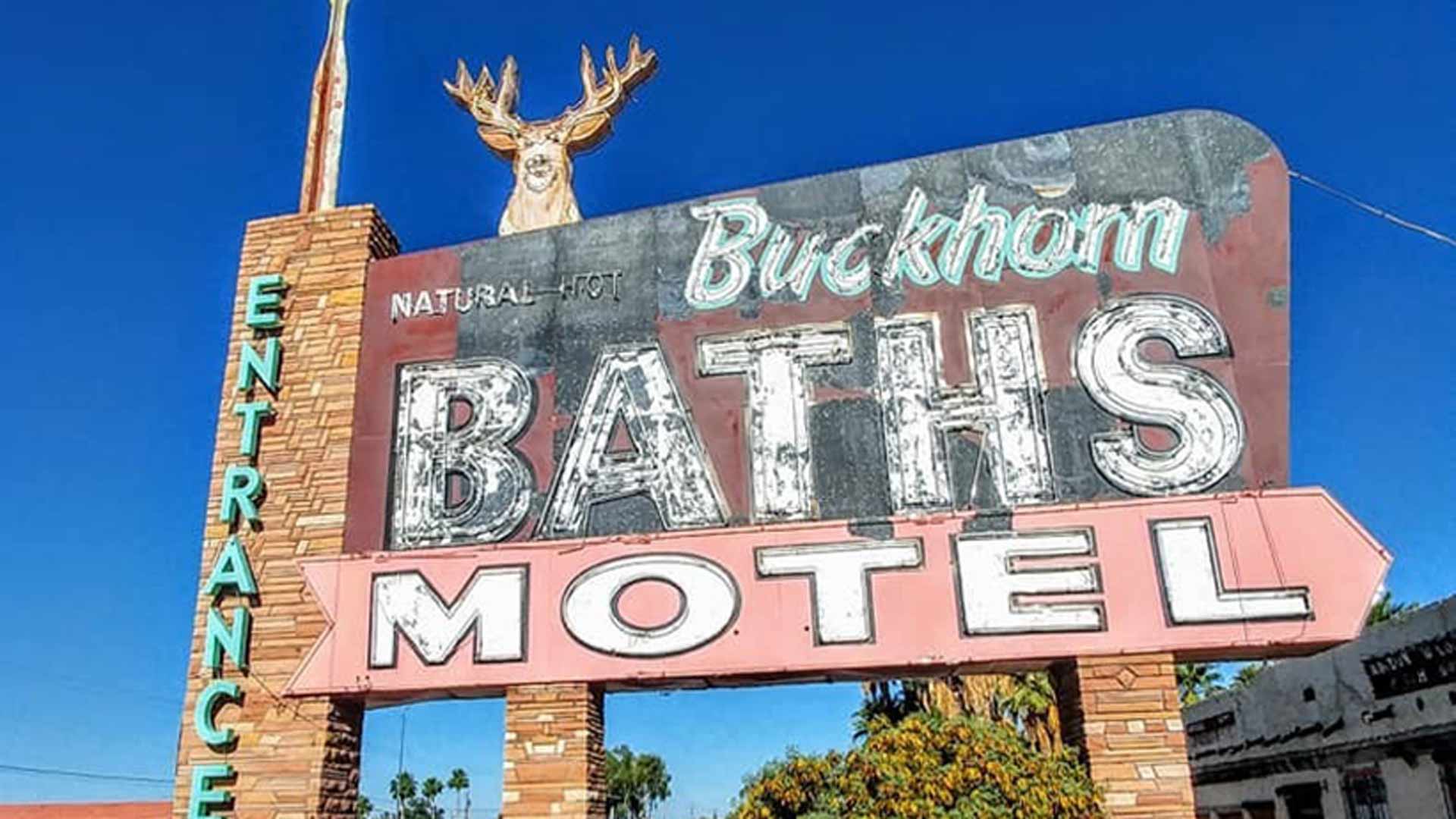 Buckhorn Baths Motel, on the corner of Main Street and Recker Road in Mesa, played a role in bringing spring training to Arizona. But the hotel and spa has fallen into disrepair.
Photo courtesy of Charlie Vascellaro
Nestled on the corner of Main Street and Recker Road in Mesa is a building that looks like any old, dilapidated building that has fallen into disrepair.
But this tiny roadside building, known as the Buckhorn Baths Motel, is one of the reasons why the Cactus League is what it is today and was one of the founding pieces of spring training in Arizona.
Ted and Alice Sliger bought a plot of land in 1936 on what today is East Main Street in Mesa. It was their home, it was a gift shop and a place for Ted to show off his huge taxidermy collection.
After three years of having to haul fresh water between downtown Mesa and their property, the couple decided to dig a well and see if they could find water.
What came next changed their lives.
They found water – but it was about 120 degrees and full of minerals. The water wasn't drinkable but had lots of healing benefits. Not long after the water was found, the motel was built and a spa along with it.
Word got around to New York Giants owner Horace Stoneham. After he made his way out to the Buckhorn for a stay he decided to move his team to Mesa for spring training to play Cleveland, which had moved to Arizona to escape the radical Jim Crow laws of the South.
Stoneham started bringing his top players to Mesa about a week early to stay at the Buckhorn and receive treatment, and soon the entire team had moved into the little roadside motel.
It was the start of a long and storied history between the Buckhorn Baths Motel and the Giants, who stayed there for a 25-year span that included the team's move from New York to San Francisco.
"They were like a family," said Mesa Historical Museum Executive Director Susan Ricci.
Eventually, word got out around the league, and more and more teams started to utilize the Buckhorn as their hotel. The Chicago Cubs, who moved to Mesa from Catalina Island off the coast of California, used the Buckhorn for their first couple of years in Arizona.
Now with three teams in Arizona, and the Baltimore Orioles eventual move to Yuma, the Cactus League was born.
The baths closed its doors in 1999, and the hotel shut down in 2007. Ever since then, the hotel has been in a sort of limbo.
"There's a term we use in preservation called demolition by neglect. That's kind of where it is," said Mesa Historical Museum President Vic Linoff.
Plans for an apartment complex have stalled, Linoff reports, and any plans to develop any part of the land have reached a standstill. So at the moment, the fate of the Buckhorn is up in the air.
But if walls could talk, the Buckhorn would have a speech like no other from the things the old hotel has seen. And, Linoff says, rumor has it that the pipes in the hotel still hold that mineral water Ted found when he was trying to find drinking water.
And it might work, too. Alice Sliger, who lived on the property until six months before she died in 2010, lived to be 103 years old.