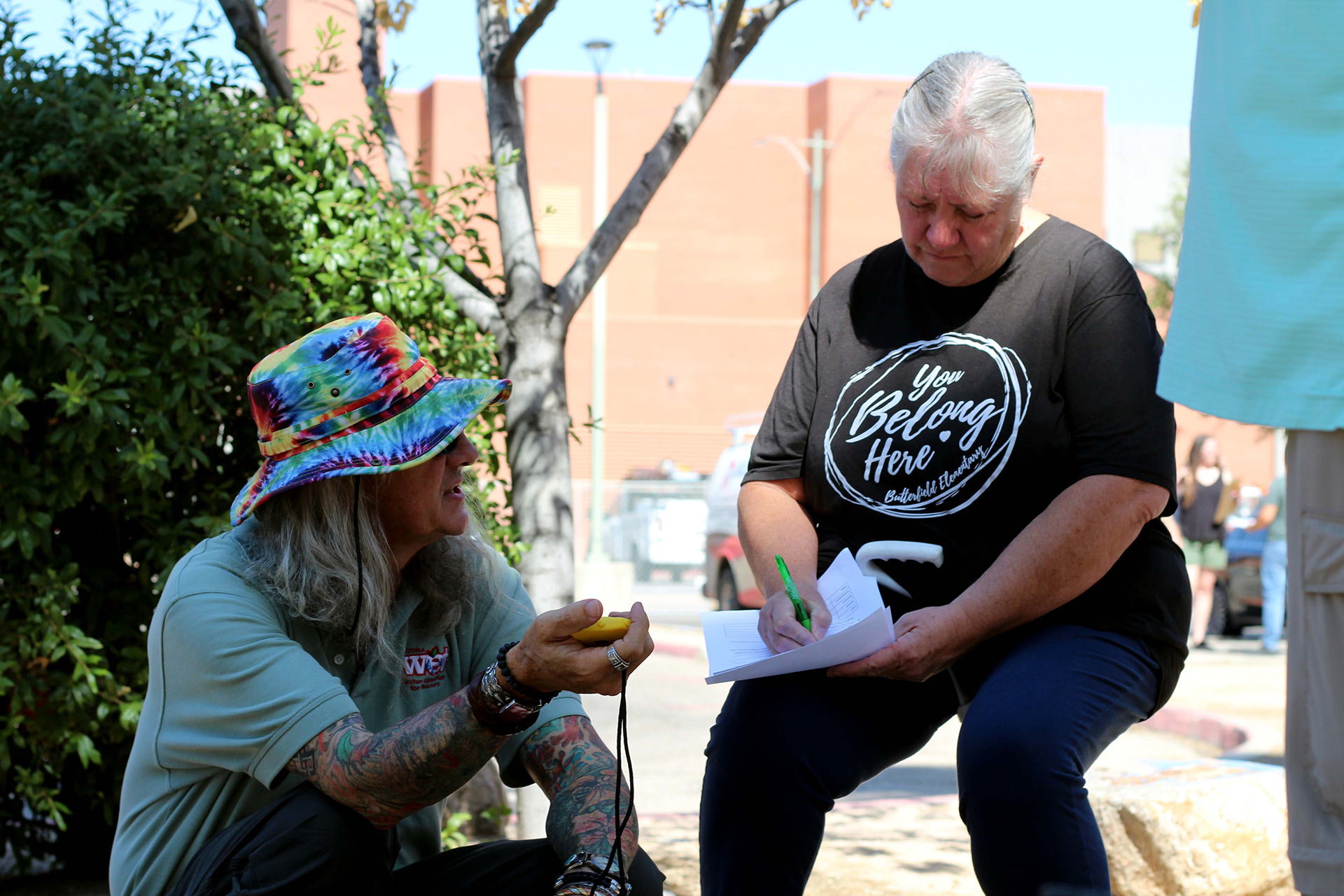 AZ Project WET program coordinator, Josh Ruddick instructs educators like JoAnna McCormick, how to conduct percolator tests or, testing water absorption rates as part of the hands-on activities of Southwest Urban Corridor Integrated Field Laboratory's summer teacher workshop. Teachers from throughout the greater Tucson area have gathered for this two-day workshop, to participate in hands-on activities and develop climate-change centric curriculum.
Katya Mendoza, AZPM News
The Southwest Urban Corridor Integrated Field Lab (SW-IFL) and Arizona Project WET, are working with educators to give them ways to teach about the impacts of climate change and how to provide citizen science opportunities to their students.
The two-day workshop will help educators create curriculum for students through hands-on activities, such as measuring heat, identifying biodiversity and testing the water absorption rate of soil.
"Modeling that field work and policy interventions and getting that into the hands of the teachers so that they can participate in that research in real time," said UA professor for the School of Landscape Architecture and Planning, Ladd Keith. He is also a faculty research associate at the Udall Center for Studies in Public Policy.
This summer workshop is the SW-IFL's pilot class, which is part of a five year program that hopes to have ongoing dialogue with educators throughout the project's duration. The way the program is designed is to allow flexibility for teachers who switch schools or change objectives; the Arizona Project WET staff will remain consistent.
"Giving them a taste of what they might want to do with their students to bring this kind of research to their classrooms," said instructional specialist for Arizona Project WET Clayton Lyon.
ASU is the lead institution of the Southwest - IFL, both UA and NAU are partnering programs. All three are working together to study the sun corridor that stretches across the state from the Navajo Nation in the north to the U.S. Mexico border in the south.
The "megaregion," is experiencing stress from a warming climate and population growth.
Keith said the Department of Energy originally awarded the first three IFL's last fall, the southwest lab was the fourth announced in December.
"We were awarded $25 million to do this work over the next five years," Keith said.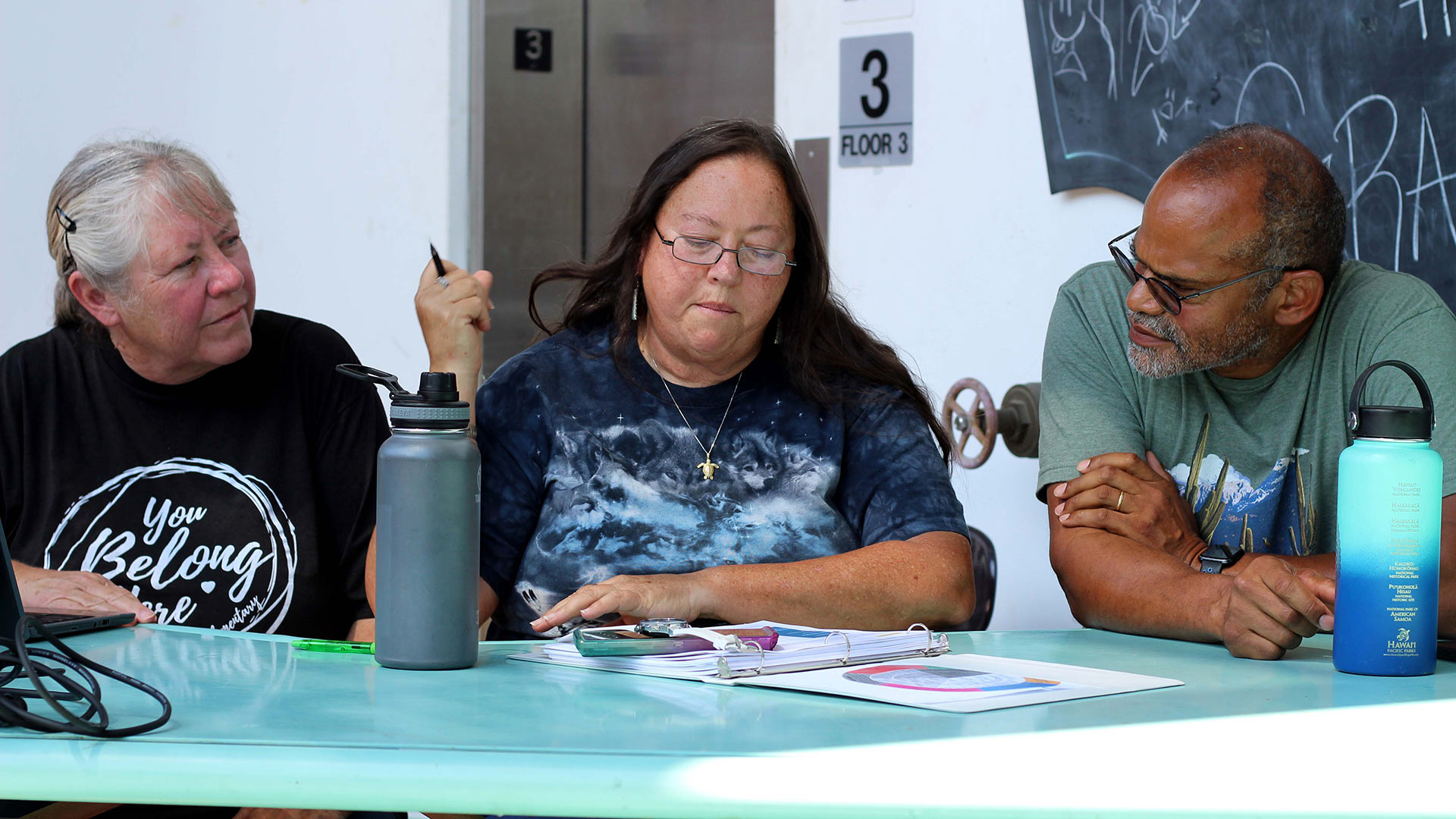 Tucson teachers, JoAnna McCormick, Karriaunna Scotti and Chris James develop a climate-change centric curriculum for their students at the summer work shop by the SW-IFL and AZ Project WET, a UA Cooperative Extension Program. Educators are working with environmental science experts to deepen their knowledge about the impacts of climate change.
Katya Mendoza, AZPM News
A majority of the workshop includes key speakers who are experts in environmental science to share data with educators, some of which was surprising.
The correlation between heat and socioeconomics, surprised middle school general studies teacher JoAnna McCormick.
"The whole region near the Catalina Foothills in terms of temperature ranges, much cooler temperatures just brought it home geographically speaking," said high school science teacher Christopher James.
Their group developed a lesson plan to track climate change by documenting weather events, predicting future outcomes, and making it relatable to students.
Time, accessibility and integrating state education standards and other subjects were factors to consider.
High school science teacher Karriaunna Scotti said many students feel that they can't make a difference.
"Part of my job is trying to say yes, one person can make a difference," Scotti said.
Keith said a primary focus of the program was to recruit lower income schools.
"Schools in those marginalized communities that may receive less attention by programs like these typically," Keith said.
The lab will continue to look for other funding opportunities to continue their research through 2027.