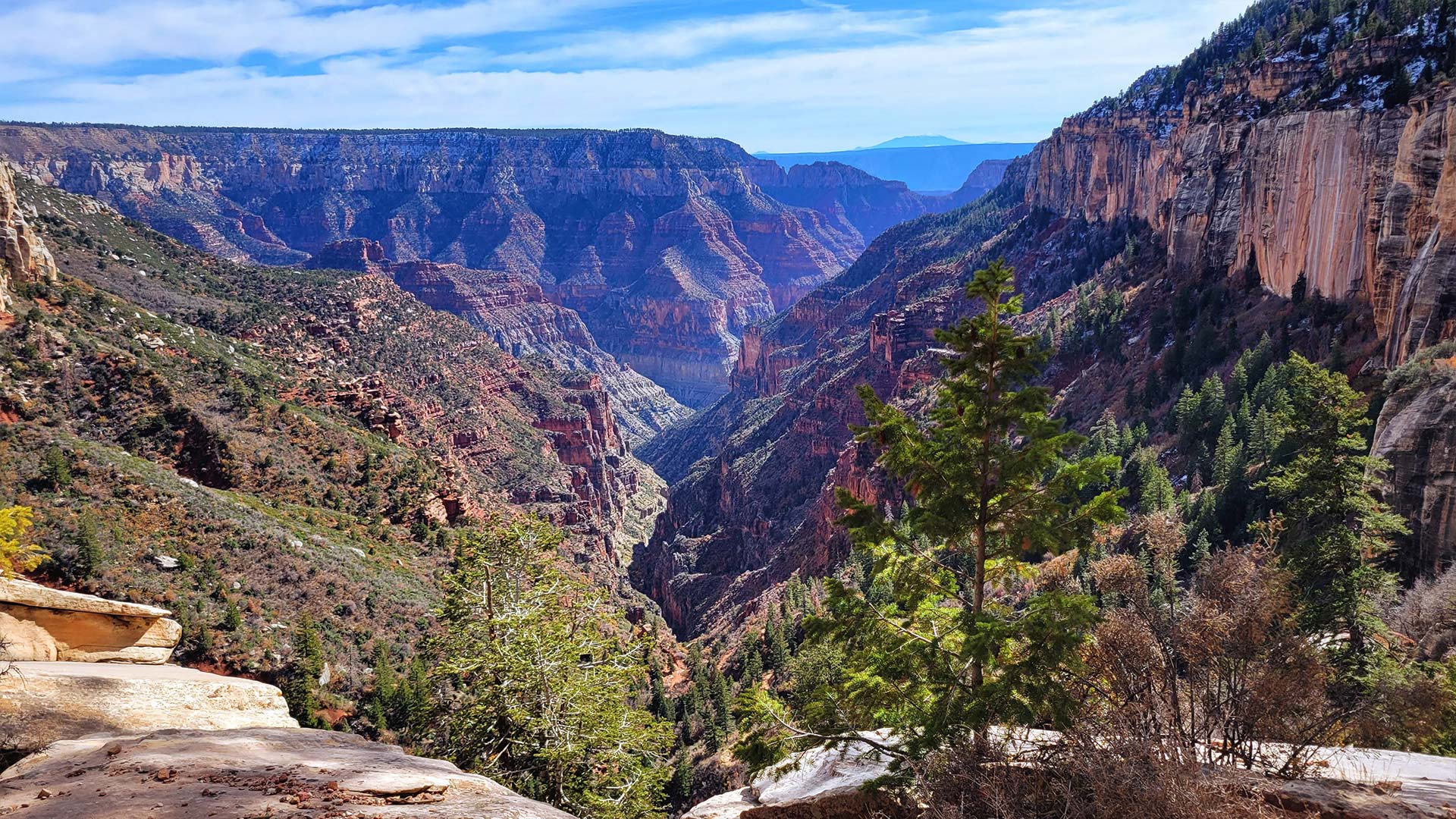 A view from Coconino Overlook at the north rim of the Grand Canyon.
AC Swedbergh / AZPM
Southern Arizona Representative Raúl Grijalva and Senator Kyrsten Sinema, joined members of the Grand Canyon Tribal Coalition to call upon President Biden to designate ancestral tribal and federal public land surrounding the Grand Canyon, as the Baaj Nwaavjo I'tah Kukveni Grand Canyon National Monument.
Baaj Nwaavjo in Havasupia-Hualapai means "where the tribes roam" and I'tah Kukveni means "our footprints" in Hopi.
The designation would protect 1,102,501 acres adjacent to the national park and build upon ongoing legislative efforts to permanently ban uranium mining.
Coconino County Supervisor Lena Fowler said there are about 6,000 active claims and that the monument would not impact grazing, logging, hunting, or outside recreation.
"Instead what it will do is safeguard our cultural resources, drinking water, our watersheds, our wildlife habitat, outdoor recreation," Fowler said.
Senator Sinema said that there is an existing framework for the proposal to work under the Antiquities Act of 1906, an act that provides legal protection for cultural and natural resources on federal lands. The Act was the first U.S. law of its kind, utilized by President Theodore Roosevelt to establish national monuments including Grand Canyon National Park in 1908.
"This agreement is the same land size as proposed as my Grand Canyon Protection Act," Sinema said.
Cosponsored by Senator Mark Kelly, Sinema proposed the bill in 2021 to protect federal lands and economic investments brought on by outdoor tourism.
Representative Grijalva said that the tribal coalition is the primary leadership of the effort and that staff-level discussions have taken place with the administration.
"Indigenous people are playing a more and more significant role in the comanagement and we hope to keep that and accelerate that with this designation," Grijalva said.
The Grand Canyon Tribal Coalition is made up of leadership representatives of the Havasupai, Hopi, Hualapai, Kaibab Band of Paiute Indians, Las Vegas Band of Paiute Indians, Moapa Band of Paiute Indians, Navajo Nation, Paiute Indian Tribe of Utah, San Juan Southern Paiute, Pueblo of Zuni, Yavapai-Apache Nation, and Colorado River Indian Tribes who maintain spiritual and cultural connections to the lands.