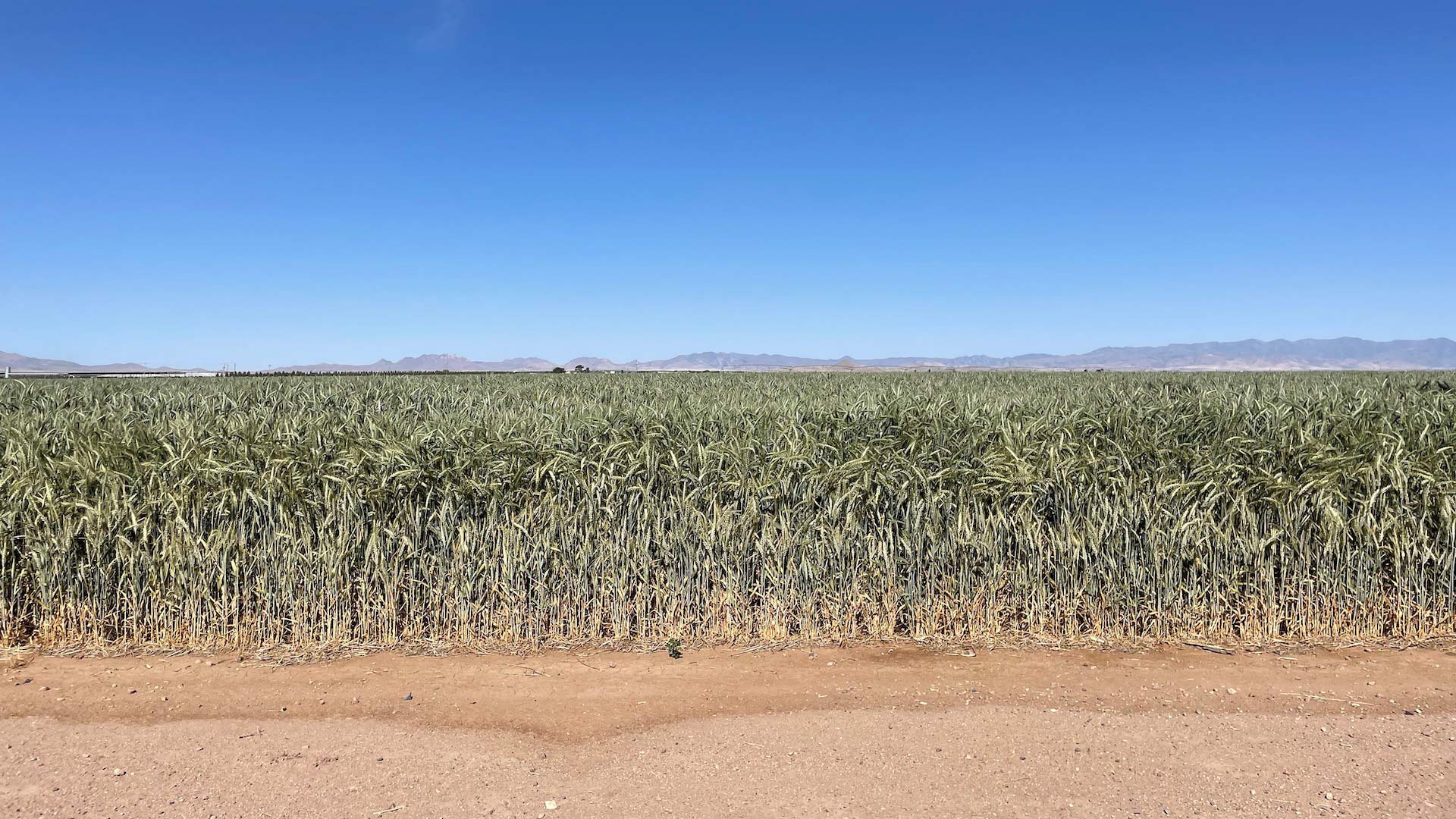 VIEW LARGER Residents of the Douglas and Willcox Basins say they're drilling deeper and more often for water as their wells dry up as big companies expand their operations and dig even deeper into the shared water supply.

Megan Myscofski/AZPM
Cochise County voters split their votes on the future management of water in two basins.
Voters approved an Active Management Area for the Douglass basin but turned back an AMA proposal for the Willcox basin.
It's a bittersweet win for Ash Dahlke, the chair of Arizona Water Defenders, a political action committee that proposed the AMA propositions as a way to protect Cochise County's natural water basins from over withdrawal. She said that she's happy that the Douglas AMA passed and is disheartened that the one in Willcox did not.
"It was very disheartening to see the vote no in Willcox, especially with the water situation in that basin being really dramatically worse," said Dahlke. "But, it was also at the same time, really exciting to see Douglas taking a stance for groundwater protection into the future."
However, for chair of the Rural Water Assurance Heather Floyd, who opposed the AMA propositions, it's a win for Willcox.
"We're moving forward with some of the plans to help mitigate the water issues in Willcox," said Floyd. "We've already had one meeting, and we're going to have another one here in a couple of weeks and go about plans on how we can work with the public and see what we want to do to have that local control that we were advocating for."
Dahlke said that the process of getting the initiative on the ballot has been a year-long process, as Arizona Water Defenders formed and started campaigning and gathering signatures in the summer of 2021.
An AMA designation provides several state regulations as to who can irrigate and how much water can be withdrawn from the basin. According to the Arizona Department of Water Resources' webpage about Cochise County's AMA propositions, if an AMA is approved by the voters, only those who've legally irrigated the basin five years prior to August 30, 2022, will be able to continue irrigating water from that source.
Additionally, wells will be regulated if they pump up to and over 35 gallons per minute. If a person has a groundwater permit or has a right to the water, they are permitted to withdraw water with a well with a pumping capacity that's greater than 35 gallons per minute. However, if a person does not have a permit or has a right to the water, wells can only pump up to 35 gallons per minute and not a drop over.
Dahlke said that the main reason for these AMA designations is to protect the county's natural water resources from exploitation and to revive a past effort to get a bill passed by the legislature.
"So there's this really great effort in 2014-2015 in the Willcox area, that was made up of local residents, local stakeholders, farmers, local politicians but who formed together and made this bill that everybody approved on, that was ground water-based," recalled Dahlke. "However, when the bill was set to be heard, the local legislator who was involved in that process, wouldn't even let it be heard and move forward in committee."
So, Dahlke said that the PAC wanted to do a citizens-based initiative to avoid that loophole.
"We formed out of this frustration that nothing had been done and efforts in the past kept being shut down," she said.
But Floyd said that the additional regulations would have a negative impact on the agriculture and livestock businesses within the area, which she said make up a majority of the local economy for Willcox.
"The regulations add a hurdle, and they just add rules and red tape but they're not actually helping with the issue," said Floyd.
Daniel Coxworth, the Cochise County Director of Development Services, said that Willcox is fairly reliant on agriculture.
"Willcox has been described as a cow town," said Coxworth. "It is a typical Western, rural, agricultural cattle ranching community. That's the reason they're there and there's a lot of jobs involved, you know, in that industry …70% of the grapes in Arizona wine comes from Cochise County."
He said that at the county level — "We don't control water usage. Hence, the AMA, the desire for the AMA."
In August, Dahlke faced a court challenge from Floyd, who filed a complaint based on the signatures for the AMA petitions.
"We felt that the signature gathering process, many of them had similar handwriting," said Floyd prior to the election. "Not the signatures — those were varied and different — but according to the law the person signing the petition needed to actually take the time themselves and fill out the rest of it being our address portion and all that. And there was a lot of similar handwriting and we just thought it didn't meet the bar."
The Herald/Review reported that the challenge was dismissed by Cochise County Superior Court Judge Laura Cardinal, who said that Floyd failed to meet the five-day deadline for filing a challenge to the signatures, and Cochise County elections director Lisa Marra and county recorder David Stevens said that the signatures were valid.
Moving forward, Dahlke said that they will be making preparations to engage citizens to participate in ADWR's groundwater users advisory council for the new AMA in Douglas. Floyd said that Rural Water Assurance will also be looking to engage citizens in the Willcox basin to find solutions for local management instead of state-wide management of an AMA.