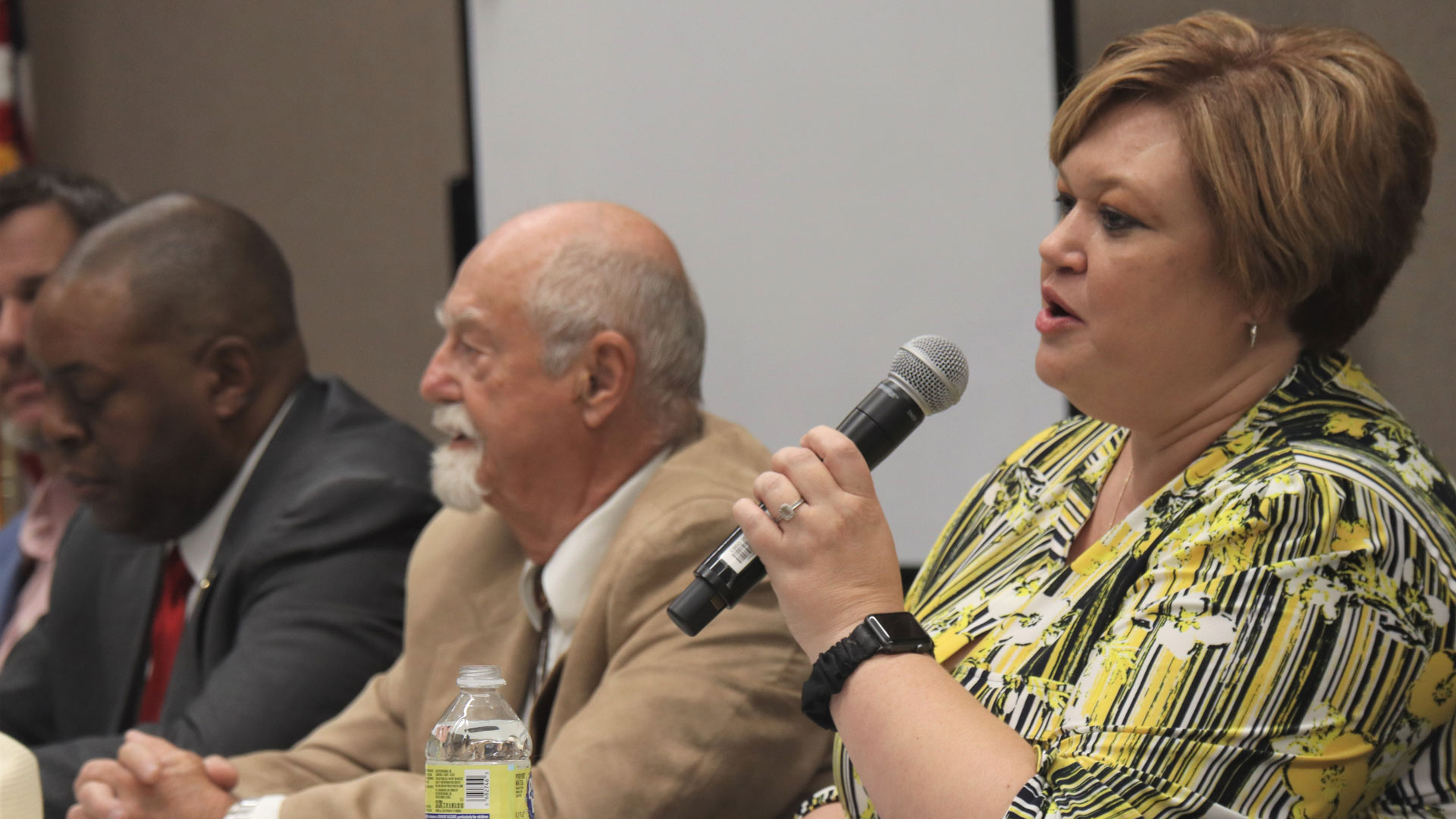 The candidates for Mayor of Sierra Vista participate in a debate. October 2022
Summer Hom, AZPM
A new era of leadership is approaching the mayor's office as three new candidates take a shot at securing the helm in the general election on November 8.
Clea McCaa, a democrat, Steve Conroy, a republican, and Rachel Gray, also a republican and former Mayor Pro Tem, each talk about a call, a call to serve the community of more than 45,000 that has become their home.
But one thing they all share is a military affiliation that has brought them to the city named for its mountain view.
Conroy came to Sierra Vista 33 years ago on his last assignment in the U.S. Army — stationed at Fort Huachuca. Conroy retired from the Army in 1992 as a Lieutenant Colonel.
"The main reason that I ran is because I really believe that the constitution was correct and our founding fathers were correct," said Conroy. "We as citizens, as residents, need to step up and to get involved. And in that vein, I felt that I had been sitting around for 25 years and should've probably gotten involved with the city before. But I see that you can't have the same people sitting in the chairs for eight, 10, 12, 15 years and expect to see a whole lot of change."
For McCaa, the Army also brought him to the area, but by way of his father, who was an army combat veteran. McCaa followed in his father's footsteps as an Army combat veteran himself and as the pastor of Sierra Vista First Church of God In Christ; Sierra Vista was the community that shaped him from childhood to adulthood.
"Back in 1983, Buena High School, we were going to our regional football conference, and Truman Williamson was the coach," recalled McCaa. "Truman Williamson asked a question to the whole group, 'what do you want to be in life?' Some said they wanted to be football players … And when he asked me, I looked around and I said 'I want to be mayor of this town.' And Mr. Williamson, coach Williamson looks at me and is like, 'son, are you serious?' I was like, 'yes sir, I'm serious.' … And then from 40-some years — 39 — it's come to fruition. I have a chance to be the mayor of Sierra Vista."
For Gray, her husband's military service also brought her to the area, where she felt a call to give back to her new home. She said she was inspired by her father, who was a pastor, to make a difference in the community.
"I've always had that influence in my life of servant leadership and so — however — that was not the path I wanted to take," said Gray, who's served on Sierra Vista's city council since 2013. "I want to have the influence, I want to be able to have the impact that they've made on their community. I want to be able to do the same thing and so naturally, that's just where I gravitated."
One common concern across all three candidates' minds is the local economy. For Gray, that concern begins with housing.
The median home price in Sierra Vista is upward of $300,000 and the average rent per month ranges from $750 for a single-bedroom apartment to $1,000 for a two-bedroom apartment according to data from Cochise Economy and Zillow.com.
"We really need to work on affordable housing because I'm getting messages, pretty weekly sometimes daily throughout, the week of people that just don't have anywhere to go," Gray said, who also works as a real estate agent. "They're renting a home, their lease is expiring, and their rent is going up by as much as 100 percent, and that is significant for people in any income bracket, but especially that low to median income, it's very impactful."
On housing, McCaa said, "I think the first thing to address is that the city government is not going to create or manage affordable housing and … Transitional facilities … We need to ask the city, we need to lead and help shape and guide policies and procedures that help solve these issues for our residents, not let them linger around, or be talked about every year, every other year."
As Conroy sees it, he wants to turn to the U.S. Department of Housing and Urban Development (HUD) and work in tandem to address the issue.
"What we probably need to do as a city is to make housing a priority," Conroy said. "HUD [United States Department of Housing and Urban Development] has a lot of money that's available for low rent housing or affordable housing, and it lot of times its apartment living. But the reality is, if the city was focused on that as a priority, we could start going after grants and additional money and look to the city, to the community, to start jumping up to help, make more of that housing available."
One of McCaa's top initiatives is investing in local, small businesses and giving them the resources they need to thrive. He said that he specifically wants to address the concerns of small business owners.
"If it keeps them up at night, as the mayor, I need to understand: 'okay, this is what they need. What resources are available so that I can meet their needs?'" said McCaa.
The city has championed efforts to revitalize its West End since 2018. As part of the program, the city aimed to incentivize businesses to locate to the West End through their West End Development Grant program — which offers eligible businesses to get up to 50% off costs for interior and exterior renovations.
However, the Herald/Review reported that some businesses on the West End don't own the properties and are struggling to get permission from their landlords to take part of the program and make those renovations.
All three candidates said that communicating the benefits of the program to the landlords should be the focus.
If that doesn't work, Gray said "In that case as far as I'm concerned, we would help that business relocate, find another location. Put them in contact with someone that does see the value of improving their location."
As part of enhancing the area, Conroy has campaigned on focusing more on infrastructure.
"When I walk around town, I see a lot of broken sidewalks and curbs," said Conroy. "I think we could probably have a Five-Year Plan … Where we do a massive review of every sidewalk and curb in the city and then we repair them. For example, there's a median buckle over on Highway 90 down near Walmart area. Well, that should be fixed, right?"
Diversity in local government is also at the forefront of the mayoral race.
Sierra Vista, which means mountain view in Spanish, was founded in 1956. Since then, the city has had 21 mayors; 19 have been men and only two have been women. All have been white.
If Gray is elected, she'd be only the third woman ever to take office as mayor, and only the second ever to be elected. Past Sierra Vista mayor Ethel Berger, which the Ethel Berger Center was named after, was appointed to fill the vacancy of mayor Jay Raschke after his resignation in 1974.
If McCaa is elected, he'd be the first Black mayor of Sierra Vista. At the prospect, McCaa said "It would mean that we're progressing along. It would mean that my son has the actual chance to be mayor of Sierra Vista. It would mean that the things that my parents went through growing up in Birmingham, Alabama, during the Civil Rights Movement, that their work was never in vain."
Now all hearts, eyes, and minds will turn to the ballot box on Nov. 8 to decide the fate of each candidate.