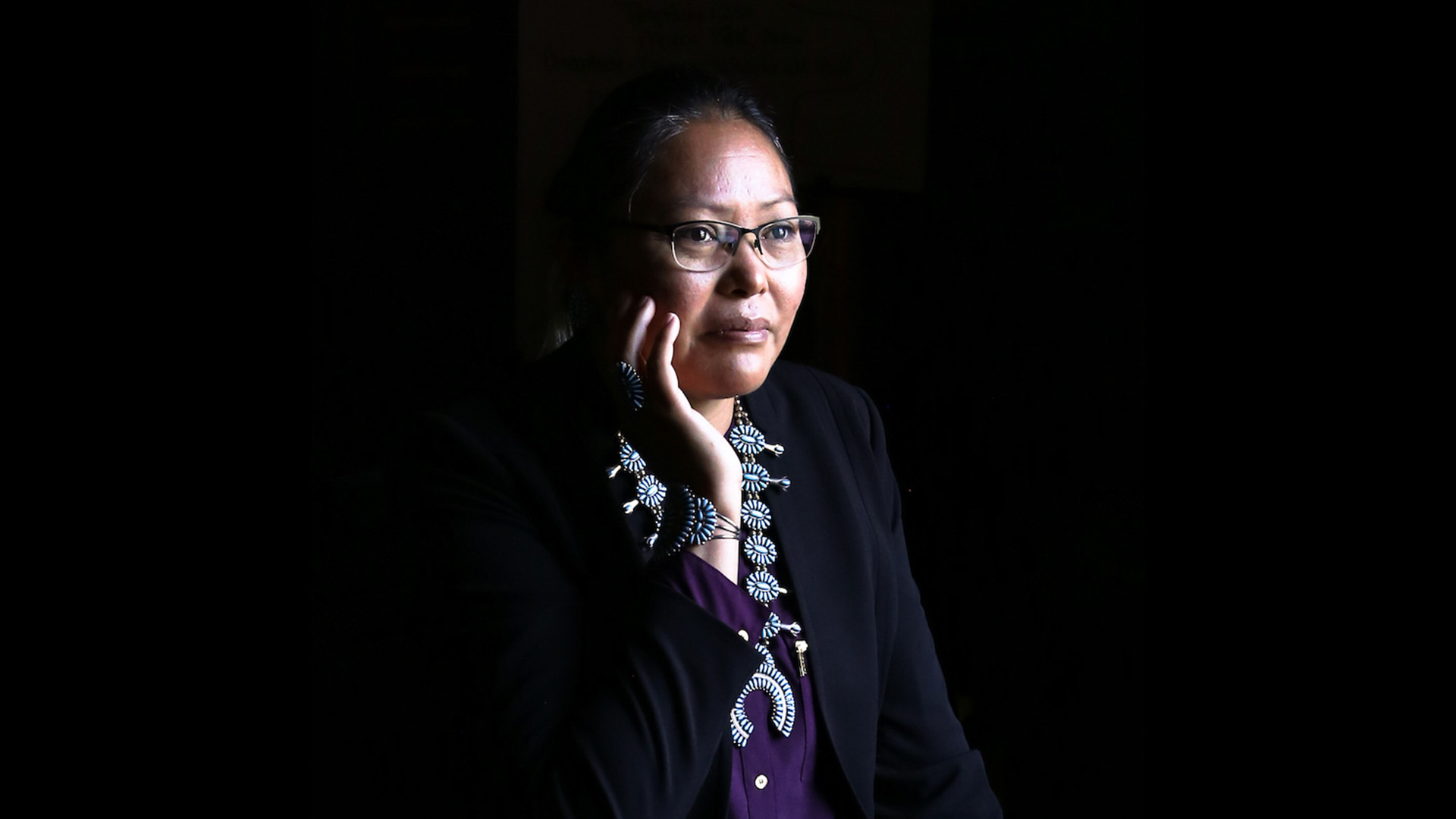 Dr. Jill Jim, the Executive Director of the Navajo Department of Health and one of the COVID-19 advisors who prepared President Joe Biden and Vice President Kamala Harris during the presidential transition.
Courtesy of the Navajo Nation
At the beginning of the pandemic the Navajo Nation was hit extremely hard. At one point, it had the highest rate of COVID-19 infections per capita in the country.
Emma Gibson spoke with Dr. Jill Jim. She's the executive director of the Navajo Department of Health and served as a COVID-19 advisor to President Joe Biden during the transition.
---
GIBSON: What has the last year been like for the [Navajo] Nation?
JIM: Here on Navajo we are now bypassing our second wave while the United States is going down on their third wave, and so there is just this uncertainty that we're not really out of the woods yet. There are a lot of needs that are still unmeant. We were able to provide electricity and water to some families, but we are still left with a lot of families not having just a basic running water and electricity on the Navajo Nation which also can contribute to obviously the transmission of COVID, if we don't have access to water on a regular basis as well.
Our current challenge is the ability to isolate and quarantine, and a lot of the efforts and conversations around disease transmission started with multi-generational homes. We hear of cases around clusters, and you have families that have 10 people, 15 people, 26 people in one home. How do we overcome those housing issues? Isolation and quarantine is quite different and is very much needed here on the Navajo Nation right now. I'm trying to look for additional funding and also with leadership trying to speak for funding to support these because a lot of the dollars that are coming down are only related to vaccines and testing. But if the CDC is recommending for schools to reopen and they're recommending isolation and quarantine, I need more funding for that.
GIBSON: What has this pandemic taught you about the federal government and what has it revealed about the relationship between the federal government and Navajo Nation?
JIM: Well, the federal government in general has a responsibility to support us as a tribal nation to either support us through Indian Health Services, as a federal agency. We also work with state governments, and there's the larger effort with CDC and also [Federal Emergency Management Agency] FEMA. All of those have been key partners in the response to the pandemic here, but we also know that there isn't enough funding that has supported the infrastructure of health care on the Navajo Nation and elsewhere.
I hope that after this pandemic that the federal government does look at these disparities, and health care disparities especially, and relooking at what is it that we were challenged with and those are medical staffing and also funding for new hospitals and the amount of beds that we have available isn't adequate for the population.
GIBSON: I realize that you were a part of President Joe Biden's advisory board when he was transitioning into the presidency for COVID-19. Do you think that being a part of a team gave you the opportunity and maybe the stage to advocate for the Navajo Nation or for tribal nations in general?
JIM: I think tribal nations in general, but also other racial and ethnicity groups because we also are bound to similar challenges. Either we live in remote areas or rural areas graphically or we don't have access to a health care system really easily, or we have the challenge of taking care of our elders and it was a way to listen and to share. I think they were all thankful for just being heard.