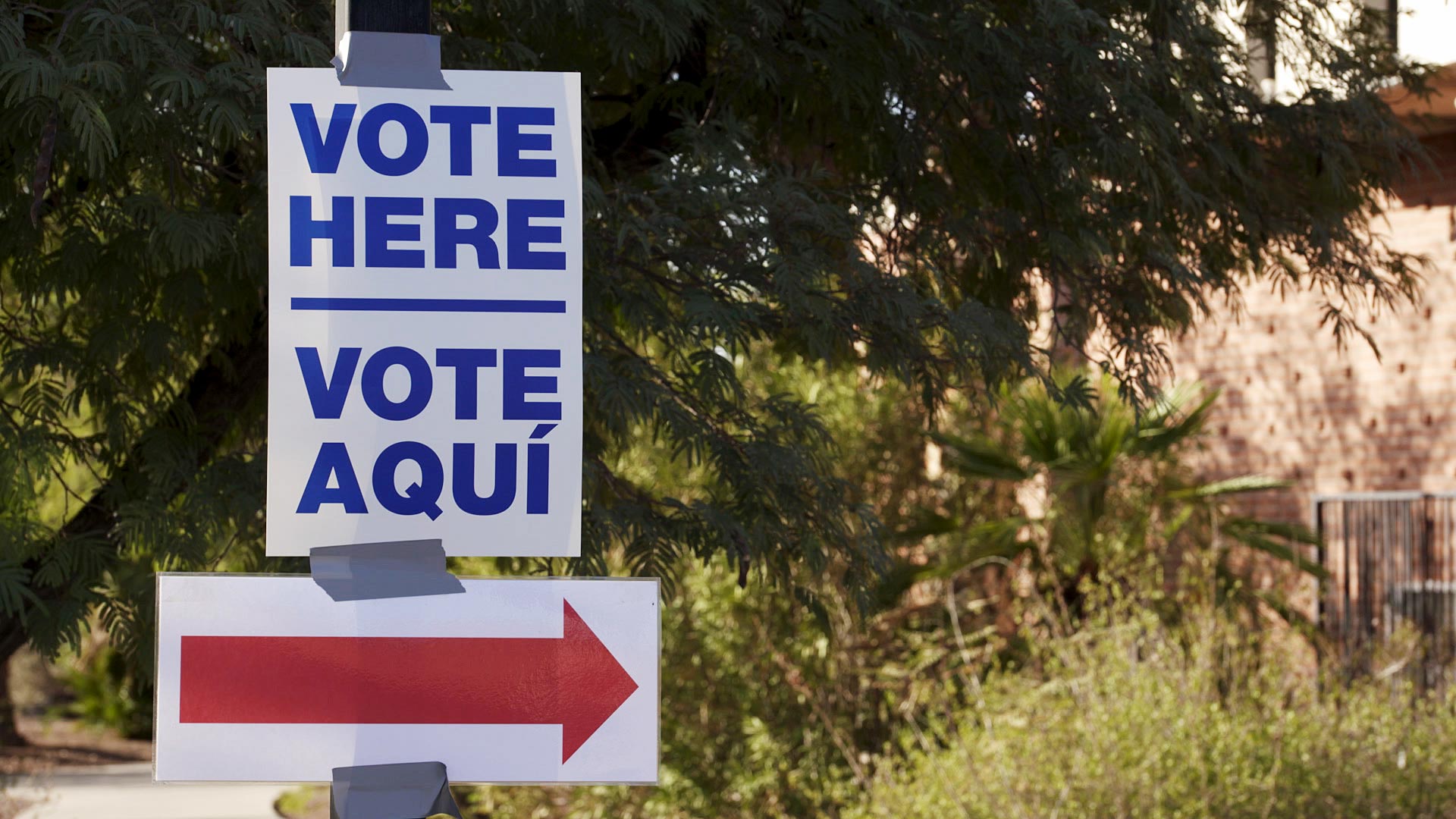 A sign directs voters to a polling site set up at Temple Emanu-El in Tucson on Nov. 3, 2020.
John DeSoto/AZPM Staff
Arizona's independent redistricting commission approved new congressional and legislative districts on Wednesday, recasting the political landscape of a state sharply divided.
Democrats currently hold five of the state's nine seats in the U.S. House of Representatives.
The redistricting commission agreed unanimously to create four Republican-leaning congressional districts, three that lean Democratic and two that are closely divided between the parties.
New congressional districts
Tucson was a point of contention down to the final hours of the five-member panel's deliberations, with commissioners pushing congressional district boundaries back and forth over neighborhoods in the middle of the city.
Tucson will be split in two districts. Much of the central, southern and western portions of Tucson — including downtown and the university — will fall in a Democratic-leaning district that will stretch along the border to Yuma and north to Maricopa County.
In many respects, the district will look very similar to the one now represented by Democratic U.S. Rep. Raúl Grijalva.
But a sliver of the district will extend from Santa Cruz County east to include Bisbee and Douglas.
The rest of Cochise County will fall into a district extending to the eastern and northern ends of Tucson, to Marana and Casa Grande.
The district is relatively competitive, putting Tucson and Southern Arizona at the center of what could be a closely watched congressional race, but it has leaned Republican in some past elections.
The vote to approve the new congressional district was unanimous but Democratic Commissioner Shereen Lerner argued districts could have been made more competitive.
"I think that in some cases, competitiveness was put on the side," she said.
Chair Erika Neuberg, an independent, argued the map represents a compromise.
"I understand that each side is deeply disappointed by aspects of this map and sometimes it's pretty lonely in the middle. But I know that I think we hit some sweet spot with empowering all sides to be well-positioned," she said.
Missing from the map, however, were suggestions proposed by the Navajo Nation Human Rights Commission.
Instead, the Navajo Nation will fall into a district that now includes all of Yavapai County and part of Republican U.S. Rep. Paul Gosar's district — a move opposed by Derrick Watchman, a Democratic commissioner and member of the Navajo Nation.
"It was important for me to consider seriously the Navajo proposal but it didn't go that way," said Watchman. "We went to other proposals very quickly in support of that and my proposal through the nation was almost immediately ignored. And I understand that because in many cases, that's how Natives have been treated."
The commission's two Democratic members voted against boundaries for the state's 30 legislative districts, arguing that the maps lean too far in favor of Republicans.
New legislative districts
The GOP currently holds 16 seats in the state Senate while Democrats hold 14.
Neuberg touted that the plan includes four competitive districts, maintaining that this would put control of the Legislature up for grabs.
Lerner argued the maps would give Republicans an advantage with 17 districts.
And she raised concerns about incumbent legislators influencing the redistricting process.
Lerner pointed to a Republican-backed GOP-leaning legislative district stretching from Marana through northeast Pima County to Vail.
And in the final hours of Wednesday's deliberations, she said Republicans had tweaked the boundaries of a legislative district in Flagstaff to benefit a particular legislator despite the Arizona Constitution stating "the places of residence of incumbents or candidates shall not be identified or considered." She did not identify the lawmaker and the commission went into executive session to consult with attorneys.
"This could have been a map that truly showed compromise. That truly showed we were here for the good of the state. I do not feel we ended up with that map," Lerner said later in explaining her vote against the plan. "And it distresses me because I came into this as all my colleagues did — I think — wanting to do the best for the state. I think there's always going to be partisanship. But I feel the partisanship exceeded my expectations."
But Republican commissioner David Mehl argued that creating a GOP-leaning district in Pima County will give southern Arizona conservatives better representation at the state capitol.
"And this map really represents what we heard from the public and what we see in the constitution. I'm very, very pleased we were able to end up with a win-win to the best extent possible or better than I thought possible," he said.
If the new legislative districts are a win-win, though, Democrats didn't see it that way. It passed with only the votes of the Republican commissioners and the independent chair.
The maps, unless changed by a court, will be used for next year's elections.
---
How redistricting could reshape Arizona's political landscape
In October, The Buzz examined the state's redistricting process and how it could change politics in Southern Arizona. Listen.