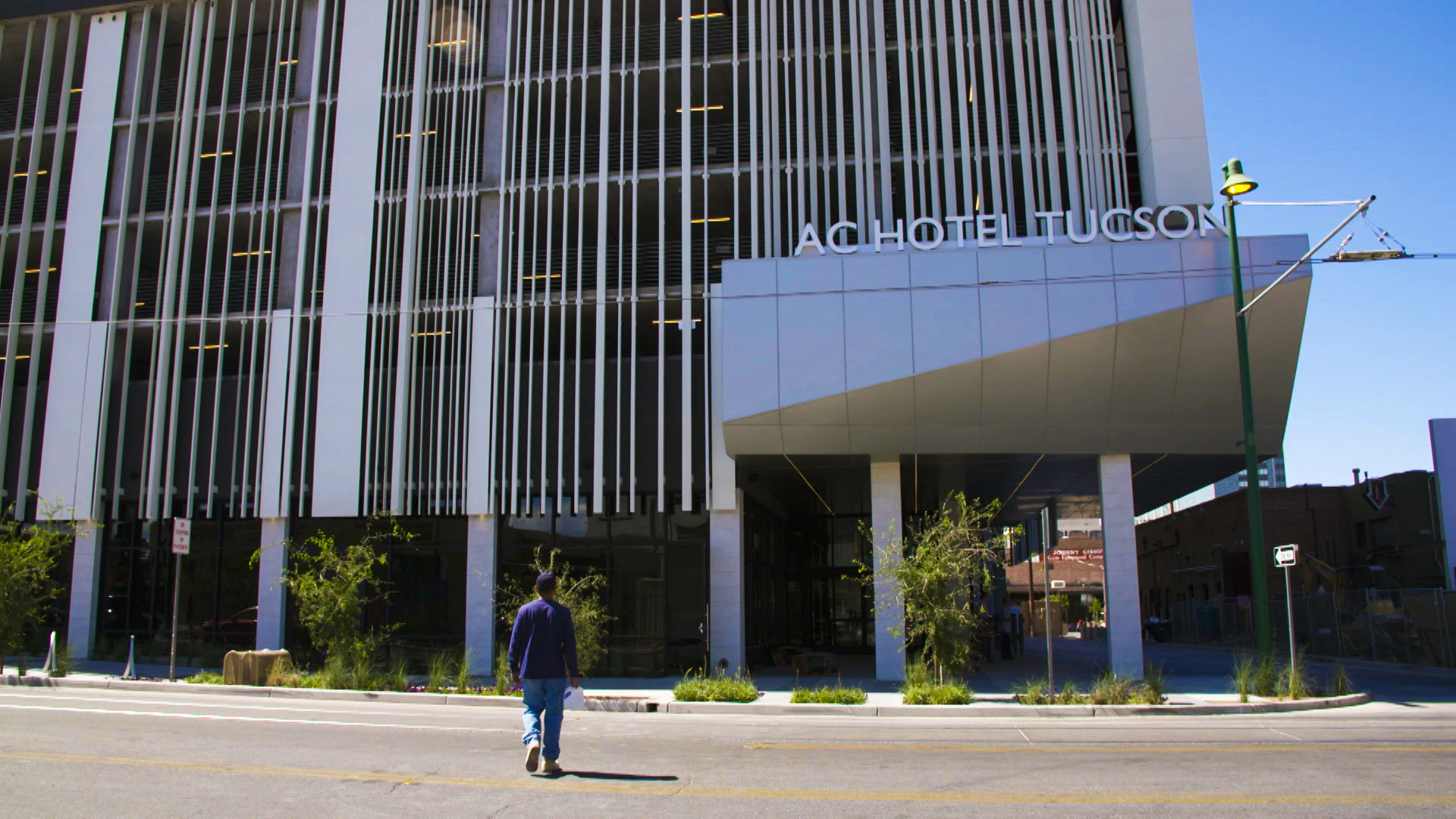 The exterior of the AC Marriott Hotel in downtown Tucson. The hotel is one of many downtown that have taken advantage of the GPLET tax incentive.
AZPM
At least 100 people gathered at Capilla de Guadalupe church in South Tucson Sunday afternoon. They weren't there for a conventional service. Instead, they assembled for a presentation about the effect of GPLETs on low-income neighborhoods.
The event was sponsored by the soup kitchen Casa María and the Barrio Neighborhood Coalition, a group that advocates for housing affordability.
Posing as a building developer, Brian Flagg, a volunteer with Casa María, opened with a skit.
DEVELOPER:
I want to build this great project. Everyone will love it. I just need a little more money. Where can I get it?

DEVELOPER goes to the bank. BANKER says the project looks good and hands DEVELOPER a loan the size of one of those oversized checks.

DEVELOPER:
An IOU? Well thanks. It's still not enough. I sure would like to make a nice profit. Hmm, I know. What if I got my taxes cut?

CITY OFFICIAL emerges from stage right.

CITY OFFICIAL:
Is your development bright, shiny and new? We love that. We can give you a GPLET.


CITY OFFICIAL explains GPLET stands for government property lease excise tax. It's a development incentive that lets the developer off the hook for property taxes for up to eight years.

DEVELOPER:
Well that sounds good. Where do I sign?

CONCERNED CITIZEN interjects from stage left.

CONCERNED CITIZEN:
Wait a minute. If no property tax is paid, what about the schools? What about the police?
The actor-activists say tax incentives are handouts to developers, who use them to build new apartments, offices and hotels in poor areas. They say that increases rents, forcing out people who already live there, usually people of color.
Housing costs in Tucson are on the rise. The average rent for an apartment increased 6% from this time last year, according to real estate group Cushman & Wakefield PICOR. That's double the rate of inflation.
Rent increase in central Tucson
Click on a zip code to see the percent rent increase between Jan. 31, 2019 and Jan. 31, 2020, according to Zillow.
Credit: Nick O'Gara/AZPM. Source: Zillow
But Mike Czechowski, economic initiatives project manager at the city of Tucson, said the GPLET isn't to blame.
State law bars the city from entering into a GPLET agreement unless an economic analysis determines they'd make more in sales taxes in the eight years than the developer would save in property taxes.
Another requirement is that the developer has to improve the value of the property by at least 100%. As a result, Czechowski said many of the properties that qualify are parking lots or vacant buildings, meaning they weren't generating any taxes to begin with, so they're not reducing funding for schools or police.
Parking lots also don't provide housing, and several GPLET projects have added to the housing supply downtown.
He said tax incentives are necessary for Tucson to stay competitive with Phoenix.
"We're still a secondary market," he said. "And I'm certain that a handful of these projects would not be in place if not for the incentives."
Still, not everyone looks at the growth downtown and sees it as a good thing. Rents there are the highest in the city, and there's fear the rising costs will spill into nearby barrios — especially those south of downtown.
Casa María volunteer Cesar Aguirre said he recently had to move out of Tucson's south side because he couldn't find a place he could afford. "[Gentrification] is real. It's happening. And it's moving this way," he said.
Many activists say local government should ask more from developers before giving them a tax break, like requiring them to invest in affordable housing.
The Historic Fourth Avenue Coalition achieved such an agreement with the developer of an apartment building on the former site of the Flycatcher bar. Mike Peel with Tucson Local First said they secured competitive rents for local businesses on the street level.
"By working together with the community, the developer will get support from the community to pursue these GPLETs. So it's meant to be a two-way street," he said.
By the end of the event at Capilla de Guadalupe, the activists called for the city of South Tucson to require a so-called community benefits agreement to be part of any GPLET deal. But South Tucson Council member Rita Rogers said requiring too much from developers will keep them away.
"No one's going to want to get in here if you say, 'Hey, if you want to come in here, I want you to give a 75 cent ice cream cone to every kid in Ochoa [Community School], or else.' They're not going to come," she said.
The city of South Tucson is working to expand its GPLET area. To date, the city hasn't approved a single GPLET agreement.
"Some of my property is in a GPLET zone," said South Tucson businessman Dennis Luttrell. "Even with GPLET offered to businesses, we still don't have people that are interested because of the condition of the city and the police department."