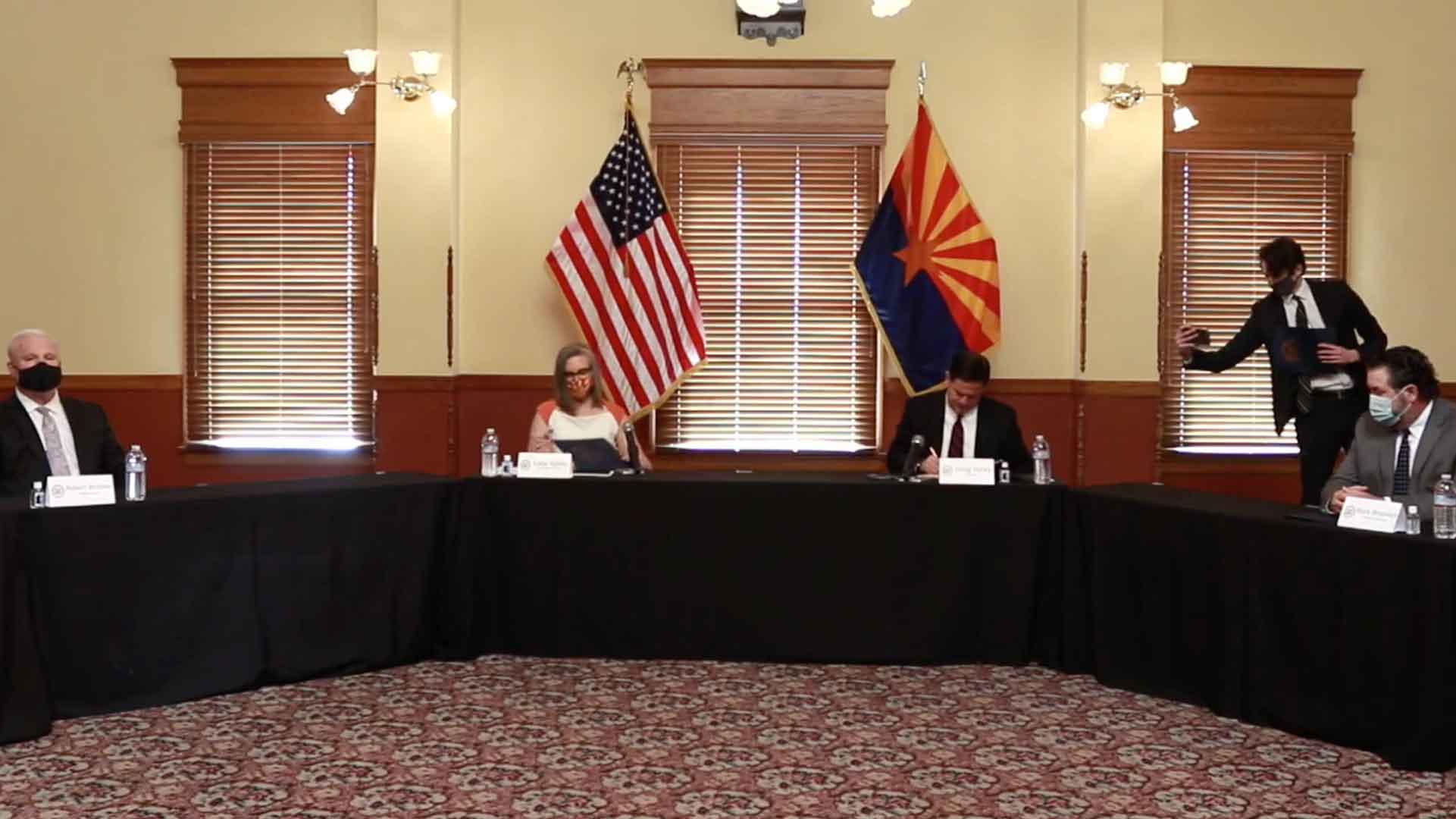 Arizona Chief Justice Robert Brutinel, Secretary of State Katie Hobbs, Governor Doug Ducey, and Attorney General Mark Brnovich certify the 2020 General Election. Nov. 30, 2020
Sec. of State's Office/YouTube
Arizona officials have certified the state's election results.
The action formalizes Democrat Joe Biden's narrow victory over Donald Trump even as the Republican president's attorneys continued making baseless claims of fraud in the state's vote count.
The certification confirms the state's 11 electoral votes will go to President-elect Joe Biden and clears the way for Sen.-elect Mark Kelly, a Democrat. Because he is taking over the final two years of the late Sen. John McCain's term, Kelly will now be sworn in as senator on Wednesday.
Democratic Secretary of State Katie Hobbs certified the election results alongside Gov. Doug Ducey, Attorney General Mark Brnovich — both Republicans — and State Supreme Court Chief Justice Robert Brutinel.
Both Hobbs and Ducey vouched for the accuracy and security of the election, even as Trump has continued to sow doubt about the outcome.
"Every Arizona voter has my thanks and should know that they can stand proud that this election was conducted with transparency, accuracy and fairness in accordance with Arizona's laws and elections procedures despite numerous unfounded claims to the contrary," Hobbs said at the brief signing event.
"We do elections well in Arizona. The system is strong, and that is why I have bragged on it so much," Ducey added.
While the vote was being certified, two challenges to Arizona's results were underway.
In a Phoenix hotel ballroom, Trump attorney Rudy Giuliani told about a dozen Republican members of the Legislature and 100,000 internet watchers that Arizona's election was rife with fraud.
"The vote as it presently exists is false, it's fraudulent. If they certify it they are certifying a false statement to the United States of America. When I was a prosecutor, that was a federal crime," said Giuliani.
That meeting, which was filled with unsubstantiated accusations of fraud and conspiracy, was not an official hearing of the Legislature or any legislative committee. But Rep. Kelly Townsend said maybe the allegations are worth an official hearing.
"If we were to hold an actual committee hearing we would have subpoena power to look at the machines, to look at these things and inspect them," Townsend said.
A Maricopa County judge on Monday allowed a suit challenging the results of the presidential election to go forward. The trial is set to begin later this week.
Kelli Ward, the head of the Arizona Republican Party who brought the suit as a private citizen, will now be able to examine 200 ballots in Maricopa County to try to identify fraudulent votes.
During the election certification, Hobbs addressed the fraud accusations without mentioning the lawsuit or Giuliani. She assured voters that the election was fair.
Elections challenges brought by the Trump campaign or his backers in key battleground states have largely been unsuccessful as Trump continues to allege voter fraud while refusing to concede.

Read more coverage of national, Arizona, and local elections at our 2020 elections portal,
Your Vote 2020
.