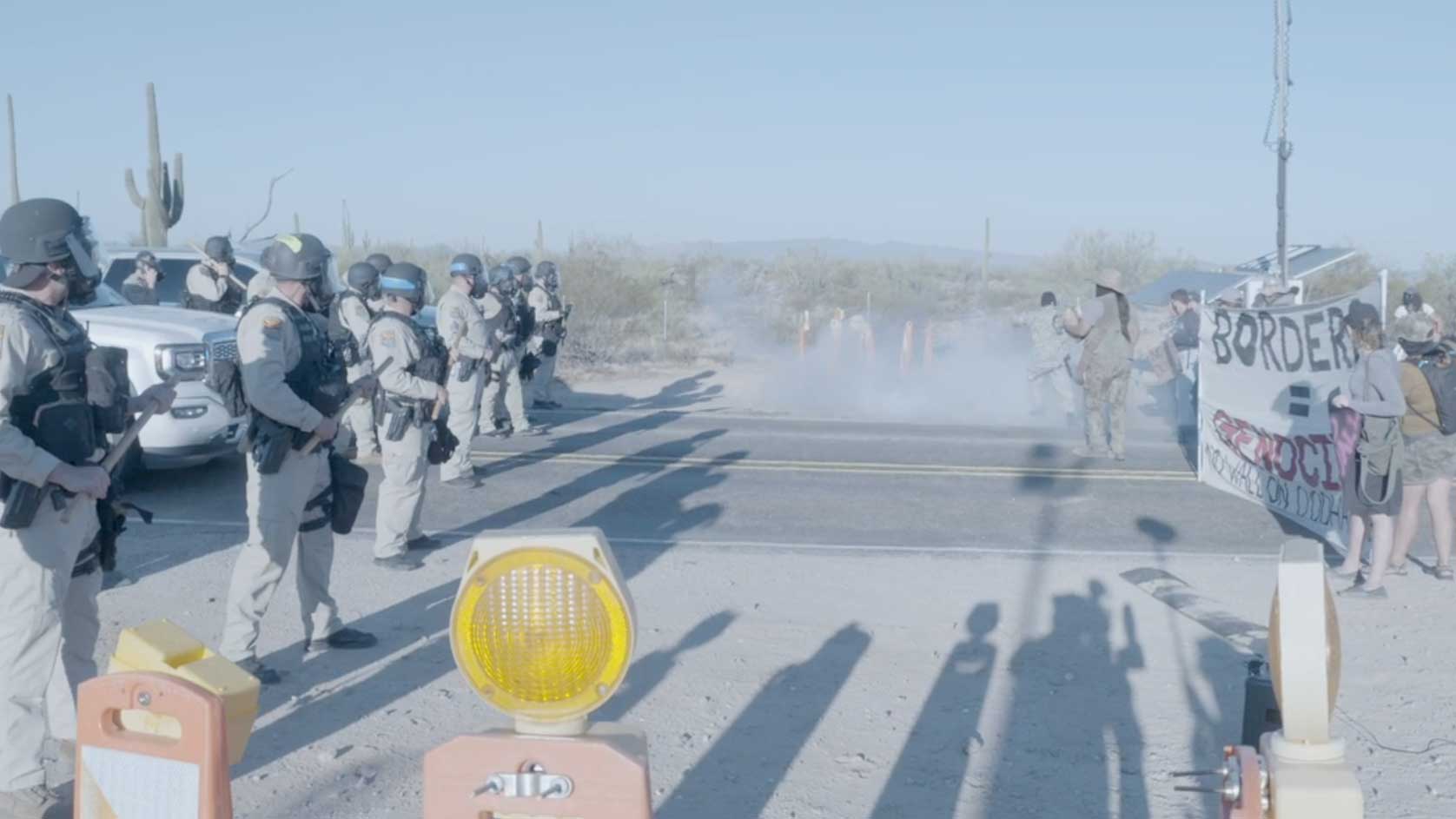 A line of DPS officers forms in front of an Indigenous Peoples' Day Protest north of the Lukeville Port of Entry on Oct. 12, 2020.

Rafael Samanez
State and tribal leaders are speaking out against law enforcement use of force as scenes from an Indigenous-led demonstration this week continue to circulate.
As a dozen of states celebrated Indigenous Peoples' Day on Monday, around 30 demonstrators formed a blockade across a Border Patrol checkpoint north of the Lukeville Port of Entry on State Route 85, praying, singing and speaking against border wall construction.
Department of Public Safety troopers fired tear gas, smoke canisters and rubber bullets into the crowd when they refused to leave the roadway. Eleven people were arrested. They face misdemeanor charges of blocking a roadway and refusal to disperse. One faces a felony resisting arrest charge.
It's the most intense escalation in a series of nonviolent demonstrations that O'odham organizers from the Tohono O'odham Nation and others have led for weeks against construction on ancestral land.
Footage shot by Rafael Samanez at the scene shows officers tackling a protester to the ground. Organizers say at least two people were shot in the chest with rubber bullets, one of which was caught on Samanez's video.
Footage of O'odham Tribal Member Getting Shot by Arizona Department of Public Safety from Rafael Samanez on Vimeo.
This week Southern Arizona Congressman Raúl Grijalva called for an investigation into the incident.
In a statement released Tuesday night, Tohono O'odham Chairman Ned Norris Jr. also condemned the incident, calling the use of tear gas "utterly appalling." He said this escalation was the latest example of tribal rights along the border being ignored.
"Members of our tribal nation and other tribal nations and non-Natives are having to exercise their constitutional right to express themselves in this fashion just because the president wants to build his wall," he said.
Construction on the Trump administration's 30-foot-tall steel bollard wall began at Organ Pipe Cactus National Monument earlier this year, just west of the tribal nation's 62 mile border boundary.
Since taking office more than a year ago, Norris Jr. said his government has been left out of the conversation.
"I can't sit here and honestly say that I have felt that we've made any progress in securing a meaningful ear and consultation with the United States government," he said. "I know how much effort we have put in to try to get some understanding, compassion and some level of cooperation, but it's frustrating because it seems like the efforts are falling on deaf ears."
Norris Jr. said his office has offered recommendations like buffer zones between construction and sacred sites, and limits on where groundwater can be pumped, but many of those have been ignored.
U.S. Customs and Border Protection is supposed to consult with tribes like the Tohono O'odham Nation in matters that concern their land or sacred sites. Speaking to Arizona Public Media at a media event this week, Tucson Sector Border Patrol Chief Roy Villareal said his agency speaks with tribal liaisons regularly.
"We do everything within our power to make sure that we keep them notified of construction events that may be impacting the nation, and again it's a robust relationship, it continues, and we're going to make every effort we can to make sure we address their concerns and needs," he said.
Norris Jr. said liaisons from the tribe's historical preservation office do communicate with Border Patrol. But he argues that process falls short of true, government-to-government consultation because it fails to address tribal leaders or consider alternatives to construction.
"I'm not going to sit here and talk with you about ways that you can accomplish your wall. It's a wall that we would rather see go away."
Norris Jr.'s government has joined a host of environmental lawsuits against the project and said the tribe will continue pushing the U.S. government to uphold its responsibilities to tribes.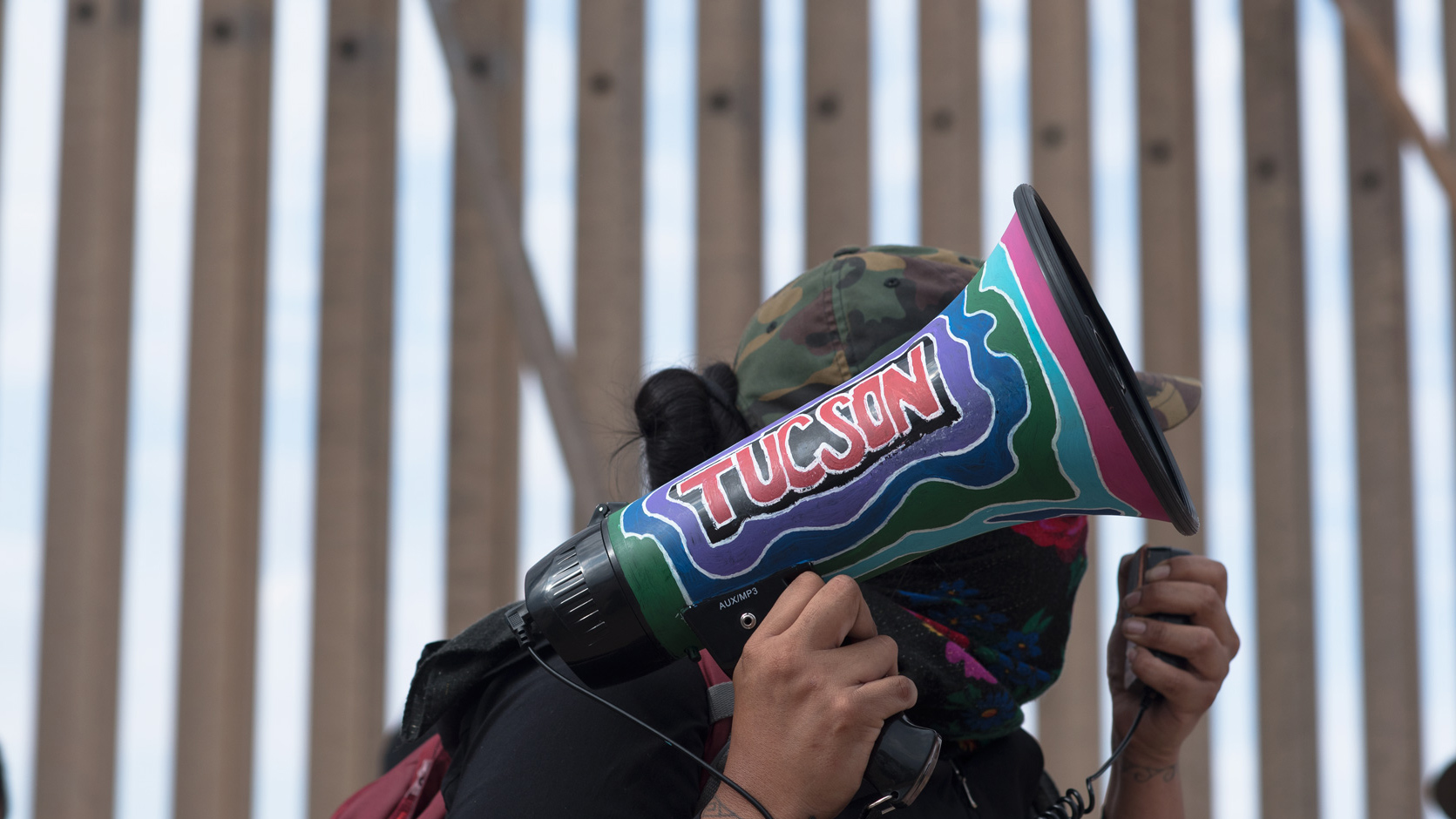 VIEW LARGER An O'odham organizer speaks during a demonstration on the border wall's construction line near Quitobaquito Springs on Sept. 22, 2020.

Alisa Reznick/AZPM
Still, construction presses on, advancing on burial grounds and sacred sites like Quitobaquito Springs, an imperiled water source and man-made pond that's part of the Hia-Ced O'odham homeland — a tribe not federally recognized.
O'odham demonstrators staged actions along the construction line there for weeks before Park Service officials closed the road to get there last month. Norris Jr. says that means O'odham who visit burial sites and conduct ceremonies there have been cut off.
Amber Lee Ortega, a Hia-Ced O'odham and Tohono O'odham woman, was one of two people arrested near the site in September for trying to stop construction by physically blocking machinery. Speaking to a crowd of supporters in Tucson last week, Ortega said her relatives are buried there. Watching the destruction, she felt called to protect it.
"We were arrested for standing on our land, for invoking our religious freedom act. We were there to sing and pray, we were there to protect," she said. "We were there to fulfill our role as O'odham."
This week Customs and Border Protection announced 360 miles of wall had been completed across the border. Indigenous organizers say they'll keep staging demonstrations as long as construction continues.