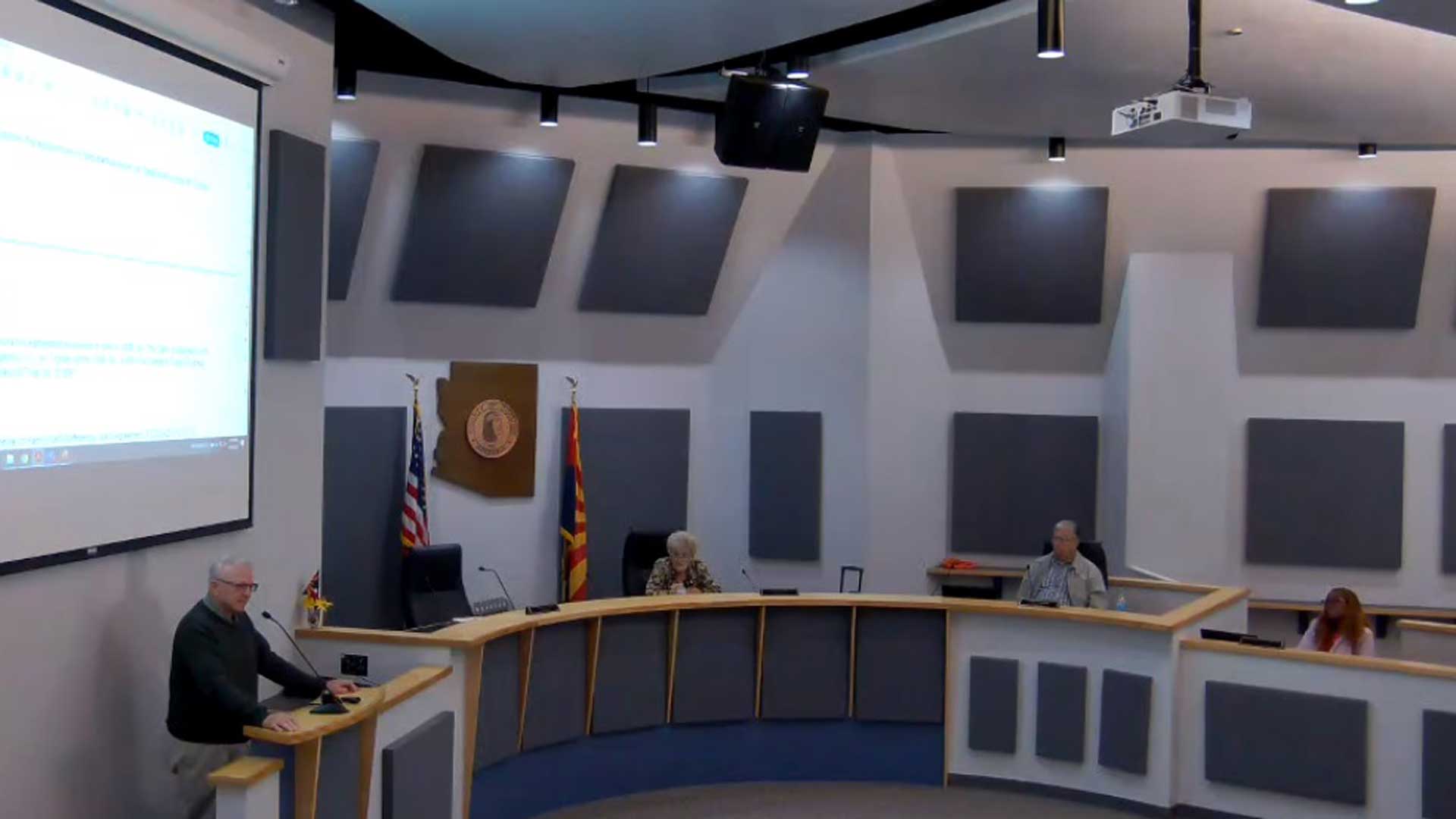 Bob Bartelsmeyer speaks with the Cochise County Board of Supervisors before they voted to name him elections director. April 25, 2023
Screen grab from Cochise County Board of Supervisors web stream
The Cochise County Board of Supervisors voted 2-1 Tuesday to approve the appointment of Bob Bartelsmeyer as Elections Director for Cochise County amid concerns from constituents about his qualifications and social media posts about the 2020 election.
31 people noted for the record their opposition to Bartelsmeyer, with only one in favor. Six additional people spoke during call to the public opposing him, citing concerns about his lack of a college degree and Facebook posts that ranged from alleging that former President Donald Trump won the 2020 election to posts accusing Democrats of acting like fascists.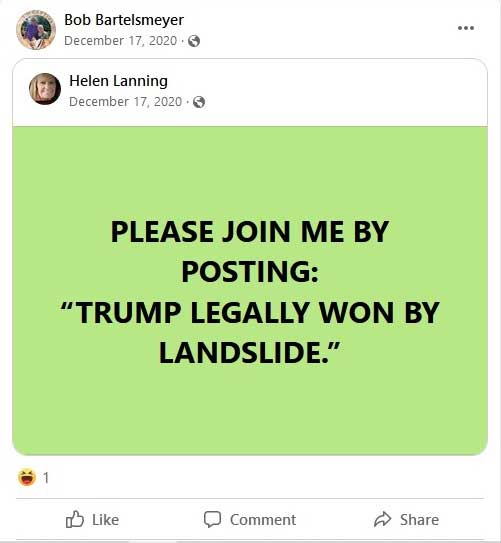 VIEW LARGER A post from Bob Bartelsmeyer's Facebook page
On December 17, 2020, Bartelsmeyer shared a Facebook post that read "Please join me in posting that Trump legally won by a landslide."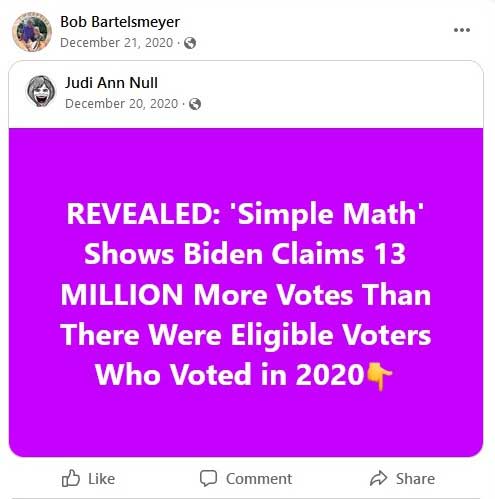 VIEW LARGER A post from Bob Bartelsmeyer's Facebook page.
In another post Bartelsmeyer shared on Facebook in December 2020 read "REVEALED: "Simple Math" Shows That Biden Claims 13 MILLION More Votes Than There Were Eligible Voters Who Voted in 2020."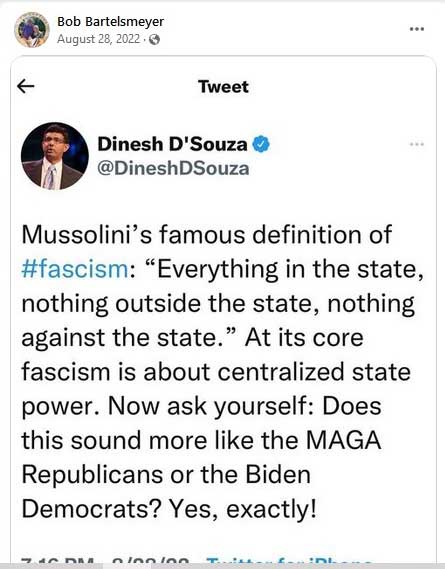 VIEW LARGER A post from Bob Bartelsmeyer's Facebook page.
A third post Bartelsmeyer shared in August of last year was a tweet authored by Dinesh D'Souza — a right-wing commentator— which referenced a definition of fascism and read "Does this sound more like MAGA Republicans or Biden Democrats? Yes, exactly!"
Bartelsmeyer responded to public comments during Tuesday's meeting and said that the comments criticizing him are distorted and that as a private citizen, he is able to post his opinion on social media.
"As a private citizen between 2016 and 2021, I am at the liberty to express my opinion," Bartelsmeyer said Tuesday. "I was not an election director at that time."
He further asserted that he is qualified for the position, claiming 30 years of experience. He also said that he supports the use of ballot tabulation machines but also is in favor of a hand-count audit.
The information about Bartelsmeyer's resumé and professional background was another topic of contention. District 2 Supervisor Ann English, a Democrat, asked Cochise County Recorder David Stevens, who in his role as interim elections director appointed Bartelsmeyer, about why information about Bartelsmeyer wasn't presented to her prior to the meeting.
"It seems as though that — at least — Ms. Judd was notified or asked questions about who was going to be the elections director, that you had made contact with her," English said. "Was there a reason why I've been totally left out of the system? Did you talk with Supervisor Judd and Supervisor Crosby?"
Stevens responded, "I talked with Supervisor Judd and Crosby on multiple occasions. I don't recall talking about this specifically. The way I understand it, the IGA (Intergovernmental Agreement) said that I was supposed to post, and interview, and present to the board — which I did — the candidate that I chose."
Background
Bartelsmeyer was the elections director for La Paz County, Arizona, and was hired in April of last year. Bartelsmeyer's annual salary as elections director of La Paz County was $63,773.40 according to the April 4, 2022 meeting minutes from the La Paz County Board of Supervisors meeting.
The Cochise County listing for the elections director position advertises a salary between $80,000 to $91,152 annually.
Read Bob Bartlesmeyer's application

View at Google Docs
|

Download File
According to his application, Bartelsmeyer was also the elections director for Doña Ana County in New Mexico from August 2009 to June 2010.
Earlier, Bartelsmeyer was an Absentee Ballot Coordinator for Palm Beach County in Florida from 2007-2009, a Voter Registration Supervisor in Mohave County, Arizona from 2003-2004, and was the Clerk of Lawrence County, Missouri for 23 years.
On his application, it is noted that Bartelsmeyer does not have a State of Arizona Election Officer Certification.
Bartelsmeyer also does not have a college degree.
Bartelsmeyer attended Missouri State University and majored in Agri-Business, but didn't graduate. He also attended Oral Roberts University in Tulsa, Oklahoma, and studied Political Science and History, but also didn't graduate.
Supervisor English also raised concern about the fact that Bartelsmeyer's requested that the county not contact half of his previous and most recent employers, except for three from more than 15 years ago.
Stevens said that out of the three applicants, Bartelsmeyer was the only one with prior experience.
"Well, I had three people apply, and he's the only one who had any experience at all," Stevens told AZPM on Monday. "He spent 20 years as an elected official. So, he understands the politics of being elected. And his wife is a former legislator in the State of Missouri. So all those things kinda rolled together that make it a very good fit."
Stevens added that Bartelsmeyer has also used Election Systems & Software (ES&S) during his past positions.
"He's come down and taken a tour of the place, saying 'we use ES&S,' they use ES&S," said Stevens. "So, it's all the same thing, so he's very familiar. I felt very fortunate I found someone as qualified as Bob (Bartelsmeyer) to come in. Usually, it's — other counties have had a long, drawn-out process, and end up getting people from out of state."
Stevens said that unless an election is called in November for special districts, Bartelsmeyer's first election will be the presidential preference election in March of next year.
Stevens also confirmed that as the interim elections director, he will run the county's May 16 special election on the jail district.
"He's (Bartelsmeyer) not going to be able to start until May 30th," Stevens said. "He had some other obligations throughout the month of May. So, it will still be me."
The Albuquerque Journal reported in 2009 that Bartelsmeyer was selected to serve on the Standards Board of the United States Election Assistance Commission by then New Mexico Secretary of State Mary Herrera.
Bartelsmeyer's wife, Linda Bartelsmeyer, is a former Republican Representative who served eight years in the Missouri House of Representatives.