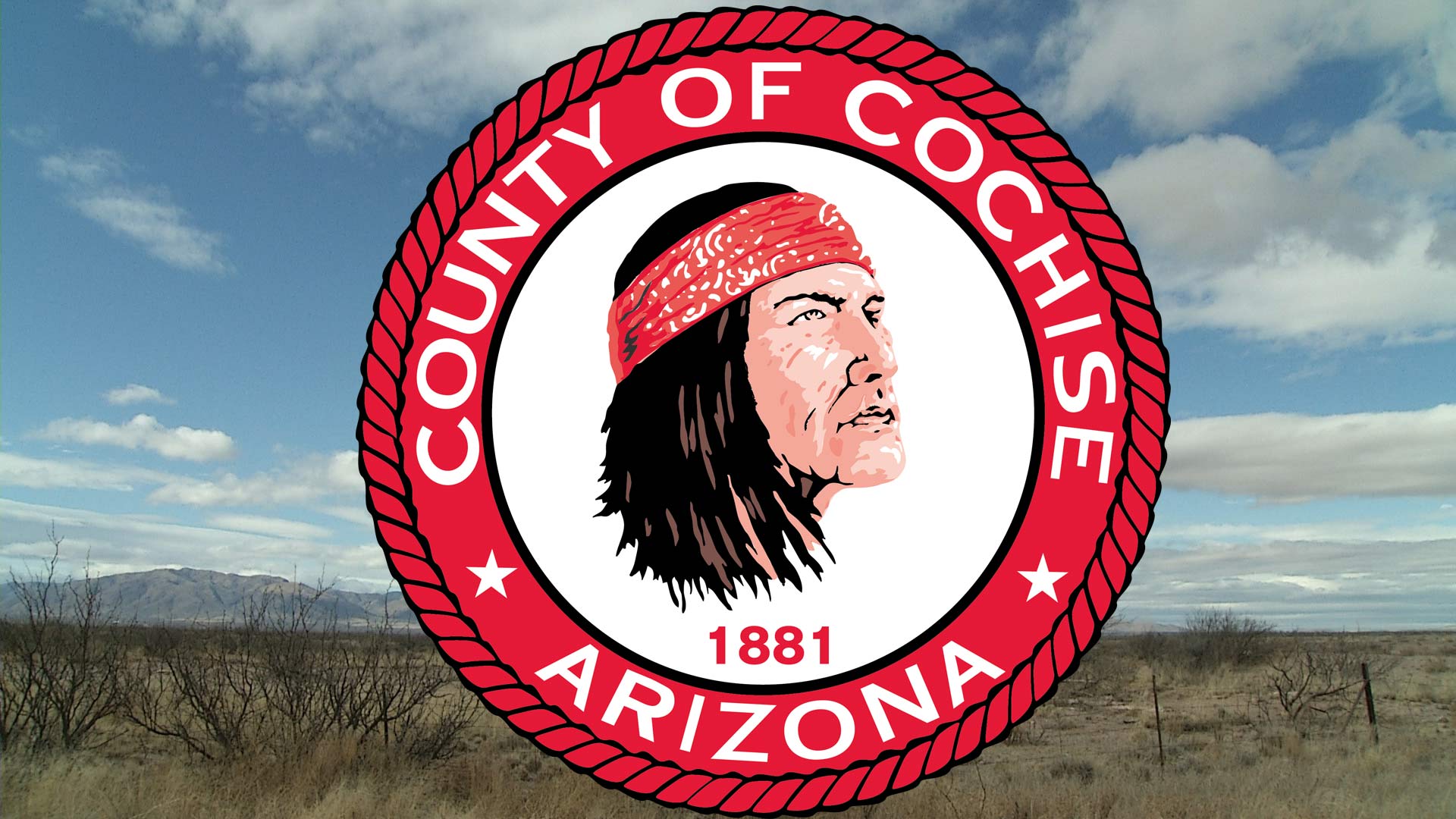 The seal of Cochise County.
This story was updated to reflect that AZPM used public records requests to report parts of this story.
The depth of the threats made against former Cochise County Elections Director Lisa Marra have come into the light, with one threatening to find her at her home, many accusing her of being a communist or supporting Marxist ideologies like Maoism amid a backdrop of disinformation that centers on unfounded claims that the 2020 and 2022 elections were rigged.
AZPM received copies of the threats to Marra through a public records request filed shortly after she left her position as Elections Director for Cochise County. The request asked for copies of threats made against the elections director.
Specifically, AZPM asked the Cochise County Attorney's Office for "public records request for any communication including letters, email, text, or voicemail, that were threatening the county recorder, elections director, their staff, volunteers (interim or otherwise), and the families of those individuals from 01/01/2022 until this request is filled. Additionally, we also request access to any communications that were forwarded to municipal, county, state, and/or federal law enforcement."
Marra submitted her resignation letter to Cochise County on January 24 of this year.
"If experienced elections officials across this country continue to quit, or are run out of their jobs because of this ridiculous harassment, who's going to take their place?" said Marra during her August 11 testimony to the U.S. House Oversight Committee. "The answer: it's inexperienced people, and that's not going to help us move the needle to increase voter confidence in America."
One threat that Marra received that was reported to the Cochise County Sheriff's Office was an email that was sent to Marra back in October in which the author threatened to find her in her home and made a reference to the French Revolution in 1799.
"If you own a home … We will find you through the Tax Assessors Website," the email stated. "I guarantee you, We the People will remove you from office."
CCSO was unable to confirm the identity or location of the sender, which was listed as Todd P. Olson.
The report given to AZPM detailed that the case was transferred to the Sierra Vista Police Department.
Another email sent to Marra in late August of last year called her "Just another ignorant clueless unprincipled liberal piece of sh**!!"
Another email sent to Marra accused her of running "dirty elections," with the sender writing "We know it's all a mess, and we will question it all day … We are going to review all data and investigate and prosecute all those who broke laws in 2020 and 2022 elections, including you, the Cochise Board, Maricopa Board, etc. … You don't dictate us."
Another batch of emails also criticizes Marra for her testimony to the U.S. House Oversight Committee on Responding to the Threat of Election Misinformation in August 2022.
In her testimony to the House Oversight Committee, Marra described the types of threats her office had received. She points to social media posts as the inspiration for most of the harassment.
"We do get some emails," said Marra. "But a lot of them are just voicemails and they're just 'we know you're corrupt, we know that you've committed crimes, you need to resign.' Recently, I've had people write letters to our Board of Supervisors demanding that I'd be fired for no reason."
Marra spoke about how many election officials are fearful to speak up because they fear being attacked.
"It's easy to attack the small minority who keep speaking up to defend elections," said Marra. "If everybody spoke up to defend what they know is true, it'd be a much bigger target. We'd still be attacked most likely, but there's safety in numbers and it's pretty hard to attack millions of us that speak the truth."
Congressman Jamie Raskin (D-MD) asked her about what needs to be done in order to protect election workers, Marra said that the law needs to have more criminal penalties and election workers need to document the threats they receive.
"I believe that we should have some defined laws, we should have some penalties, we should have some things with teeth," said Marra. "It concerns me that the longer that we go on, the angrier people are getting, and at some point, there's a tipping point."
After resigning from her position as the Elections Director in Cochise County, Marra took the position of Deputy State Elections Director for Arizona and said that she is declining interviews at this time.
Arizona Secretary of State Adrian Fontes told AZPM that threats against election workers have become more common.
"The Brennan Center for Justice about a year ago put out a study that showed that one-in-six election workers across the United States of America had experienced threats or actual harassment," said Fontes. "When I was the Maricopa County Recorder, in 2018 we had one safety issue in the entire general election — that was a midterm. It was a rattlesnake in the parking lot in Pinnacle Peak precinct. That's quaint compared to the fact that people are now carrying long rifles out by ballot drop boxes, folks are actually getting harassed at their homes. It's unconscionable that this happened in the United States. And it's all based on a lie."
Fontes said that he's going to push for more privacy protection for election workers.
"I've also asked — and I hope we'll be able to see some legislation that will increase penalties for threats and harassment against election workers," said Fontes.
His office has reported that out of Arizona's 15 counties, election directors have resigned in six: Yuma, Cochise, Pima, Yavapai, Pinal, and Santa Cruz County; Additionally, Pinal, Yavapai, Yuma, Santa Cruz have all lost their County Recorders as well.
How did this all begin?
In Cochise County, it began with a push led by Republican Supervisors Tom Crosby and Peggy Judd to conduct a 100% hand count of the 2022 midterm election.
The two supervisors delayed certifying the election the first time on November 18 and once again on November 28, missing the state's deadline for certification.
Both Republican supervisors said on November 18 that they wanted extra assurance from the Arizona Secretary of State's Office that the voting machines in Cochise County were certified for accuracy.
Then state Elections Director Kori Lorick said in the November 18 meeting of the Board of Supervisors that the voting machines have been tested and certified for accuracy.
"The equipment used in Cochise County is properly certified under both federal and state laws and requirements," said Lorick. "The claims that the SLI testing labs were not properly accredited are false."
Yet both Crosby and Judd persisted with their delay in certifying the election. At the November 28 meeting, Crosby said he was frustrated that the meeting agenda did not provide an opportunity for those opposed to certification to speak.
That prompted then Secretary of State Katie Hobbs to file a lawsuit against the Cochise County Board of Supervisors, which resulted in a court ordering them to certify the election results.
After taking a brief hiatus from discussing election-related topics, Crosby and Judd brought the issue back to the table in February by approving an agreement that moves administrative authority over the county's elections department to the County Recorder David Stevens — an action that also triggered yet another lawsuit filed this time by Arizona Attorney General Kris Mayes, who wrote in the suit that the board's agreement "purports to give to the Cochise County Recorder almost all of the elections powers and duties conferred by statute upon the Cochise County Board of Supervisors."
Background: Marra at House Oversight Committee
U.S. House Oversight and Reform Committee chair Carolyn B. Maloney sent Marra a letter in April asking what the Election Officials of Arizona is doing "to counter lies and conspiracy theories and protect the integrity of federal elections in your state."
The letter contained a list of questions to be answered by May 4, 2022, including inquiries about the impact of misinformation within Election Officials of Arizona in 2020, continued misinformation and disinformation after the 2020 election, strategies to counter misinformation and disinformation, if they have received funding or support, and if any members have received "threats or physical or verbal attacks in connection with conspiracy theories, disinformation, or misinformation following the 2020 election?"
In her response, Marra said that most of the threats she has received have been from people who do not live in her county. She expressed her concern about being able to employ election officials in the current social and political landscape. She said not only has the misinformation and disinformation bred distrust from voters, but it also makes it difficult for election officials to do their jobs.
Marra described the struggle to reestablish public trust in election integrity as "exhausting and dangerous." She questioned how much officials would have to go through before the issue is taken seriously: "Do election administrators have to be killed before this is taken seriously?"
She called upon Congress and State Legislatures to establish harsher penalties for threats and attacks on administrators and poll workers.
Read the emails sent to Marra. Some of the documents contain language that some people may find offensive.

View at Google Docs
|

Download File