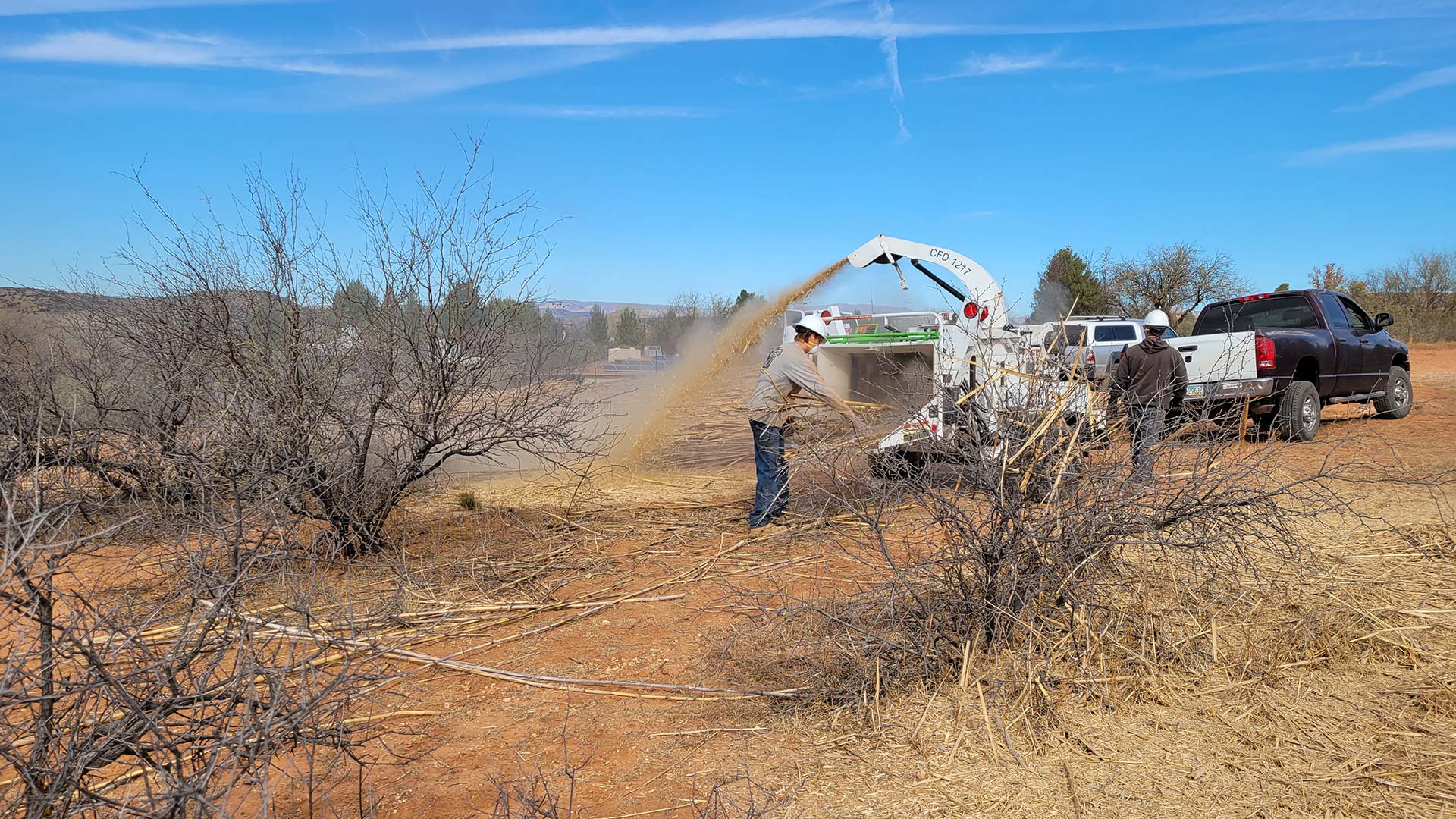 A crew from Verde Earth Technologies chips arundo in Cornville, Ariz.
Zac Ziegler, AZPM
This story is part of the online version of an episode of The Buzz.
The creeks and streams that feed Arizona's rivers may at times not look like they carry much water, but when every gallon counts, those tributaries can help fill the state's reservoirs. With that in mind, crews in northern Arizona are working to remove thirsty invasive plants and keep a river system flowing.
One such waterway is Oak Creek, which begins in a canyon south of Flagstaff and flows into the Verde Valley, where it eventually feeds into the Verde River south of Cornville.
On the southern edge of the creek, a crew has spent the last week pulling up a field of an invasive reed, and they're now feeding thousands of cut plants into a wood chipper.
"We're working on a project to remove arundo, also known as giant reed, which looks a lot like bamboo," said Tracy Stephens, program director at Friends of the Verde River. "It's one of the invasive plants that's really started to choke out areas along the Verde."
She said the invasive plant, which was introduced to the area 30-40 years ago, cannot be cut down and left to decompose.
"We have to chip the arundo because if we leave it whole, it can actually re-sprout from each leaf node. So one arundo stock left on the ground can actually re-sprout in 30 different places and create a whole new stand and another giant problem for us."
Friends of the Verde has been removing arundo and a few other non-native plants for more than a decade, allowing local species that consume less water to thrive in the area.
While Stephens talks, four workers feed tall stocks of arundo into the chipper.
"The crew that we're working with today is [from] Verde Earth Technologies or VET. It's a veteran-owned, veteran-managed company that's comprised primarily of veterans," she said.
Sean Borruso has worked for VET for 12 years. He grew up in New York, and found his way to the Verde Valley after a brief stop in Texas. He is an Army veteran who did two tours in Afghanistan.
"It helps with PTSD a lot, being out here," he said. "You don't have to deal with a lot of people, kind of, and it's just easy. The environment, it's easy to work and easy to breathe."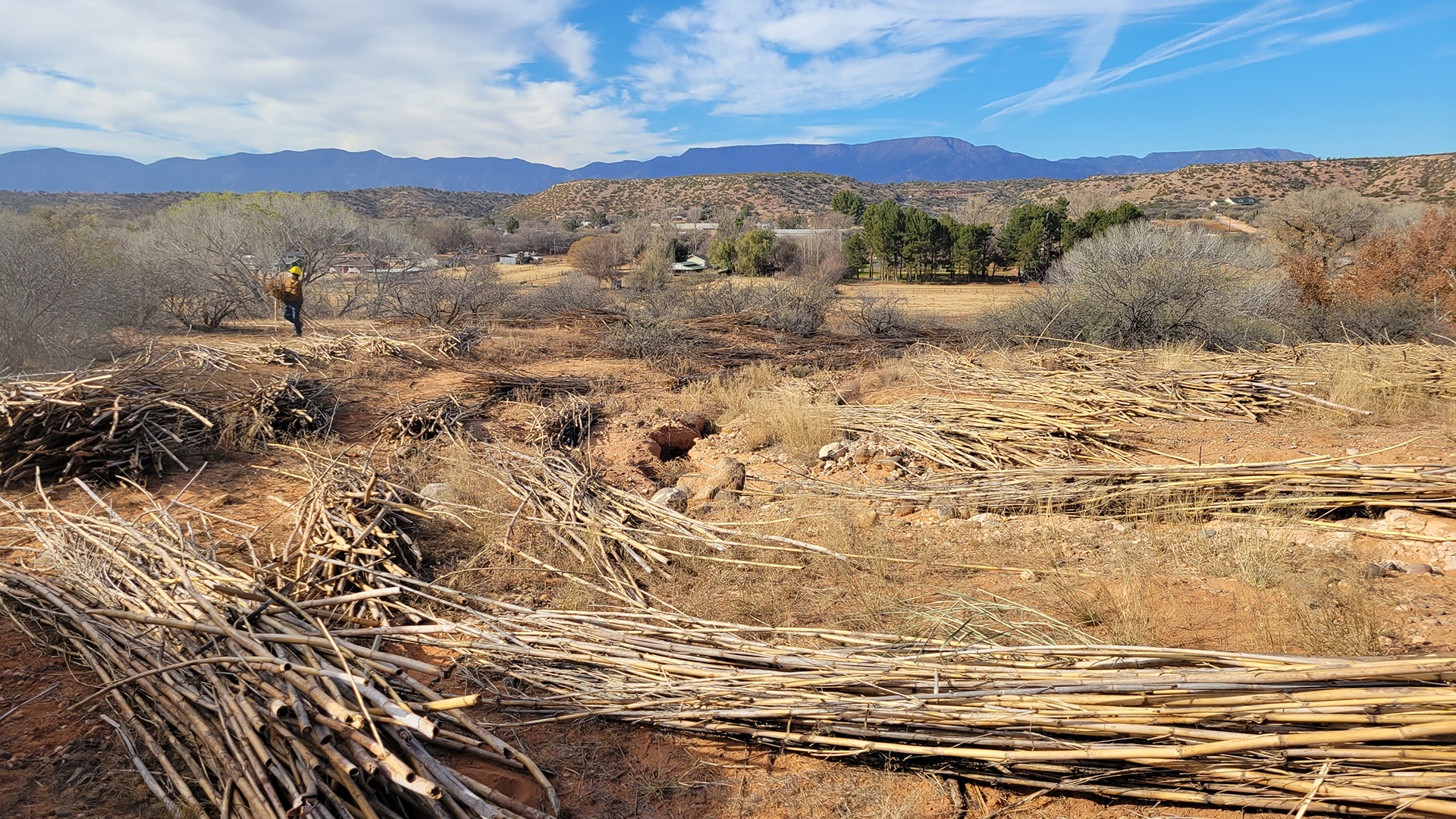 Piles of cut arundo wait to be chipped.
Zac Ziegler, AZPM
Borruso and the crew spent more than a week cutting the arundo and treating the stumps with an herbicide to ensure it doesn't grow back. Then they hauled it up a steep hill using a winch.
The cut plants cover about a quarter-acre of Coconino National Forest land. He said that will all likely be chipped by the end of the day, though he did reserve the chipper for the next day, just in case. As they spread the chips, native grass seed is dropped in the remnants.
"Soon as we get done chipping up here, then we'll go back down, pull more dead [arundo], cut more living, treat the living. Then we'll stage and just repeat the process. Hook it back up to the winch, bring it up the hill, spread it out in the field, chip it and then repeat days," he said with a chuckle.
Verde Earth Technologies does this for three to six months each year, depending on how much funding Friends of the Verde and its partner groups have that season.
"We've been working for over a decade on invasive plant removal throughout the Watershed from the headwaters of the Verde down to about Fossil Creek, and through that time we've worked on over 12,000 acres removing tamarisk, arundo, Russian olive and tree of heaven," said Tracy Stephens.
For Borruso, It's hard for him to put a finger on why he does this work, but he says it makes him happy.
"Playing in the dirt is fun, you know? I don't know, there's just something that keeps calling me back. The Verde River and Oak Creek, it's a very special place."
A special place that he's happy to help preserve.