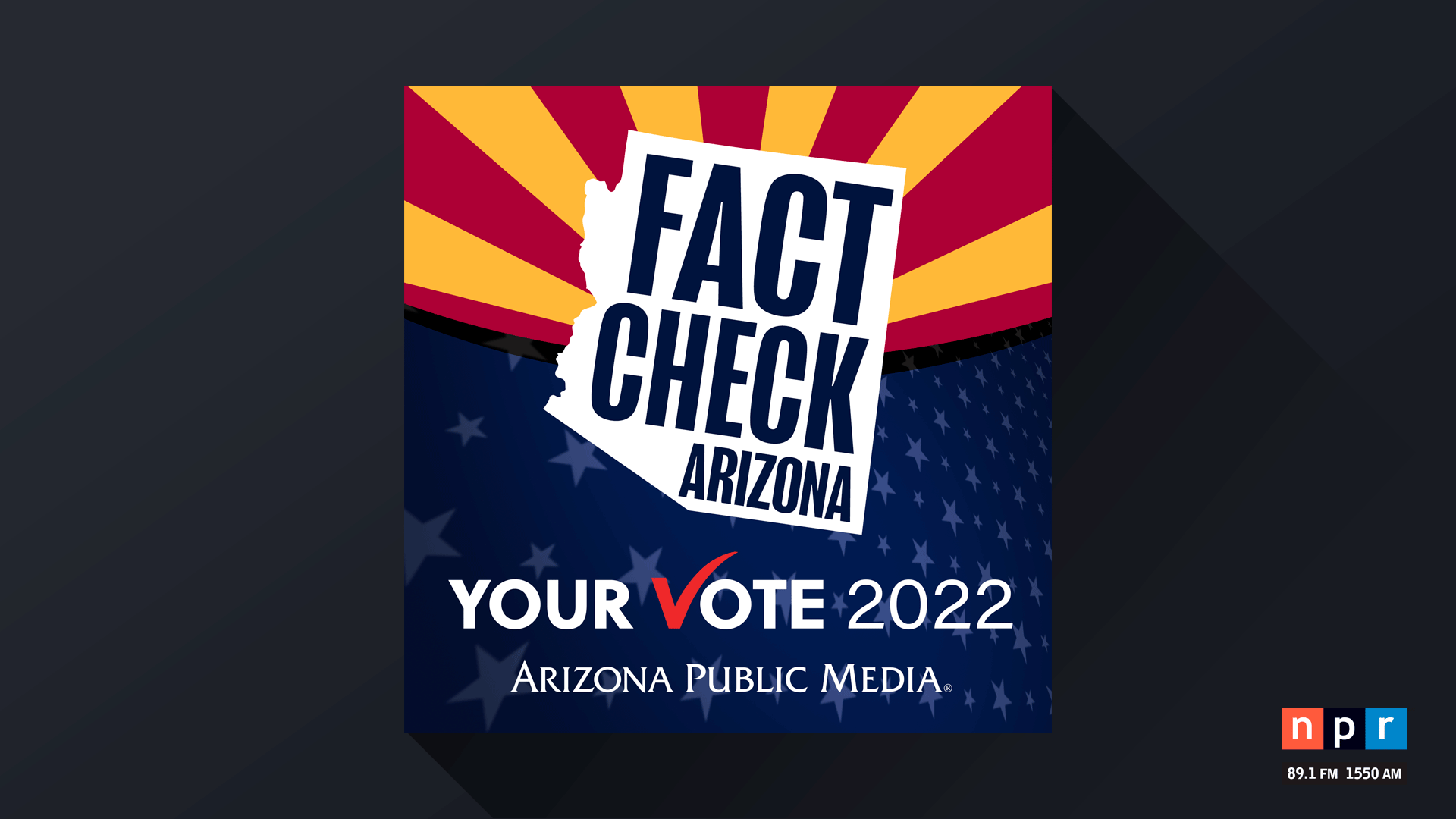 The Fact Check Arizona podcast will cover the 2022 Arizona election season.
AZPM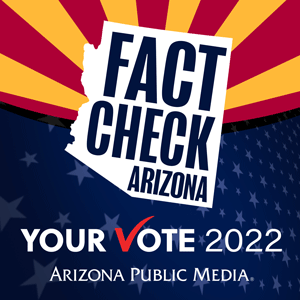 County Board of Supervisors meetings have had a common refrain in recent months during the call to the audience, people who are expressing concerns and doubts about the machines used in the voting process.
One example is doubts that equipment has been validly tested.
"The two laboratories and/or government contractors which have issued machine certifications for voting machines were not in contract to do so and therefore any federal voting machine certification is void," said a person who identified themself as Daniel Wood during the October 4 Pima County Board of Supervisors meeting.
Another person, who identified themself as Michael Schafer made similar claims during that same meeting, and again at a Cochise County Board of Supervisors meeting on October 24.
"Know that your machines are not certified," he said during the Cochise meeting. "We have been studying this issue for 2 years. I own an accredited lab. I know what it takes to be accredited. I believe that there are many people in this country and in this room that seek to take away our votes from us. Using in part illegal voting machines which have not been lawfully certified since 2018 and maybe before."
Who tests voting systems?
There are two companies who are certified by the U.S. Election Assistance Commission Voting System Test Laboratories, Pro V&V of Huntsville, Alabama and SLI Compliance of Wheat Ridge, Colorado. As of November 6, both companies are listed as accredited.
SLI Compliance is a subsidiary of another company, Gaming Laboratories International.
Neither company has a Michael Shafer listed as an owner, board member on its business licensing papers, nor do they list that name on their website.
There is a Michael Shafer who is listed as president of a company in Mesa, Ariz. that does Federal Communication Commission compliance testing and appears to be the person in both county supervisor meeting videos.
A November 2 memo sent by Pima County Elections Director Constance Hargrove to County Administrator Jan Lesher claimed, "The rumor of voting machines and tabulators not being certified is not true. The conspiracy is a misunderstanding of the federal lab testing accreditation process."
Hargrove adds that there was an administrative error at the EAC that resulted in Pro V&V's certification not being updated because of issues caused by the COVID-19 pandemic, but that the company remains in good standing with the commission.
That same memo goes on to list equipment that is on the list of approved election devices from the Arizona Secretary of State.
Ken Matta was the Secretary of State's elections security lead until he left to work in the private sector in May after almost 20 years of working in elections. He said the machines require federal approval before making it on that list.
"We take equipment that has already been certified at the federal level by independent laboratories according to the Help America Vote Act, and we examine it further and we test it to make sure it works properly and it complies with the extra added and it complies with the extra added requirements of the Arizona Revised Statutes."
The approved machines must go through state-required tests by both the county and the Secretary of State's office before an election also.
"The Secretary of State has compiled a test, a very large test, hundreds and hundreds of ballots," said Matta. "We've marked them in a particular way that we know how we've marked them. We know what the expected results should be for that election. It's unknown to the counties. We run the test through their equipment. They produce a report, and we compare it to the report we were expecting. And when they match, exactly match, we sign a certificate and, basically, they can have an election."
The Secretary of State test examines machines that are chosen at random, but county tests inspect each piece of equipment, according to Matta.
The test is also meant to go beyond examining equipment, and includes checking how election staff follows certain procedures.
"We're feeding human-marked ballots and we're checking for how it handles human errors too, and we're also testing voter intent. That's called adjudication."
Adjudication is the process by which election officials examine ballots that have an issue, such as a stray mark or an attempt by a voter to fix an error, in order to determine a voter's intent.
Such ballots are examined by people of different political parties to see if they can form a consensus.
Matta said there have been times where the test results did not match what was expected, but he has never seen an instance where a machine was at fault.
"The equipment will count it correctly. We'll have a discrepancy, go back and find out that it was the humans who made the error in almost all cases."
Matta also said that there are audits and sub-audits built into the process, including ones that check the number of ballots handed in from a voting place with the number of people who entered.
"For instance, we will check the voting roster and the number of people who came in and handed in ballots against the number of ballots we received through the equipment. We'll produce a report from that equipment at the polling place at the end of the night."
When asked about how many small checks there are, Matta said they are numerous.
Dozens, hundreds. And keep in mind that the policies they're following themselves are dictated. Like nobody in Arizona is allowed to handle a ballot unless there's more than one person there, right, and of opposite parties preferred, right? And the election offices enforce that rigorously."
The machines that do the tabulation are also watched closely for tampering. State law requires that there is what is known as an air gap between them and the internet.
"Vote tabulation equipment, actual election equipment, is never connected to the internet or never connected to a network that could be connected to the internet," Matta said.
Matta said the servers that act as a central repository for voting data are kept in places that allow maximum transparency, sometimes taking on a literal meaning of that word.
"In Maricopa [county] they've got their servers in a glass room with cameras on them 24/7 with 360-degree access. So observers like myself, the Secretary of State or political observers can walk all the way around the servers and see what's going on. So the network cables that go out onto the floor for the scanners or the adjudication centers, we can follow those network wires all the way across the ceiling in racks so it's visible. We call it overt wiring. And you can see that there's no cables that just disappear into a wall."
The companies that make the machine also build in a safety mechanism known as hash numbers to examine software for alterations.
A hash is a sequence of numbers that, if inputted into unaltered software, will return a known answer.
"And if you change one character in that software, and you rehash it, you'll get an entirely different number out the back," said Matta.
He said voters can also check to ensure that their vote was tabulated correctly.
"It's called voter verification. You're able, as a voter, to see your vote on paper, optically. So you'll never reach a place where your vote just goes purely electronic and it disappears off into the ether and you don't know whether it counted or not. We always have a paper audit trail of how everybody voted."
Matta also said that there is a level of security offered in the diversity of our voting systems. The fact that each county does things slightly differently adds to security.
"If we were all using one system, that's the point that I would be worried about something getting hacked. But there's so many people from different parties on different equipment with different policies and different procedures that it makes it on the whole very difficult to compromise it."
When asked if there is anything that Arizona could be doing to better how it handles elections from a security standpoint, he said that people need to trust the system again.
"Have faith in our neighbors and sisters-in-law and brothers and mothers that are working in elections. These are Americans with patriotic values that are working tirelessly in a very complex industry for very little money because they believe in supporting democracy and in supporting the republic of the United States. They're patriots."