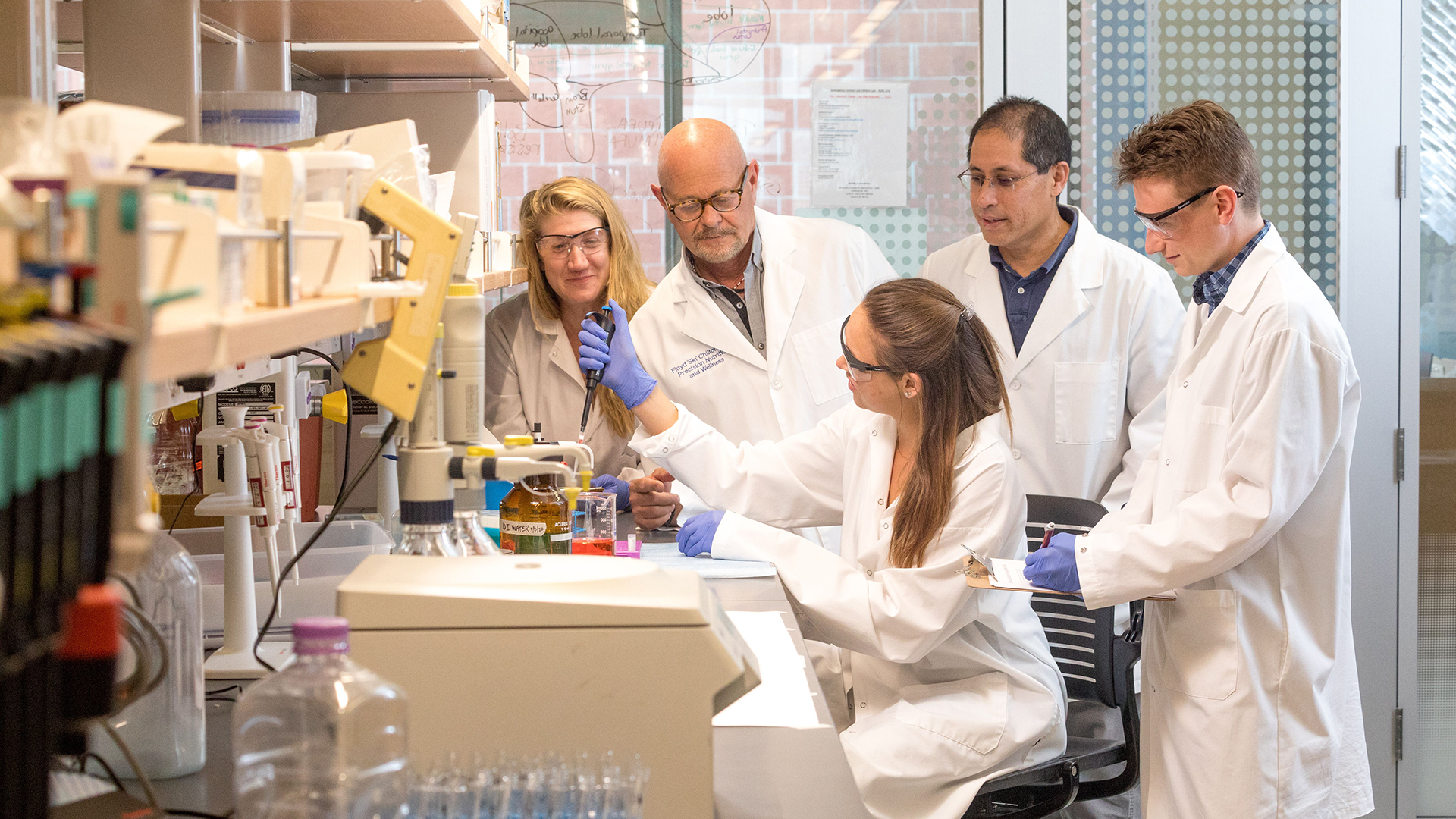 Floyd Chilton and colleagues in a lab.
Courtesy of the University of Arizona, Chris Richards
Recent University of Arizona research suggests there's a link between an enzyme in our bodies similar to rattlesnake venom and deadly cases of COVID-19, and there's a chance this information may save lives.
Stony Brook University, Wake Forest School of Medicine and UA researchers pooled together to analyze blood samples from people who died of the disease. UA professor Floyd Chilton, the senior author on the research paper, said he was surprised to discover the samples had high amounts of an enzyme called secreted phospholipase A2 group IIA or sPLA2-IIA — an enzyme known for its role in disease resistance.
Chilton said they saw "some of the highest levels that have ever been seen" among those dying from COVID-19 .
This enzyme is nicknamed "the shredder" because its job is to recognize and tear apart the cell membranes of bacteria and viruses. He said normally human cells have the fats sPLA2-IIA targets inside our cell membranes, and that no matter the concentration of the enzyme, humans are normally protected. But as organs fail as in a severe case of COVID-19, the fat flips to the outside. The cells begin to scramble.
"Then this enzyme recognizes the human host cells, tissues and organs as a bacteria, and just begins to almost put the organ out of its misery by shredding," Chilton said. "In other words, this enzyme is trying to kill the virus, but at a certain point it is released in such high amounts that things head in a really bad direction, destroying the patient's cell membranes and thereby contributing to multiple organ failure and death."
He said sPLA2-IIA balances between helping with disease resistance and attacking the body, so he said he's wondering if there is a way to suppress sPLA2-IIA.
Chilton said vaccines can only do so much for disease resistance as people decline to take them and more variants arise.
"It would be great if we could also balance that from the other side of protecting the human host from its own immune response with specific therapies," Chilton said.
He said sPLA2-IIA inhibitors are in clinical trials to address snake venom, which is in the same family as the shredder enzyme, and he predicts they will truncate the timeline before the inhibitors will be clinical tested as a way to save COVID-19 patients.
According to a UA press release, co-author Maurizio Del Poeta of Stony Brook University said the sPLA2-IIA inhibitors may "reduce or even prevent" COVID-19 deaths.