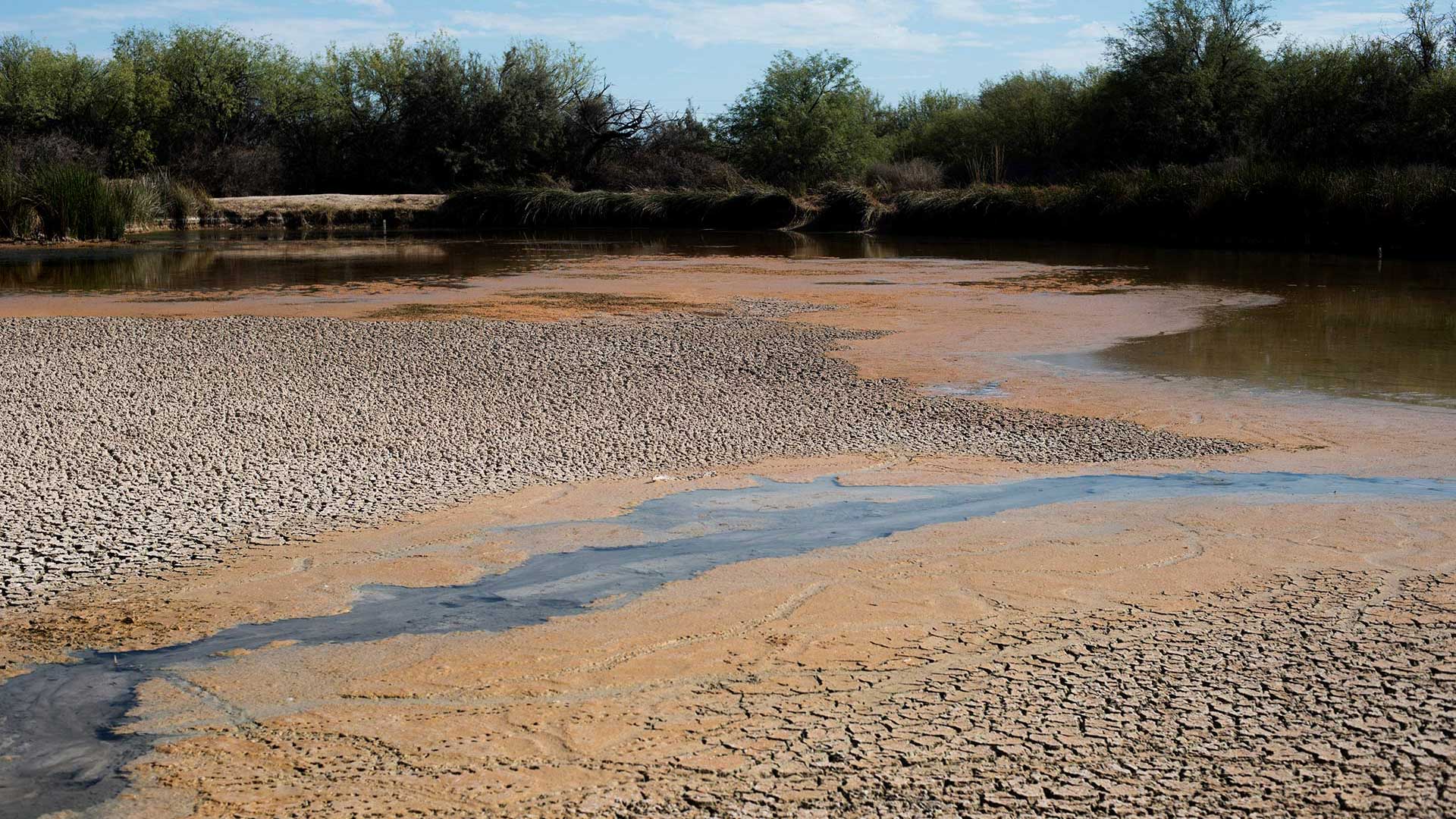 Cracked mud flats appear on the surface of Quitobaquito pond on July 18, 2020.
Alisa Reznick/AZPM
A border riparian area is missing some of its birds, and researchers across the borderlands say border wall construction may be a part of the reason why.
According to the report released by R. Roy Johnson,a long-time riparian ecologist in the Southwest who has worked for the National Park Service, and Gary Nabhan, a researcher at the University of Arizona, at least 36 species of birds that normally frequent the pond fed by Quitobaquito Springs haven't shown up since new border wall construction began nearly a year ago. It's unclear if their absence is temporary or permanent, but the report says as their habitat has been disturbed and depleted by border wall construction activities, about a quarter of the riparian and wetland birds haven't returned.
"With the construction activities, bright lighting, bulldozing, dynamiting, neither the birds nor the bird watchers want to be at Quitobaquito right now," Nabhan said.
Nabhan said those findings come from birding reports collected over decades at the site within Organ Pipe Cactus National Monument. He said they've been able to compare which species have depended on the isolated desert oasis over most the last century.
"We're sure which bird species have been declining all along, and which have been disrupted just since the wall construction began, and that's very hard to discern at many places along the border," Nabhan said.
He says desert oases attract tens of thousands of tourists to the Southwest, and with fewer birds there will be fewer birders, impacting local economies, like Ajo, Lukeville and Tucson
He said the birds' absence also threatens a much bigger picture.
"If you lose one link in the migratory chain, you may lose the entire migratory corridor and its birds," Nabhan said.
He said he thinks groundwater pumping for wall construction near Quitobaquito contributes to the loss in diversity. He said water levels at the pond have recently dropped 1 to 2 feet.
Nabhan said Quitobaquito used to be a site where dehydrated and hungry birds who have possibly lost half of their body weight migrating from the south could regain their strength.
"Homeland Security can make an exception and find some other way to provide assured borderland security at Quitobaquito without building a wall there, without having a truck go back every five minutes, and without dynamiting and pumping precious groundwater," Nabhan said.