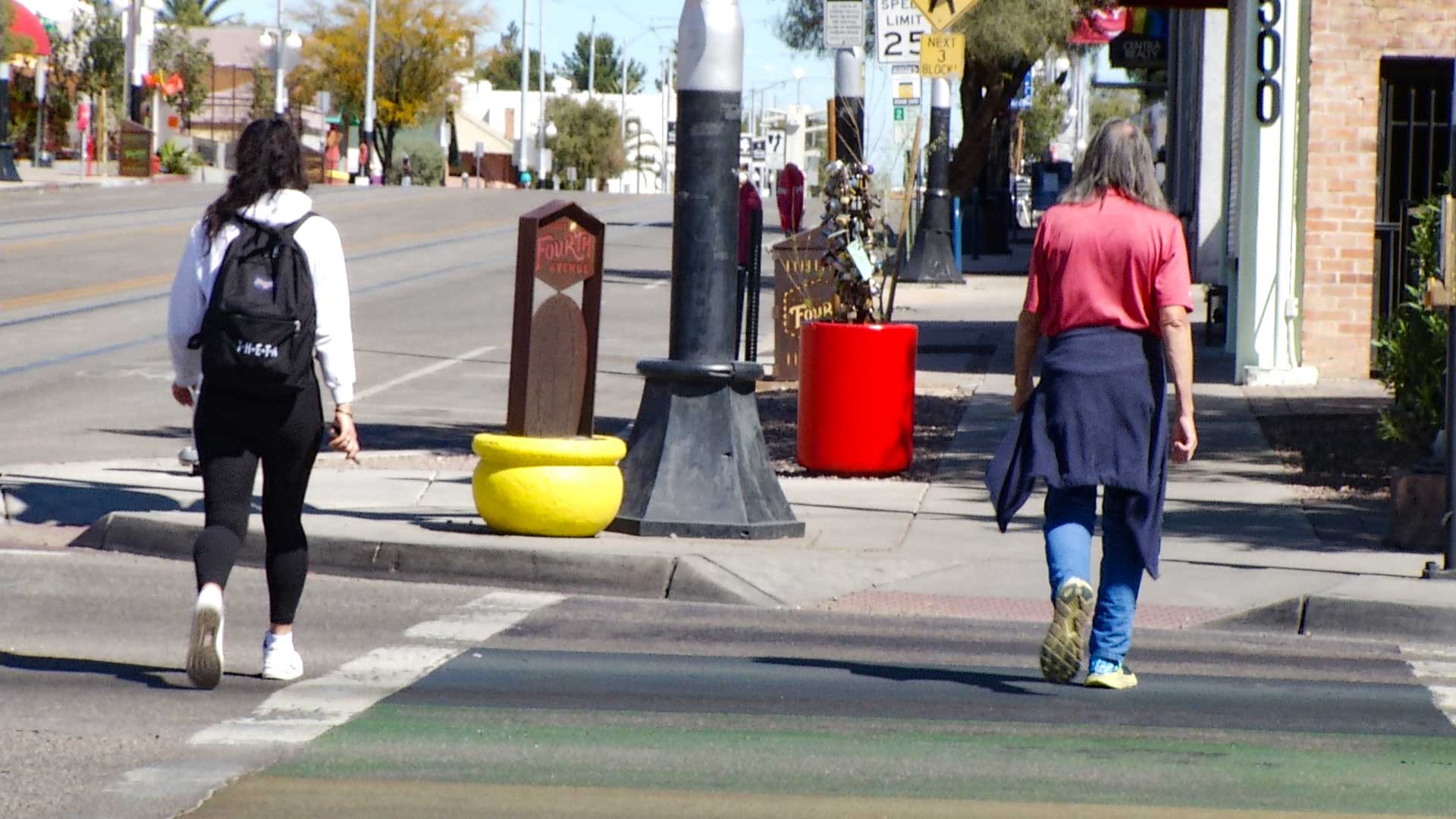 Two people use a crosswalk on Tucson's Fourth Avenue March 2020. People's adherence to social distancing practices affect predictions of novel coronavirus spread as restrictions are relaxed.
AZPM
As Arizona's stay-at-home order becomes a thing of the past, new projections this week shed light on the state's possible future with the coronavirus.
A model released Monday by Arizona State University presents a range of possible futures for the pandemic depending on how well Arizonans maintain social distancing. The model projects that if virus transmission rates remain the same as they have since March 31, over 26,000 people in Arizona could end up in hospital beds by September.
Those numbers would be a stark jump for the state. Just over 1,800 people have been hospitalized with COVID-19 since the beginning of the year, according to the Arizona Department of Health Services.
If social distancing is abandoned entirely, the model projects hospitalizations could peak at 80,000, total, by late summer. Though the model authors say that would be highly unlikely because they expect the government would act before it got to point.
"In reality, when we start to see a rise in cases, we do expect that elected leaders and community members are going to take defensive actions," said Heather Ross, a clinical assistant professor at Arizona State University who worked on the projections.
Ross says the changing models can be disquieting for people whose lives are filed with uncertainty right now.
"It's exhausting when the things that we look to when we want to find certainty in — charts and numbers and science — aren't able to provide us with that uncertainty. So I understand the fatigue," said Ross.
She said it's important to remember this virus didn't exist six months ago, and that data on testing, infections and deaths are inconsistent. But, she says every model has one finding in common: Social distancing reduces transmission and saves lives.