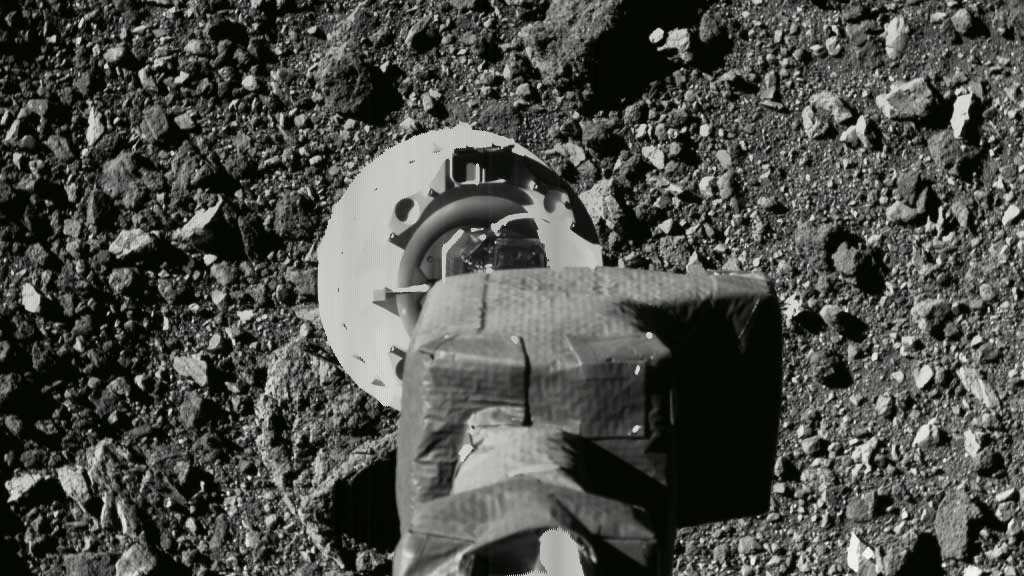 VIEW LARGER Image shows the OSIRIS-REx spacecraft approaching the asteroid Bennu in an April 14 rehearsal of the sample collection.

NASA/Goddard/University of Arizona
The OSIRIS-REx team completed a checkpoint rehearsal on Tuesday for the asteroid sample return mission. In the test, the spacecraft approached to within 219 feet of the asteroid Bennu and backed away safely.
The maneuver is challenging enough, but it happened while on Earth we are dealing with the COVID-19 pandemic. That means the OSIRIS-REx team could not be together for the test, which added more intensity.
"There is no substitute for being there together to reading the body language to also just be there to provide that moral support," said Dante Lauretta, principal investigator.
Even though most of the team participated over the phone and via internet streaming, Lauretta said it wasn't too bad.
"The good news is operating a spacecraft that is over 200 million kilometers away from Earth is the ultimate remote telecommute, so we kinda are used to it in that sense. Most of the work is analysis and simulation, and that is work you can do at home. We only had a very small group of people that were in the operations center in Denver, Colorado that are required to be on the flight network," he explained.
The people in the flight center all wore masks and observed social distancing guidelines.
The rehearsal was described as flawless, especially a key system called natural feature tracking.
"That is taking images with one of the navigation cameras and on board the spacecraft its comparing that image to a catalogue of features, identifying those features and then using and using that information to figure out where it is relative to the asteroid's surface. And then right before it fires those thrusters at the check point maneuver it uses that knowledge to change the maneuver to precisely target the sample site," said Lauretta.
Despite the perfect performance, a few things were learned.
"We knew the data were going to come down at 40 bits per second, but I didn't really know what that felt like — 40 bits per second, right, you gotta remember if you are sending a text message one character is 8 bits so that's like typing something five characters a second. You should try that and see how painfully slow that is," said Lauretta.
That is particularly nerve wracking because it takes 15 minutes for communications from the spacecraft to reach Earth due to the distance. Once the data started arriving, though, all the nerves went away.
"We've got a system that's working now and we proved it yesterday, and we got within minutes of actual sample collection, and I know I was thinking maybe we should just go for it — we're just so close, let's just finish it — but we didn't do that. It was all preprogrammed," Lauretta said.
The situation on Earth also served as a reminder to the OSIRIS-REx team.
"In these times people are wondering, 'Is what I'm doing valuable?' And one of the key messages I've been saying to the team is that is what we are doing is giving hope to millions of people around the world. It is inspirational, it shows how we are overcoming these great challenges to do something that is amazing, and people need to hear that kind of thing right now," said Lauretta.
More rehearsals are scheduled for OSIRIS-REx with the first sampling set to take place in August.
If all goes well, the craft will return to Earth in 2023.