Until just a few weeks ago, environmental engineer Paul Westerhoff and his research team at Arizona State University's School of Sustainable Engineering were studying new ways to sanitize water.
That all changed when the COVID-19 pandemic hit. Now, like so many scientists in Arizona and around the country, Westerhoff's team is answering the call to develop new technology that can help sanitize medical equipment for reuse.
One promising avenue for research involves UV light, the same type of light that can cause sunburn. But regular sunlight won't do. That's because most of the sunlight that reaches us on Earth is UVA or UVB light, a milder form of radiation. To really kill a virus like COVID-19, you have to produce UVC light.
"Light comes in all different wavelengths, and there's UV light — especially there's UVC light, that's the germicidal wavelength … around 250 to 270 nanometers," explained Westerhoff. "That's where all DNA absorbs light energy. So we're actually breaking DNA, preventing the organisms from replicating."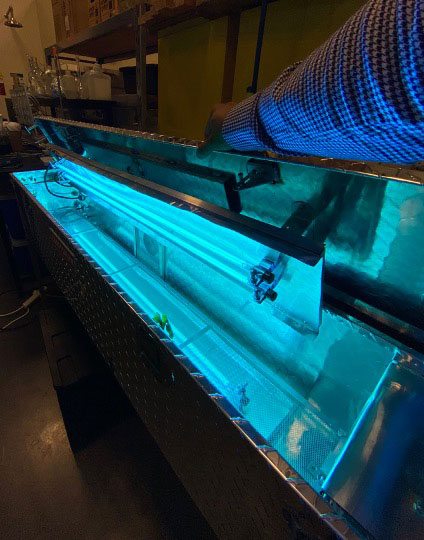 VIEW LARGER A team at Arizona State University is developing a device using UV light to sanitize masks for reuse during the pandemic.

Courtesy Paul Westerhoff
Westerhoff and his team are developing a device that can deliver the perfect dosage of UVC to kill the virus, while protecting the integrity of the equipment that needs to be sanitized, like N95 masks.
The ability to reuse masks is especially urgent, as the supply chain during the coronavirus pandemic has become strained. Some Arizona hospitals are going through 5,000-6,000 N95 masks a week, said Westerhoff. To keep up with this demand, any disinfecting device needs to act quickly and sanitize in bulk.
Westerhoff's team has built a low-cost, portable prototype that takes only about 5-10 minutes to disinfect up to 30 masks at a time using UVC light.
"You can put your masks in it, kind of like a barbecue. We're kind of calling it the 'UV- BBQ.' It has a rack in the middle. There are UV lights on the bottom, UV lights on the top, and the masks sit on that grill. So it gets light from both sides simultaneously," he said.
The device is constructed from a type of metal toolbox designed to fit in the back of a pickup truck and weighs only about 30 pounds. It's been outfitted with a safety latch so that it can't be opened unless turned off — an important feature because UVC light exposure can cause sunburn within seconds and harm the eyes.
The device has been tested to ensure that the UVC dosage can kill pathogens like the novel coronavirus without harming the integrity of the masks. ASU is already working to distribute the devices to priority facilities across the state.