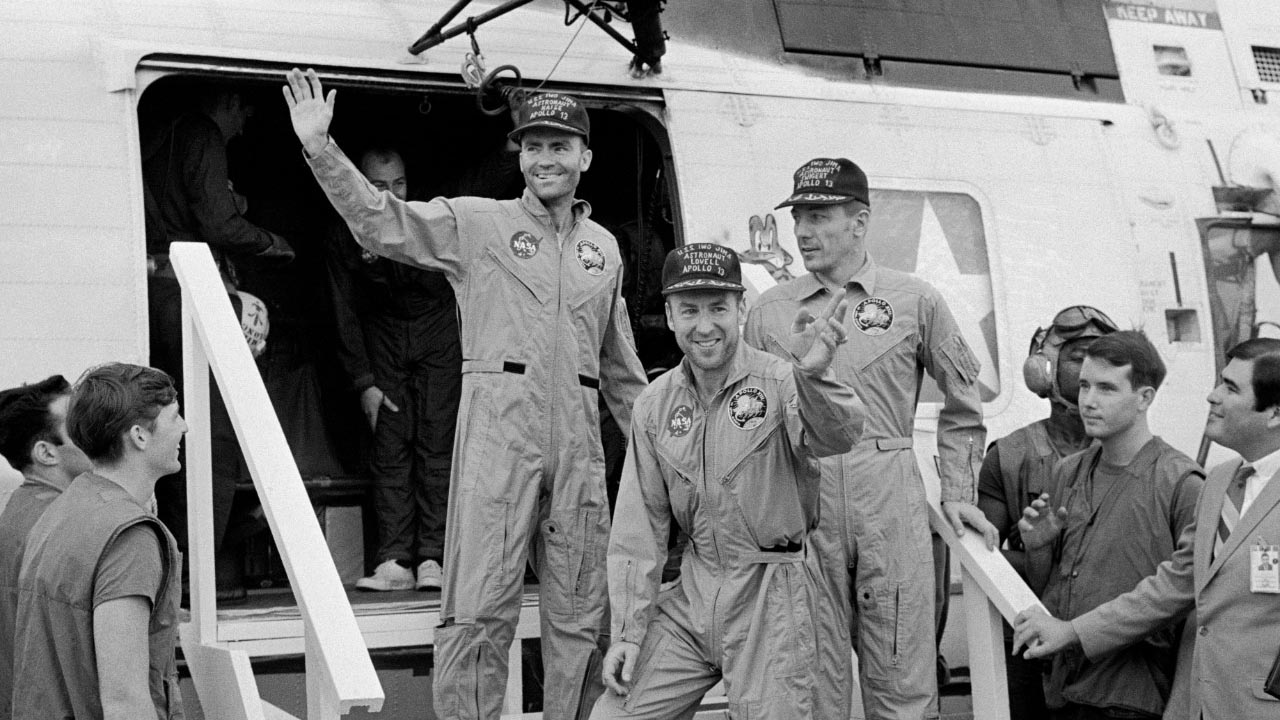 NASA astronauts (from left), Fred Haise, Jim Lovell and Jack Swigert aboard the U. S. aircraft carrier Iwo Jima April 17, 1970.
NASA
NASA celebrates the 50-year anniversary of a dramatic return from space this week. The U. S. space agency successfully rescued the astronauts of Apollo 13 from certain disaster between the Earth and the moon, and a Tucsonan played a role in the mission to bring the astronauts home.
In April 1970, Don Davis worked as a lunar scientist at the University of Arizona. Four men had already walked on the moon in the previous 9 months, and NASA and the public began to find the Apollo missions routine.
"NASA was getting confident in their ability to fly missions to the moon," said Davis. "The hardware was working well, and the mission team was coming together so they began relaxing some of the constraints."
Normally, if anything went wrong during transit, the Apollo spacecraft would whip around the moon and return directly to Earth. However, to reach scientific objectives at the new landing sites, NASA asked Apollo 13 astronauts to deviate from the normal trajectory. When an explosion crippled Apollo 13 on the night of April 13, 1970, NASA asked Davis to work with a team designing a new mission plan: putting the astronauts on a fast-track home.
"We worked in what was called the staff support room," recalled Davis. "It was across a corridor from Mission Control, and that's where teams of different people supported each of the flight controllers."
The NASA engineers approached the crisis in a matter of fact way, but for the rest of the world, Apollo 13's story became one of hair-raising survival. The final day of the flight was heralded with high anxiety around the world. Despite public doubt, Davis and his team were still sure of success.
"By the time they got close to re-entry, the trajectory people had done all that they could," he said.
Flight controllers knew if everything went as planned, Apollo 13 would splash into the Pacific Ocean on target. When the spacecraft's parachutes finally opened, Davis and his group joined NASA staffers relieved that the dangerous task was over, and gratified that lunar exploration was destined to continue. He later shared a Presidential Medal of Freedom with the Apollo 13 Mission Operations Team.
Davis returned to Tucson to help create the Planetary Science Institute in 1972. Meanwhile, NASA sent four more missions to the moon and back without incident. Davis agrees with space agency historians that Apollo 13 will forever be remembered as the most successful failure that NASA ever executed.
"It was successful because of the incredible training program that the astronauts, the flight controllers, the entire team had gone through," he said.
Davis also believes the Apollo 13 story showed traveling to the moon was harder than it seemed, no matter how easy the experts made it look.