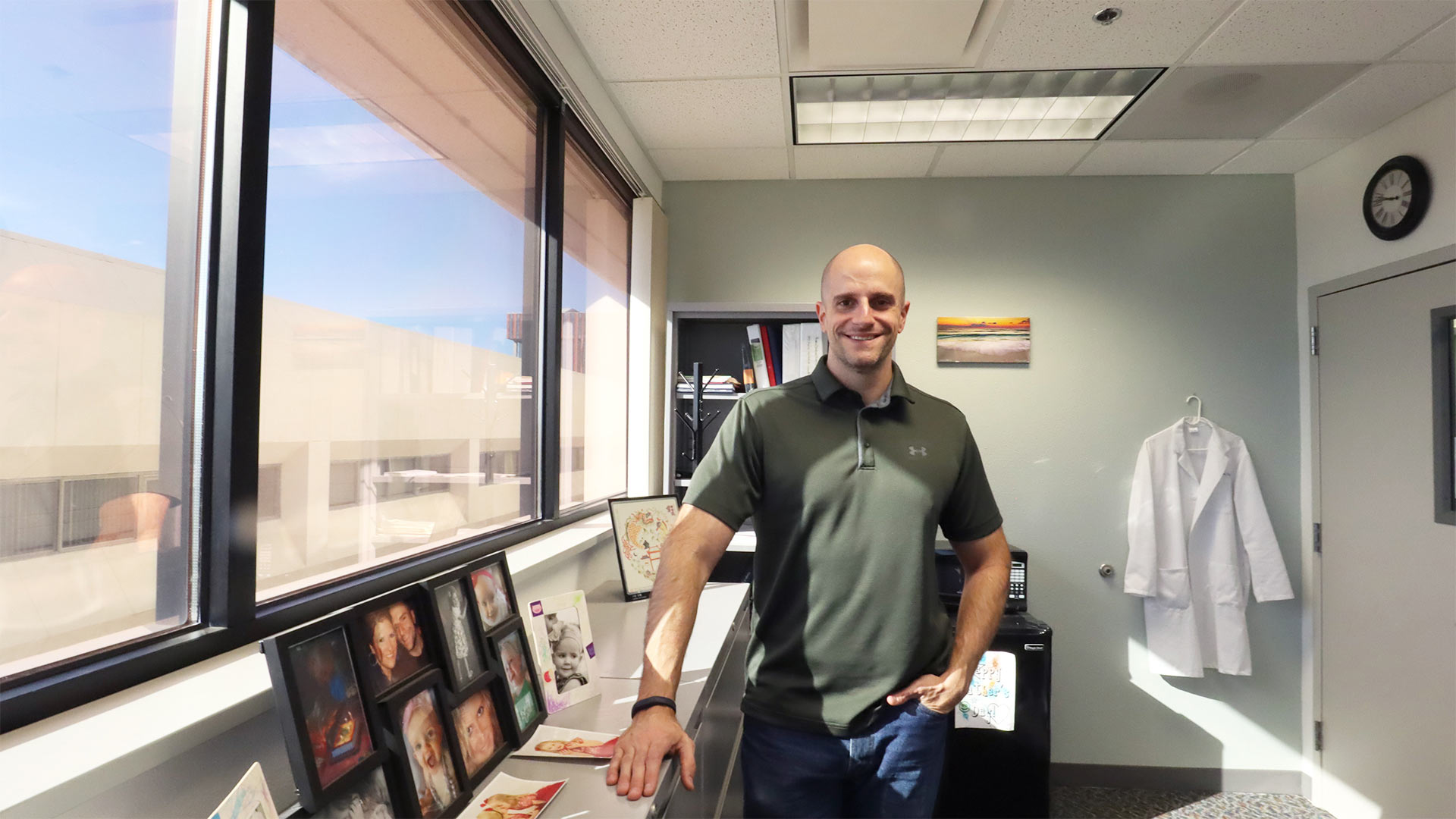 UA researcher John Streicher studies how opioids work in the brain in order to develop nonaddictive painkillers.
Alisa Ivanitskaya/AZPM
When the German pharmaceutical company Bayer marketed a cough medicine in 1898, it wanted to stress its potency and effectiveness, even in small doses. So the drug's name, heroin, was a reference to ancient Greek demigods. The miracle over-the-counter drug could relieve pain, but turned out to be very addictive.
Now, scientists are trying to relieve pain without the side effect of addiction. John Streicher, assistant professor in the pharmacology department at the University of Arizona, studies how opioids work in the human body. His work suggests that one of the solutions could be intermittent fasting.
"There are different opioid receptors," Streicher said. "They all have roles that developed over millions of years in your body to regulate your physiology and your responses. And those were independent of the drugs we're giving now."
When opioid receptors are stimulated by a drug, for example, they work like a switch and start a cascade of different reactions, including shutting down the pathways that let pain signals go through.
Most modern opioid painkillers, he said, target primarily one subtype of opioid receptors: mu-opioid receptors. These receptors are also present in what's known as the reward circuit.
"So you ... eat a good meal, you give your kid a hug, you fall in love with somebody — all of these produce something called a reward in your brain. It feels good. You like that. And the opioid receptors are in that circuit, so you get activation of the pain-relief circuit, but you also get activation of the reward circuit," he said.
That's like turning on two light bulbs with one switch: "And that is why you get the euphoric effects of the drug. And that's ultimately what drives the addictive behavior, is that reward part as well."
Scientists are trying different approaches to separate pain relief from euphoria and other side effects. Streicher has seen positive results from dietary changes like intermittent fasting. In his lab, he has experimented with mice.
Mice are not limited by the amount of food they eat, just when they can eat. They have access to food for six hours a day, and for the remaining 18 hours, they can only drink water.
Opioids given to the mice during the intermittent fasting state show stronger effects and last longer. The pain relief is higher when compared with mice that have access to food at any time.
"And you might think that would make the side effects worse, like maybe the system is just stimulated. But that's not what we see. Remarkably, they don't show any evidence of reward," he said.
The next step for Streicher is to find out if intermittent fasting has a similar effect on humans. Streicher says if intermittent fasting is as effective on people as it is on mice, it could become one of the simplest ways to prevent opioid addiction in the first place.
---
This story was reported and written by AZPM intern and University of Arizona journalism student Alisa Ivanitskaya.