The state says health care workers are at the top of the priority list for COVID-19 vaccine distribution.
Courtesy Banner Health
Doctors, nurses and other health care workers in Pima County will start getting COVID-19 vaccinations in a couple of days. But the vaccine's arrival does not signal any immediate change for life during the pandemic.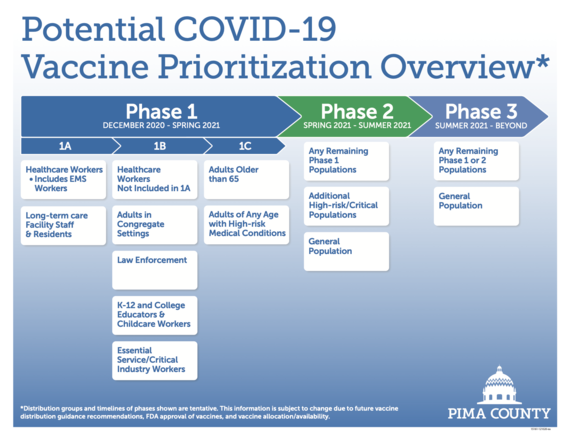 VIEW LARGER This graphic from the Pima County website illustrates the order in which people will qualify to receive the COVID-19 vaccine.

Pima County
The first vaccinations will go to front-line health care employees starting Thursday at drive-thru clinics at Banner-UMC and Tucson Medical Center. Pima County Health Director Doctor Theresa Cullen says the program will begin with a gradual pilot program.

"It's not that the vaccination is a pilot. However the logistics of ensuring that we are appropriately, adequately and efficiently delivering the vaccination is considered the pilot phase," Cullen said during a Monday morning news conference.
Over the coming weeks, more health care workers will get the vaccine, as well as people who live or work in long term care facilities. People in high risk groups should starting getting their shots sometime in the spring, and by early summer everyone else should be able to reserve a spot in line. Until then, Banner-UMC Physician Executive Dr. Joshua Lee says life will stay the same for most of us.

"All of us as health care workers and community members should continue to feel obligated, that it's our sacred task in fact, to continue to mask, to have social distance, have excellent hand hygiene, because that's the only way to reduce transmission broadly across the community," Lee said.