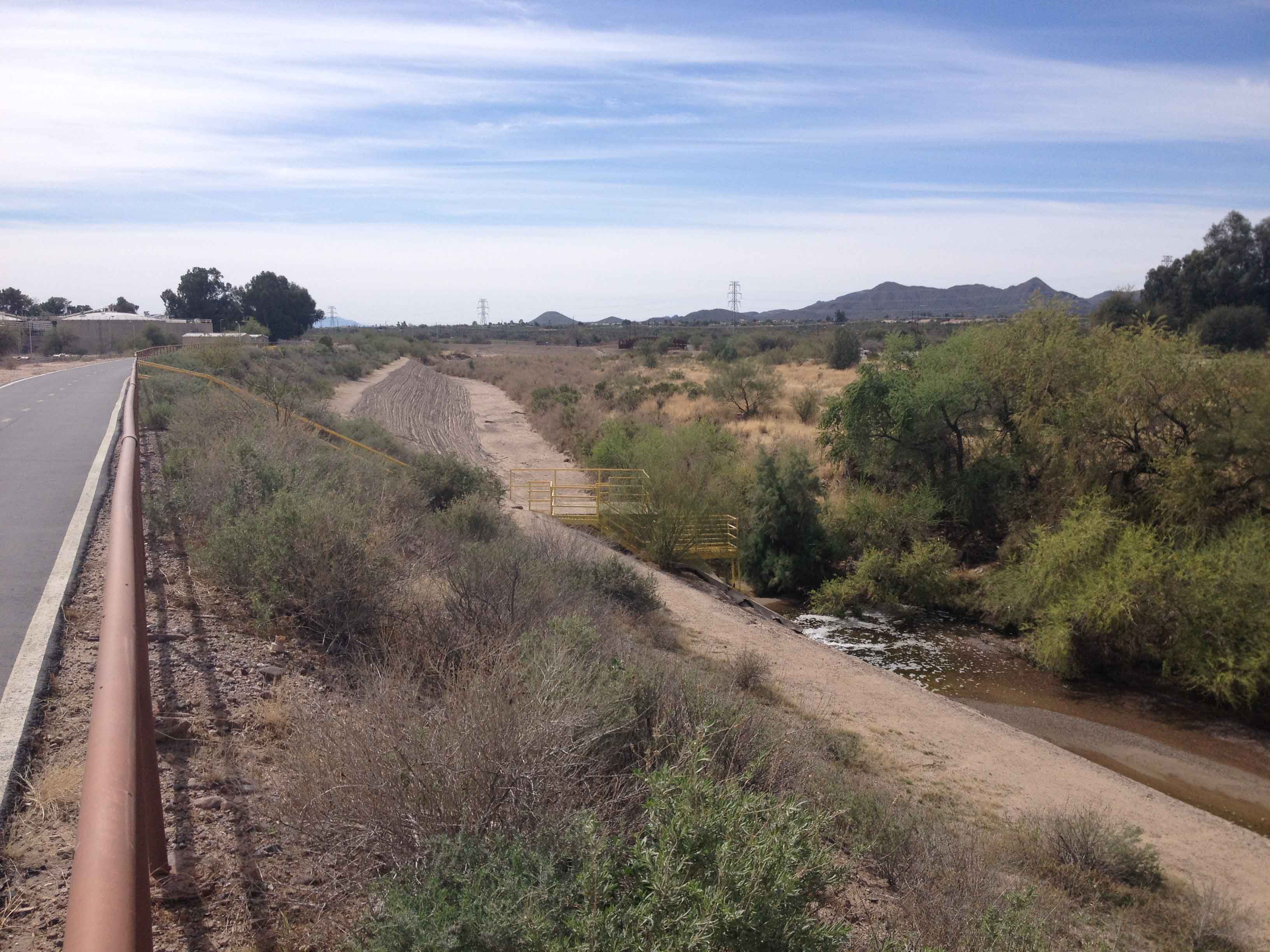 The Santa Cruz river is dry (left) upstream of the outflow of the Agua Dulce wastewater treatment plant on Tucson's northwest side.

Sara Hammond, AZPM
The vast majority of waterways in Arizona are intermittent or ephemeral, meaning they only run part of the year or after heavy rains. Following an executive order from the Trump Administration, in December, the EPA and the Army Corps of Engineers signed a proposed rule to redefine the "waters of the United States" to exclude those streams and wetlands from regulation under the Clean Water Act.
In his testimony to the Senate Committee on Environment and Public Works, Pima County Board of Supervisors Chairman Richard Elias said the proposed rule change would adversely affect the health and welfare of Pima County and the region.
"By removing protections for intermittent and ephemeral streams, it eliminates protections for virtually all of our watercourses, needlessly jeopardizing our drinking water, our watersheds, our agricultural producers, and numerous tribal nations," Elias said.
Elias also cited the legacy of groundwater contamination from trichloroethylene, or TCE, which had significant health effects on Tucson residents.
"Groundwater contamination from surface discharges of the industrial solvent TCE and other toxins has ravaged the district I represent," Elias said. "Many of those who suffered or died from TCE exposure were personal friends of mine. Those losses and that suffering still pain me deeply. We cannot allow that to happen again."
The county argues even dry streambeds like parts of the Santa Cruz River need to be protected from pollution and industrial discharge because that's where so much aquifer recharge occurs.
According to Elias, Pima County recently completed a $650 million upgrade of its two largest wastewater treatment plants to comply with the Clean Water Act. Water from those plants is discharged into the Santa Cruz River to improve riparian habitat.
If the EPA stops regulating these streams under the Clean Water Act, the states could still regulate them. In a letter to the agency, Gov. Doug Ducey expressed support for the new rule and asked that the state be given the power to decide which streams will be regulated. Arizona does not currently have a regulatory program to protect surface water quality.