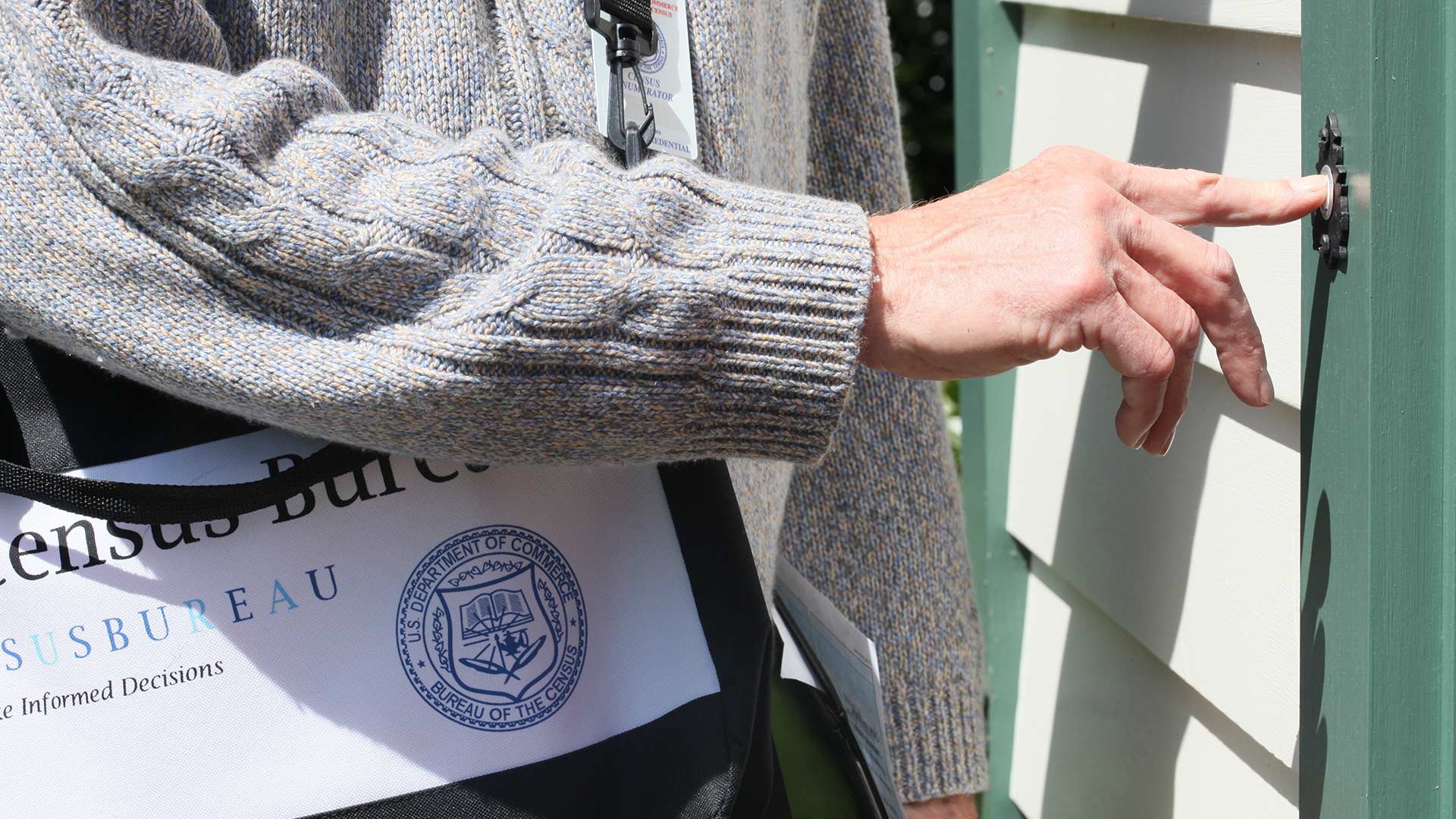 A census 2010 employee rings a doorbell.
U.S. Census Bureau
The U.S. Census Bureau is looking for help with its decennial count of every person in the country.
The bureau opened its Tucson office Wednesday, with the goal of enlisting 9,000 workers in Pima County to help with the 2020 census. The bureau will pay $16 per hour for full- and part-time work. Most of the jobs will be field workers, who go to the doors of those who don't answer the questionnaire on their own.
The bureau will begin offering jobs in December, and the census begins in the spring.
The questionnaire will be offered on the internet for the first time. Local officials are encouraging the public to participate. Funding for government services — particularly those that benefit low-income people — hinge on the census results. An undercount could result in insufficient funds for Medicaid, Section 8 housing assistance, food stamps and the federally funded pre-K program Head Start.
"All of these programs are important to meet the needs of many people in our community," said a spokesperson for the Pima Association of Governments in a written statement. "Arizona stands to lose $1,979 per person per year for any person not counted."
Jerome Garza, assistant regional manager with the Census Bureau, said immigrants who speak English as a second language were undercounted in the 2010 census. He said the bureau is working with local churches and nonprofits to avoid repeating the same mistake.
The 2020 census follows a very public campaign by President Donald Trump to add a question about citizenship to the census. The question would have led to an undercount of 6 million people nationwide, according to a study published in March by Harvard's Shorenstein Center on Media, Politics and Public Policy.
The census questionnaire went to print in July after the Supreme Court blocked the administration's effort. Garza said people can rest assured that answers to the census are confidential under the Constitution. It's illegal to share census information with any other government organization or law enforcement agency.
"When one comes to work for the census, we take an oath of confidentiality for life. Even after we leave the census, we can't discuss any of the things we've done," he said.
Population data from the census are used to redraw congressional districts. An undercount of undocumented immigrants would have political implications for Arizona because areas where undocumented people live typically lean Democratic. There are about 275,000 undocumented immigrants living in the state, according to the Pew Research Center.