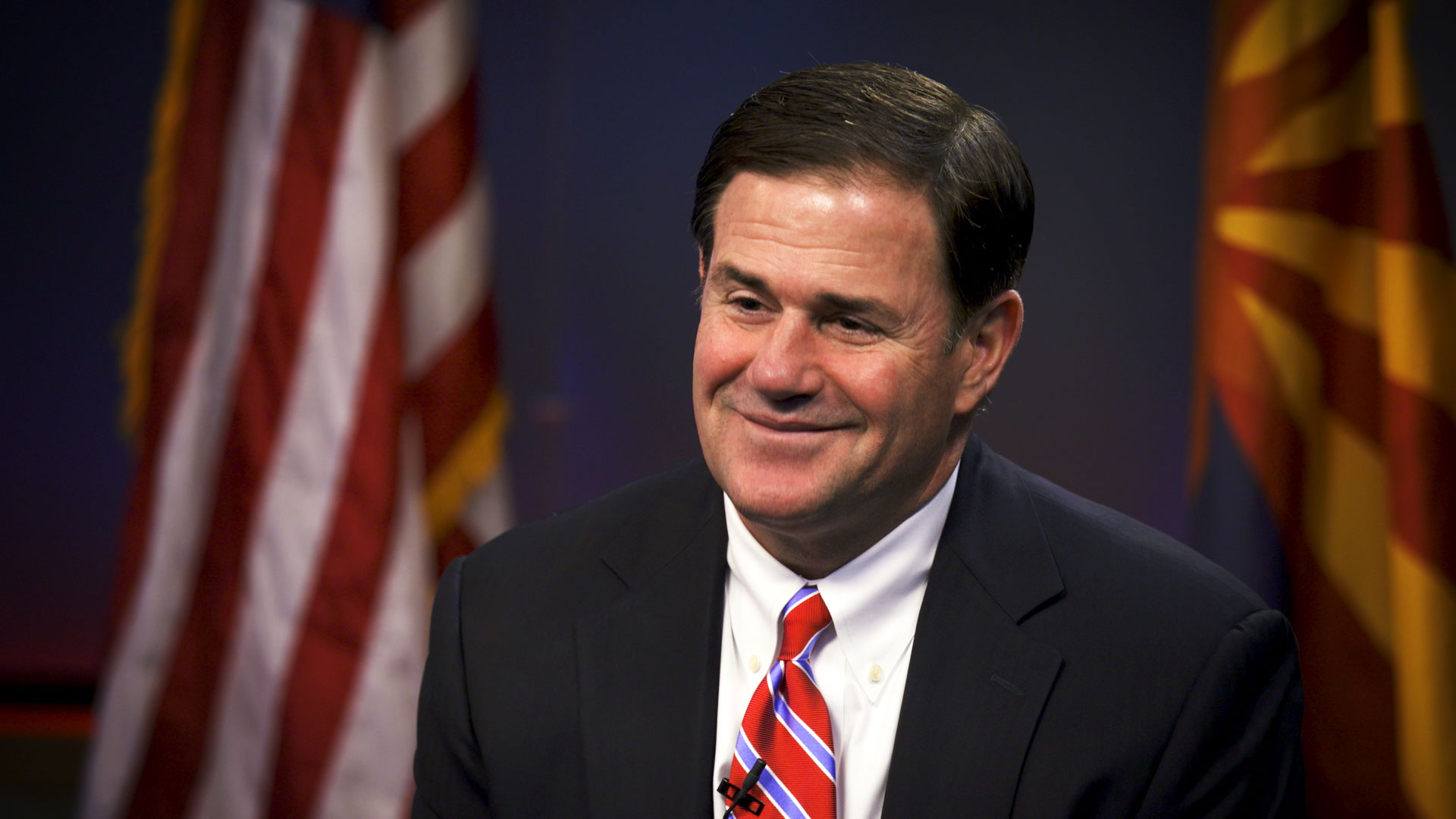 Gov. Doug Ducey pushed for the passage of Proposition 123 in 2016.
AZPM
U.S. District Judge Neil Wake ruled that Arizona violated federal law when it increased the amount of money it takes from the state land trust without first getting congressional approval.
The state land trust was set up by Congress when Arizona became a state. Sales and leases of the land are supposed to help fund education and prisons.
Arizona voters approved Proposition 123 in 2016. It was a constitutional amendment pushed by Gov. Doug Ducey that allowed the state to take an additional $2 billion out of the trust for education.
Backers of the change touted it as a way to increase education funding without raising taxes. It was proposed as part of settlement for a lawsuit the state lost over not fully funding K-12 education.
Judge Wake wrote that since the land trust was set up by Congress, any changes need approval from that body. He also wrote that a provision in the 2018 federal budget allowing the change is not good enough even though the budget is approved by Congress.
He wrote that U.S. representatives, senators and members of the public did not know that provision was added.
The governor's office has promised an appeal, and said the ruling does not affect the money already distributed to schools.
On Twitter, Patrick Ptak, the governor's spokesman, called the ruling "incoherent, poorly reasoned." He also said it overrules nearly every branch of state and federal government.
Our administration's response to the most recent incoherent, poorly-reasoned decision issued by Federal Judge Neil Wake regarding Prop 123 funding for schools: 1/

— Patrick Ptak (@PatPtak) October 1, 2019
This decision is terrible and will be overturned on appeal. Rarely before have we seen such a blatant disregard of facts, precedent and common sense to push forward the agenda of one biased, activist judge 2/

— Patrick Ptak (@PatPtak) October 1, 2019
The decision attempts to overrule nearly every branch of government, including the AZ legislature, AZ courts, the governor, the US Congress, the President of the United States... 3/

— Patrick Ptak (@PatPtak) October 1, 2019
AND the will of Arizona voters, while ignoring legislative precedent in multiple states & well-established legal precedent for federal courts. 4/

— Patrick Ptak (@PatPtak) October 1, 2019
While this decision DOES NOT affect the current distribution of Prop 123 dollars going to our schools, it represents an injustice, and one that must be corrected. We will appeal this decision & win, and the money will continue flowing to AZ schools for the duration of Prop 123 5/

— Patrick Ptak (@PatPtak) October 1, 2019
Arizona and its leaders came together in historic fashion to pass Prop 123. One out-of-control judge isn't going to change that — and we will continue to defend more dollars going to our schools and the right of Arizonans to control our own destiny and make our own decisions. 6/6

— Patrick Ptak (@PatPtak) October 1, 2019
Read the education funding ruling from Judge Neil Wake

View at Google Docs
|

Download File