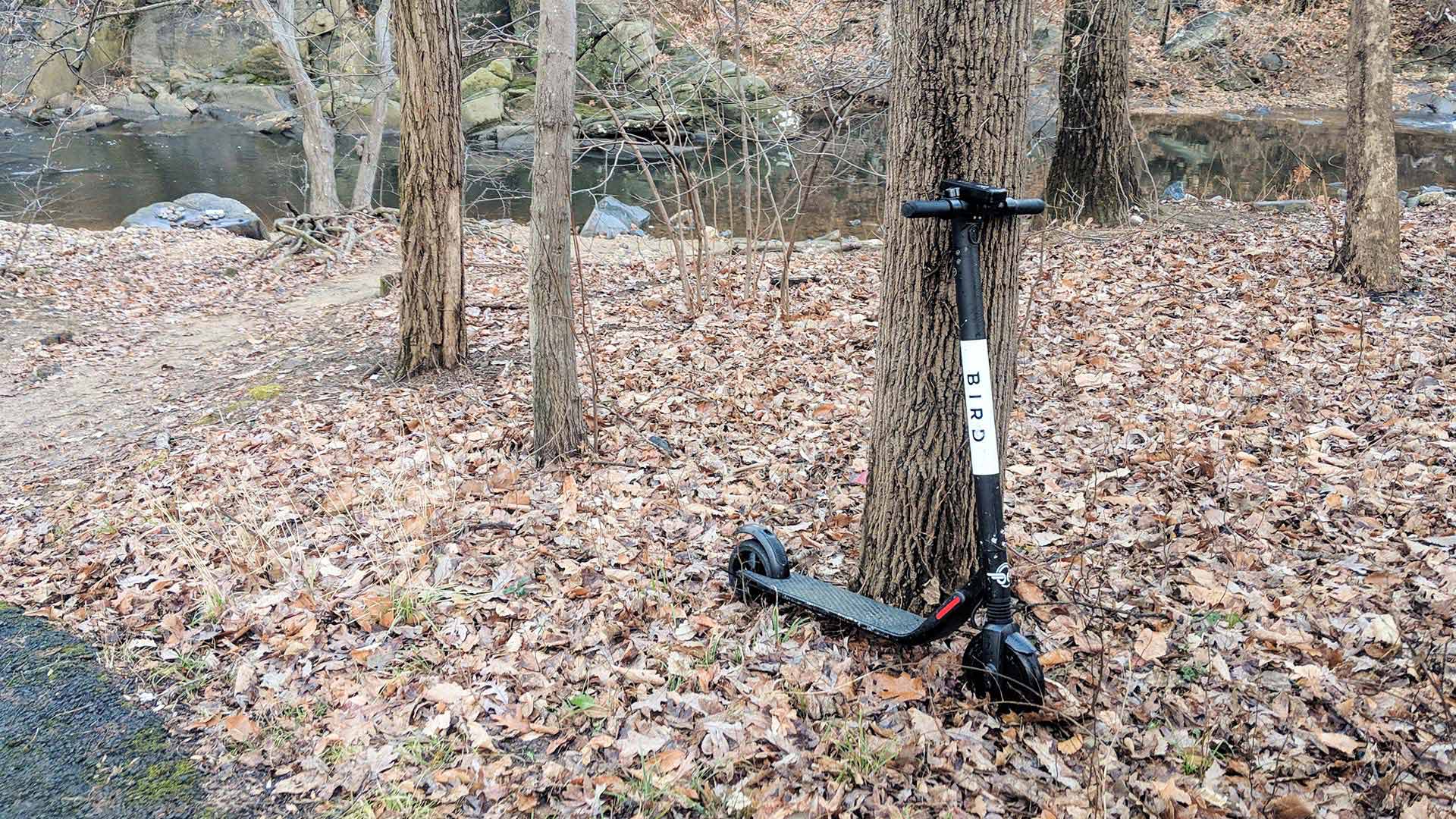 An e-scooter left beside a trail in a park in the Washington, D.C., area.
Nick O'Gara/AZPM
The Tucson City Council has about a month before it reconsiders a pilot program to allow companies to bring electric scooters to Tucson. While some cities welcomed the devices, Tucson stakeholders find themselves in a debate over issues like safety and parking.
Like the name suggests, electric scooters have an electric motor. The user stands on the platform and holds on to the handlebars attached to a post at the front of the device. A rider can zip through the landscape at speeds up to 15 mph.
Introducing these devices onto Tucson's streets makes some locals wary. The head of the Fourth Avenue Merchants Association, Fred Ronstadt, said safety is his first concern.
"We had a person who actually broke their hip going in the rail, so adding another wheeled-element to the street with the modern streetcar rail — there's again another safety challenge," said Ronstadt.
Thom Rickert, an emerging risk specialist with Trident Public Risk Solutions, said a bump or change is the road's surface can cause an issue for any type of vehicle, but it takes much less to throw someone off a scooter.
"They have a smaller wheel base, and therefore, a smaller defect could influence the way that they react to it — with regards to being steady or causing an accident," said Rickert.
One of Ronstadt's other questions is about where the scooters can be parked.
Andy Bemis, the bicycle and pedestrian program coordinator in Tucson's Department of Transportation, helped write the e-scooter pilot program. He said the current proposal lets a person park a dockless scooter anywhere, as long as the device isn't on private property, and it doesn't block foot or vehicle traffic. The user would also need to park it 4 feet away from other objects along that right of way.
In other cities people often abandon scooters along the side of the road. Bemis said the best place to park a scooter would be on the sidewalk near parking meters, lamp posts and planter boxes — what he unofficially calls the "furniture zone."
Ronstadt says that won't work on Fourth Avenue.
"We don't have the luxury of a furniture zone on Fourth Avenue. We have very old infrastructure. The sidewalks are relatively narrow, and a lot of people are on those sidewalks on a daily basis," said Ronstadt.
Ronstadt is correct: Fourth Avenue doesn't have a formal furniture zone, but it has space on the sidewalk for parking meters, lamp posts and art installations. Bemis and his team are talking to stakeholders around Tucson to decide if a given street has enough space in its unofficial furniture zone to serve as temporary parking for dockless e-scooters.
The council rejected the first draft of the pilot program, sending it back to city staff for changes. Some of the questions they asked mirrored community members' questions. The answers might be in the programs of hundreds of other cities across the nation that already have scooters.
One of the cities that accepted scooters onto their streets in 2018 was Denver, Colorado.
Cindy Patton, a city adviser in Denver, works on the city's pilot program team for dockless scooters. She said Denver wanted information from its pilot program so her team could write more appropriate rules for users and the scooter companies later on.
Patton said her team required the companies to give them the data from the individual GPS devices embedded in the scooters. She thinks knowledge is the only way to develop an effective program.
Rickert said city governments should require scooter companies to provide wide-ranging data about how people use the vehicles in order to determine if the programs work in their cities. He encourages his clients to ask questions about the users, the rides and the wrecks.
Patton said this information, and the feedback from scooter riders and non-users on the pilot program, will help Denver adapt its permanent scooter program, if it adopts one.
Her tip for Tucson was to build in easy ways to change the pilot program at any time. She also said that if Tucson does want scooters in the city it should begin its program sooner rather than later. Bemis agrees.
"Ultimately, I think our preferred stance would be to do a short-term pilot to understand if and how they work here, because before they're here, we don't really know," said Bemis.
Tucson City Council will discuss the pilot program again during a public study session on Feb. 20. The council tentatively scheduled a vote for March 19.
UPDATE: This story has been revised to reflect that the term "furniture zone" is an informal description, and adds that city staff is working with stakeholders to evaluate where scooters may be able to park along certain streets in Tucson.