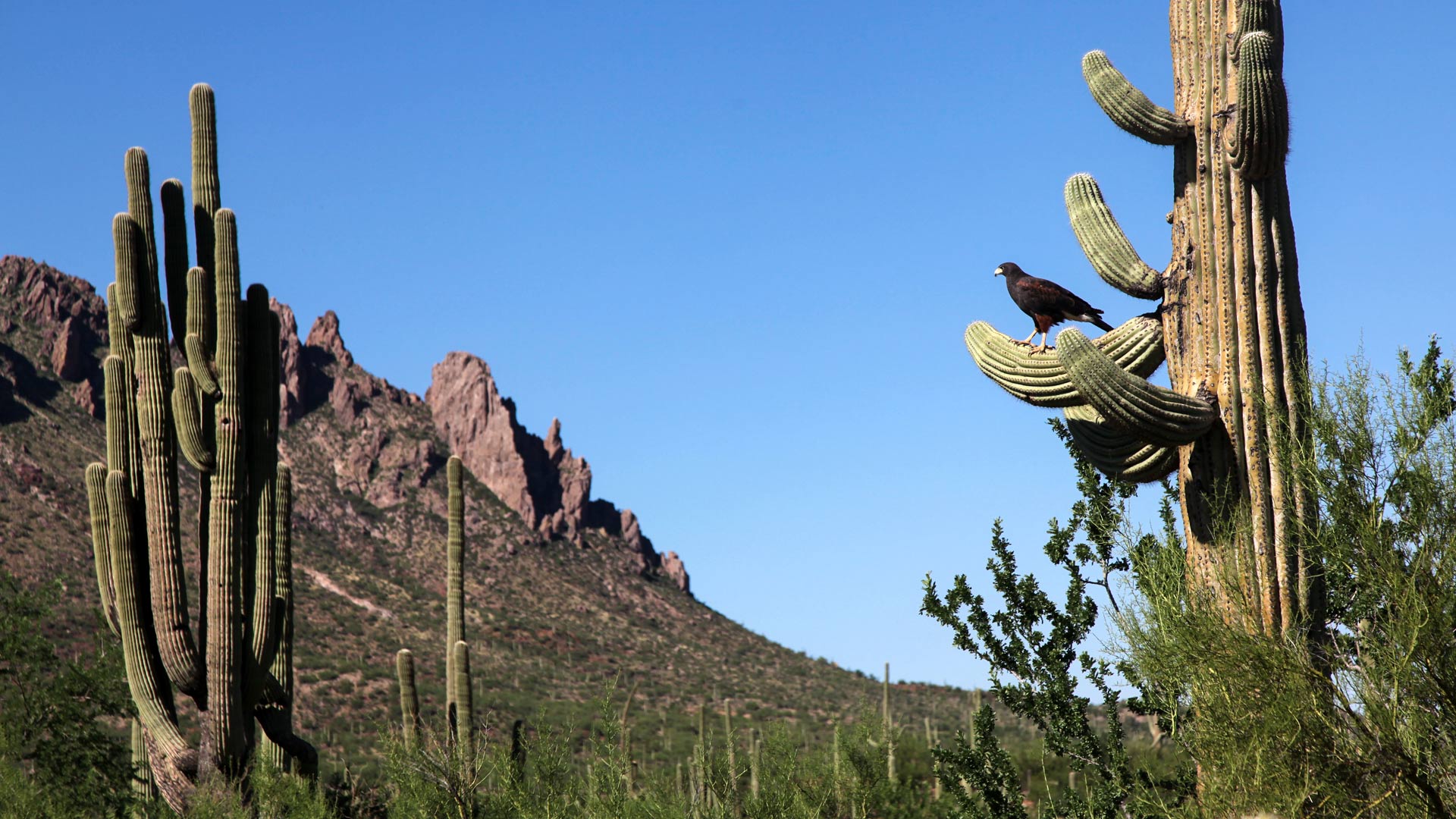 A Harris's Hawk perches on a saguaro cactus in Ironwood Forest National Monument, with Ragged Top Peak in the distance.
AC Swedbergh, AZPM
Recommendations for a list of national monuments under review by the Interior Department were made clear in a memo to the White House that was leaked this week, and no changes were urged for the borders of Arizona monuments on the list.
Interior Secretary Ryan Zinke submitted his recommendations to President Donald Trump last month, though the details were not released. According to the leaked memo, the Department of the Interior is recommending shrinking six monuments, including Utah's Bears Ears and Grand Staircase-Escalante monuments. Also on the list were Nevada's Gold Butte National Monument, and Cascade-Siskiyou National Monument, in Oregon and California.
While Arizona's monuments appear to be out of the crosshairs, local conservation advocates said the bigger picture is bad news for those monuments and troubling for the future of public lands in general.
"We're extremely disappointed that the administration is moving forward with attacking our national monuments," said Sandy Bahr of the Sierra Club. "This is really an unprecedented move that the administration is making."
And it's that precedent that she said could still mean trouble for Arizona's Grand Canyon-Parashant, Vermillion Cliffs, Sonoran Desert and Ironwood Forest national monuments, which were spared in the review.
"If they can get away with doing it on any of them, that means none of the monuments are safe. They're all at risk, because what's to say that the president doesn't change his mind and do more?" Bahr asked.
She added that mining companies are still interested in reducing the size of Ironwood Forest.
"I don't think anyone's breathing a sigh of relief. That's for sure. We're very concerned about where this is going."
Pima County Supervisor Sharon Bronson was still awaiting official confirmation of the memo and its recommendations.
"We in Pima County are cautiously optimistic there will be no reduction to Ironwood [Forest] National Monument, and indeed to none of the national monuments in Arizona."
In a separate order, Secretary Zinke recommended expanding access to hunting, fishing and "recreation opportunities" in the management plans of national monuments.
That does open the potential to affect Ironwood Forest National Monument, which is managed by the Bureau of Land Management. Permitted hunting is allowed, but recreational shooting is banned.
U.S. Senator Jeff Flake praised Zinke's order in a release: "This is a big win in the effort to increase access to public lands for sportsmen across Arizona that will hopefully restore the rights of recreational shooters to access Ironwood Forest National Monument."
Conservation advocates say target shooting in Ironwood Forest threatens cacti and archaeological objects and disturbs wildlife, like an indigenous herd of bighorn sheep.