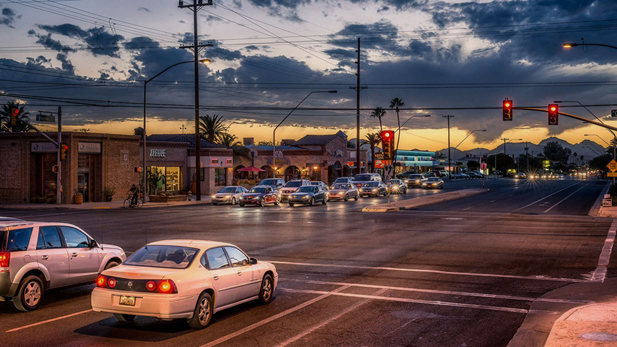 The corner of Broadway Boulevard and Country Club Road.

AZPM Staff
The city of Tucson has released an updated design plan for the stretch of Broadway that will be widened to six lanes between Euclid and Country Club.
Plans have not changed substantially from the previous version to this most recent update, being called the "60 percent design," said the Department of Transportation's Shellie Ginn.
"We're still looking at the same number of takes, which is 27," she said.
A "take" refers to a building that will be demolished as a result of the widening.
"I think there's always a portion of our community who's interested in not having any buildings demolished," she said. "We have worked really hard to try to minimize that number from the original eight lanes reducing it down to six lanes."
But, she said, it would be impossible to widen the roadway without demolitions.
The latest design plan has more detail about where sidewalks will be placed and construction easements will go, and the next two versions will provide more detail.
Ginn said the design should be finalized by the end of 2017. Work to move electricity and phone lines will happen next year, and construction is expected to begin in 2019.
Click here to see the 60 percent design plan.