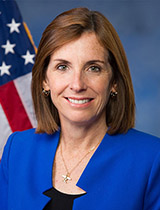 U.S. Rep. Martha McSally. (PHOTO: Via congress.gov)
U.S. Rep Martha McSally has yet to confirm whether she's running for U.S. Senate in 2018.
McSally, R-Tucson, met with small businesses in Tucson Friday to discuss congressional tax reform proposals. Afterward, when news reporters asked if she is running for U.S. Senate, she said she couldn't answer.
She said U.S. House ethics policies prevented her from commenting while she was conducting official business at the tax meeting.
"This is an official event, and my official capacity, by ethics rules, we're not allowed to discuss that," McSally said.
U.S. Rep. David Schweikert, R-Scottsdale, said Tuesday that McSally told him and others in the Arizona congressional delegation that she would seek the Senate seat that will be open in 2018. Republican Jeff Flake is not seeking re-election to that seat.
McSally has yet to confirm or deny Schweikert's comments publicly, and her office and campaign have not returned repeated requests for comment about her political future.